My name is Melissa Ramirez, and I am majoring in Sociology and Anthropology. I live in Round Lake, Illinois, and commuted to campus during my senior year. I put together a few tips and tricks that helped me as a commuter, and I hope it will help to ensure you have a good commuting experience as well!
How to stay connected
Eat lunch with your friends in the cafeteria or Mohr Student Center. I've learned of exciting events on campus just sitting in the Student Center for lunch or reading the calendar that they put right outside of the cafeteria. It is updated each month, so check it out!
Plan to stay on campus
I live about 30-40 minutes away from Lake Forest College but instead of going straight home after class, I went to the library. I made sure to get as much classwork done before going home because I knew that I was not going to be as productive at home. Also, I was able to hang out with my friends to do homework and study together.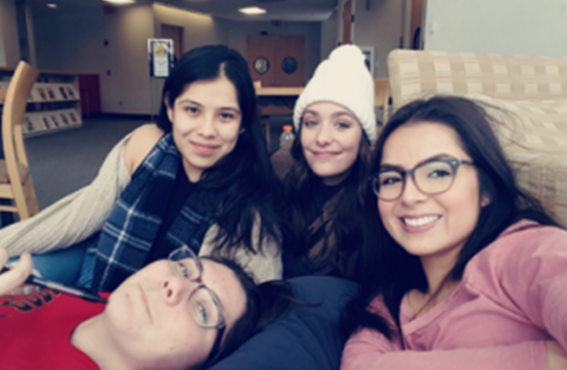 Check your emails daily
You can find out about events on campus through Student Announcement emails. There will be days with parking restrictions due to large-scale events. To make sure you don't park in a restricted area, just make sure to check your email daily. The Director of Public Safety sends emails well in advance to let you know of upcoming parking restrictions.
North Campus
If you ever need a place to hang out or have lunch on North Campus, go to the Commuter Student Lounge Deerpath Hall. There are computers, a microwave, and a lounge space for you to relax in between your classes. Also, if you are ever having trouble finding parking, you are more than likely to find a parking spot on North Campus.
Lockers
You can reserve a locker to store your textbooks or anything else you may need while you are on campus for the academic year. There are lockers in Stuart Commons, located right outside the mailroom pick-up windows. They are available on a first-come, first serve basis, so don't wait until the last minute!