Modern Languages and Literatures
Kaitlyn Daniel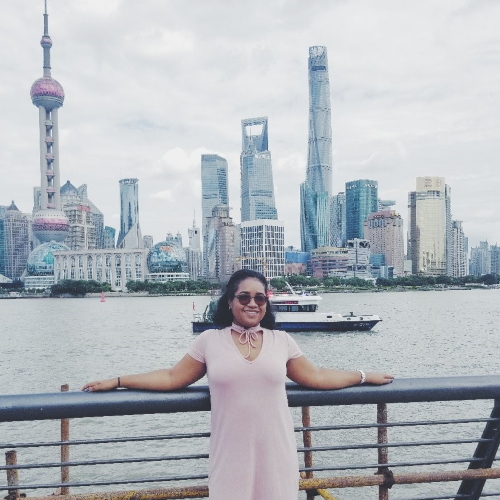 Area(s) of Study
Major in International Relations, Minors in Asian Studies and Chinese
Co-curricular
Kappa Alpha Theta
Achievements
Chinese Government Scholarship
Graduate Study
Masters in International Relations, completing summer '22
Current Job
Business Analyst, Condé Nast, New York
How did you choose your area of study?
During high school, I went to China for a summer conference and I instantly fell in love with the country and its culture. I always knew that I wanted to return and live there for some time. I decided to minor in Asian Studies and Chinese as it would allow me to learn about the culture and the politics of the region. Coming to Lake Forest gave me the opportunity to study Chinese for the first time, as well as the opportunity to study abroad. I decided to study abroad in Shanghai because it was the city I was most interested in living in. During my time in Shanghai, I was able to work on my Chinese language skills and take classes for my major that aligned with my interests.
What did you think of the faculty?
Professor Wu was an amazing Chinese professor and I think I would've been lost if I went to Shanghai without taking her classes. Even though I studied abroad in Shanghai after taking Chinese for only one semester, I was able to take the intermediate class with students who had been studying for a longer than me without feeling as though I was behind on the coursework.
The courses that I took not just for Chinese but for my International Relations major helped me to stand out from other applicants. I am confident that my time at Lake Forest and the language classes that I have taken here have prepared me for this next chapter of my life. I would encourage others to take a foreign language course during their time at Lake Forest because knowing a second language makes you a strong competitor in your post-grad endeavours.
Thanks to Lake Forest, I was able to apply for and obtain a Chinese Government Scholarship to get my master's in International Relation in Shanghai. The Chinese Government Scholarship is a government funded program that lets foreigners pursue higher education in China. The Scholarship is available for bachelor, master and doctorate level programs. The scholarship now comes in both partial and full scholarship. The partial scholarship usually covers tuition and provides a stipend while the full scholarship cover tuition, housing, insurance and stipend. There are two ways to apply for the scholarship: Type A where you apply through the Chinese embassy in your country or Type B where you apply to the school directly. Type A only provides full scholarship while Type B provided both full and partial to give more students the opportunity to study in China. I applied Type A because Barbados offers up to 10 scholarships per year and not many people in the country apply. This year there were 11 applicants and 6 of us received the scholarship. Type B has more competition because you are competing with everyone who applies to that school and different schools have different quotas for how many scholarship students they can accept. I believe those applying from the US, should choose type A and application are usually due in January with results being released in August. The application can be quite confusing. You must apply on an online sight, but three physical copies must be turned into to the embassy. Along with the application which requires a personal statement and recommendation, you must also obtain a foreigner physical. The physical requires different test to be done which can get a little pricey. You may also be required to have an interview with both your embassy and the school that they send you application to. With Type A if you do not get into your first school they will move onto the other schools and if none accept you, the scholarship council will find a similar school to place you at. This does not happen with Type B. If you do not get accepted to any of your schools with Type B, you must submit application to other schools. As for the courses, you can choose to take them either in English or Chinese. For Chinese taught programs, you will either take Chinese for one year prior to the start of your program or you must provide an HSK 4 certificate. Sometimes you are required to do both.