Katrina Topacio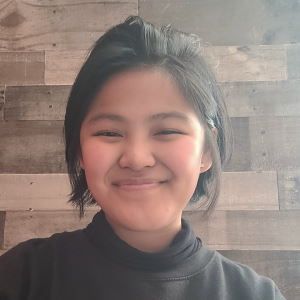 Class Year
2022
Area(s) of Study
Biology and Neuroscience
Hometown
Grayslake, Illinois
Why did you want to conduct undergraduate research?
I wanted to conduct undergraduate research because I was interested in expanding my knowledge outside of the classroom. I thought this would be the perfect opportunity to improve myself professionally and intellectually by engaging in substantive work catered specifically to my field of study.
What research did you conduct at Rosalind Franklin University and why is it important? (No more 75 words, keep it very simple, explain in the simplest way)
I worked in Dr. Hongkyun Kim's lab where we studied the effect of nicotine on the locomotion of Caenorhabditis elegans (tiny worms). Nicotine binds to a specific type of acetylcholine receptor known as the nicotinic acetylcholine receptor. When nicotine binds, it keeps the channel open for a longer period of time, which can lead to paralysis. Using CRISPR, we created a worm mutant that, hopefully, can eliminate the effect of nicotine on these receptors to help treat nicotine addiction.
How has this research helped you grow intellectually and personally?
This research has helped me become a more pragmatic thinker and strengthened both my written and oral communication skills. More importantly, this experience has taught me that ignorance and failure are to be embraced as opportunities to ask more questions, think more critically, and try new approaches. On a more personal note, I became more confident in my ability to perform experiments independently.
How has it helped you to strengthen and/or refine your career goal and what is your professional path ahead?
Studying potential treatments for nicotine addiction has only strengthened my resolve to make a larger contribution to the medical field. As someone interested in attending medical school and seeking a career in pathology, I am fortunate to have worked in a lab that focused on something I am passionate about.
Would you encourage others to do undergraduate research? Why?
I would strongly encourage others to do undergraduate research because apart from the practical and technical skills you obtain, it can help clarify your career interests and post-graduation plans. Likewise, research provides excellent opportunities to develop scholastic relationships with professors and peers. Overall, undergraduate research is a great opportunity to bridge classroom knowledge with real-world applications.