Study Abroad and Domestic Study Away
Notes from Abroad: Taylor in Greece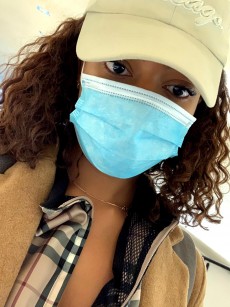 Taylor Jackson '20 who majors in Business and minors in International Relations is studying at the American College of Greece
For the last semester of my senior year I decided to study abroad in one of the most beautiful and historically dense countries in the world: Greece. With a degree concentration in international business and relations, experiencing a country that went through such economic and political hardship is something that I wanted to see first-hand. No textbook or article could have prepared me for this two-and-a-half-month-long journey.
I studied at the American College of Greece which was conveniently located in a suburb just 20-minutes shy of downtown Athens. This made going out and connecting with the Greek people a lot easier. I was housed in a well accommodated apartment with 3 other students from various parts of the United States in a building with students studying from all over. Classes were taught in English by fabulous Greek professors who truly cared about the subject they taught. Much like the LFC academic setting, the largest class-size I had consisted of around 18 students from all over the world (about 60% of them being Greek-native), making connecting with students and professors alike that much more personal. The school offered numerous excursions that included transportation, a guide, local foods, and free-time to roam and explore the towns. There are plenty of places I would never of thought to visit if it weren't for the college. Delphi is one of them. Little did I know that my experience would be cut short.
Due to Covid-19, the ACG highly encouraged all American students to return home, just about half-way through the program. I was devastated. Sure, my classes would be online and I still would receive credit for everything, but what about everything else?
I won't lie to you: I cried at the airport. (Honestly, as I write this I'm tearing up.) All the friends I had made, all the places I wanted to explore, all the food that was within an arm's reach – vanished. Studying abroad is a life-changing experience for a couple reasons: 1) You're forced to get outside of your comfort zone. There is no going to the Pod at midnight for ice cream; it's walking up the block to the kiosk and talking to a stranger about which brand is the best. 2) You realize there is a world outside of your own. Sure, going to Chicago for a weekend is great, but have you ever taken a $30 trip to Romania just because you could? 3) Imposture syndrome is real; you'll feel like nothing prepared you for this. But just know, you are not alone and you deserve to be there just as much as anyone else. Overarchingly, you learn a lot about yourself.  Through this program I made friends and connections that I will have for the rest of my life and I truly will cherish every single moment I had there. I want to thank Lake Forest College for the Hotchkiss scholarship and the ability to end my college career at the school with such an amazing experience. I would not have changed it for the world.
News Contact
Alexandra Olson Coordinator of the Global Engagement Office
847-735-5231
aolson@lakeforest.edu