Study Abroad and Domestic Study Away
Notes from Abroad: Sydney in Germany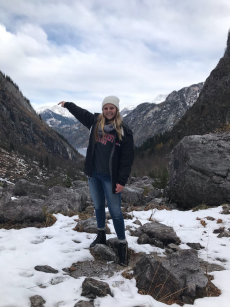 Sydney Wyatt '20, a double major in Sociology Anthropology and Psychology, is studying at the Freie University of Berlin's European Studies Program
My name is Sydney Wyatt and I am studying in Berlin, Germany as a part of the FU-BEST program. This is not only my first time studying abroad, but this is my first time traveling outside of the United States. That being said, one of the main challenges I have faced is adopting to a new culture. Although I was required by the program to enroll in a German course, I did not know any German before living in Berlin. Not being able to communicate with the locals was a difficult challenge to adopt to, but after taking some German classes, I quickly began to communicate better. 
This opportunity has given me an amazing learning experience, not only in the classroom, but also in the real world. The classroom environment was similar to Lake Forest College, with a small group of students and engaging professors who truly care about your education. Many of my courses required the students to attend a fieldtrip which allowed us to travel to parts of the city that we normally would not. These fieldtrips typically resulted in my own exploration, in which I learned a lot about myself and the city. Living in Berlin, I have learned that I am able to travel around by just looking at a map without the use of my phone, which I would naturally not do at home.
 Although this opportunity has challenged me mentally and educationally, living in a different culture has provided me with experiences that solely an education could not. For that, I am truly grateful to have received the Speros scholarship and sincerely thank all of my donors, to whom none of this would have been possible without. Thank you! 
News Contact
Alexandra Olson Coordinator of the Global Engagement Office
847-735-5231
aolson@lakeforest.edu