Study Abroad and Domestic Study Away
Notes from Abroad: Reese King-Hill in China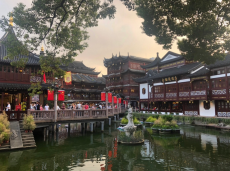 Reese King-Hill, a double major in International Relations and Asian Studies, is studying at the China Studies Institute at Peking University in Beijing, China
When I thought about leaving America for the first time, I never would have guessed it would be going to China. However, through the help of the Ingrid H. and George L. Speros Scholarship for Study Abroad, I was able to further my International Relations and Asian Studies double major, while also indulging in a culture that I cannot get enough of. The best way for me to be able to fully comprehend this culture was to experience it first-hand. I tried my hardest to read up on everything that was to be expected as a foreigner in China, but there were many things that I've learned here I wouldn't have from a textbook. For example, I knew almost no Chinese but what better place to learn the language than in the country that speaks it. That being said, the language barrier was very difficult at first. Communicating everyday needs like food or a building's location was next to impossible at first but after the intense Chinese classes at CSI and with the help of my new friends, I was able to get around just fine and even communicated my thoughts and feelings in class and when exploring.
Many people in China have never seen someone racially different from their native group. That being said, when the CSI program would take us to off-campus touring sites, many native Chinese people of all ages would stop to take pictures of me– being the quintessential American I am. At first, it felt like I was under scrutiny but I quickly learned that if I wave and smile, these people just wanted to know what my world was like in contrast to theirs. Overall, through taking a simple picture with someone, I was able to learn what daily life was like for these locals and how proud the Chinese people are of their country.
I pressured myself, going into China, to have an open-mind and embrace this experience for what it is. Going to the Harvard of China, Peking University, was academically one of the most challenging things I've ever done but never have I felt more comfortable with my newfound studying skills than I do, after going through this program. For example, my Chinese class consisted of two back to back classes. The first being comprehension followed by a spoken class fully in Chinese. At first, I was completely overwhelmed, there was only one other kid in my Chinese class but through this close teacher to student opportunity, I learned the language extremely fast. The privilege I feel from the devoted teachers, incredible people, and invaluable lessons I've learned will stay with me the rest of my life. While it was difficult for me at first adapting to the reverse culture, I've come to love parts of it more than I do American culture. I will miss this program and if given to opportunity would come back in a heartbeat.
News Contact
Alexandra Olson Coordinator of the Global Engagement Office
847-735-5231
aolson@lakeforest.edu