Study Abroad and Domestic Study Away
Notes from Abroad: Morgan in the Netherlands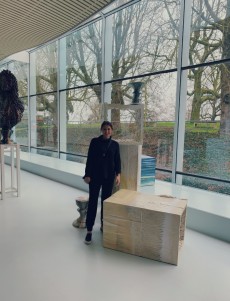 Moran Henrichs '21, a double major in Environmental Studies and Economics, studied at Radboud University in Nijmegen, Netherlands.
My name is Morgan Henrichs and I decided to spend my second semester of my junior year studying abroad. I ended up attending Radboud University in Nijmegen, Netherlands. This city is one the largest cities in the Netherlands. It is about a 40-minute train ride from Amsterdam. What attracted me to Europe was the convince of easy and quick travel. With an environmental studies background I was interested in the Netherlands and the country's environmental awareness. Not only did I want to learn the lifestyle of the Dutch, but I also was very interested in their education system.
One of my favorite parts of my experience was orientation week. I was put into a group of about thirty of my peers. The university kept us very busy with a welcome ceremony to potluck dinners to viewing historical landmarks. My first week was eventful with registering as an official citizen in Nijmegen, organizing my new schedule and making new friends. Orientation really opened my eyes to how wonderful my new city was. When I was not in my classes I was exploring the city central or what I would call the downtown area.
At first adjusting to the culture was a challenge but that was expected. Something that was a pleasant surprise was the fact that everyone biked everywhere, yes even when it rained. The way I navigated getting to school, the city center and visiting with my new friends was by bike. I got the opportunity to be able to bike to Germany. There is a bike path from the Netherlands directly into Germany. In Germany I was able to visit many little cities and try the delicious sausages. Another country that I was able to travel to was Belgium. My favorite part of this trip was traveling to Ghent. Ghent is a cute, small village which was home to a castle. The architecture was something that I have never seen before especially the churches.
Unfortunately, due to COVID- 19 I had to cut my trip short. There were many important decisions that I had to make when this virus surfaced. The Global Engagement office assisted me with my endeavors. I am thankful for the Global Engagement office and the Smith Scholarship for giving me this wonderful opportunity. I would never want to change a thing about my experience. I have gained new life experiences and forever friends. Someday I would love to return to my second home in Nijmegen, Netherlands.
News Contact
Alexandra Olson Coordinator of the Global Engagement Office
847-735-5231
aolson@lakeforest.edu