Study Abroad and Domestic Study Away
Notes from Abroad: Luis in Brazil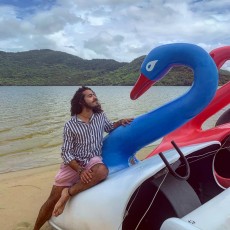 Luis Mario Alvarez Alfaro '22, a double major in International Relations and Linguistics, is studying with the USAC program at the Universidade Federal de Santa Catarina in Florianopolis, Brazil
I am a current international student in the United States, who decided to study abroad in Brazil while studying abroad already. In my opinion the possibility of studying abroad was almost impossible but I made it with some organization and constancy. I am a Latino from Costa Rica/ El Salvador in a country that does not speak my mother tongue: Brazil (only Portuguese speaking county in the Americas). Portuguese, even if it is a very similar Latin-based language, it is very different to Spanish (my native language). The little language barrier is still existent, even if I had some previous knowledge in Portuguese. I feel that I am in the real battlefield of Portuguese speaking environments because now it is the moment to prove and improve my Portuguese skills. I want to keep the style of my favorite Portuguese writer: José Saramago, when writing and speaking Portuguese. Brazilians are very welcoming and kind. I am surprised about their culture full of life and respect. I am currently taking capoeira classes. Capoeira is a martial art that was developed by Afro-Brazilian slaves to train in a discrete way to stop oppression and racial injustice in Brazil. I really appreciate this martial art because it is a very good way to remember the very evil past of Brazil in a more artistic and disciplined way. Education is really appreciated in Brazil. I can notice that as I am studying in one of the best public universities of Brazil, which is almost free for locals.
Florianopolis, or Floripa, is a city in the state of Santa Catarina located in the south of Brazil. I am very surprised about the local cultures. For some reason I feel sometimes like I'm in Europe. I can tell that there is a big European descendant majority, especially immigrants coming from Italy and Germany. I find their lifestyle really healthy and fit. People here love to explore natural landscapes in the island where I am located. I appreciate their dedication for preserving the environment. It is amazing that recycling and other sustainable practices are being implemented in Floripa. I visited some of the more-than-forty beaches around the island. The beaches are very natural and beautiful. People are very open-minded and I feel surrounded by a natural and international environment. There are many green rooftops, bohemian bars, and parks with youth. I fell in love with the city and its green approach. This city makes me want every city in the world to be like this one in terms of nature conservation!
I was absorbing the Portuguese language really fast from the very beginning! Believe it or not, knowing a Roman language helps but loving the local culture helps ever more. Brazilian Portuguese is a bit different to the one spoken in Portugal because of its geographical evolution in two different regions with different historical backgrounds. I was very exposed to the Portuguese from Portugal before but I am switching to a Brazilian accent with the passage of time. I have been confused by a Portuguese guy sometimes or even by a "Carioca" (a person from Rio de Janeiro) while in Brazil. I have been in two Brazilian states with the USAC Brazil program because I also went to the Minas Gerais Tour, which showed the group many historical facts about Catholicism in Brazil. Being in Brazil has expanded my way of thinking and it burst again my interest in Latin American development and cultures. Being in Floripa feels like an adventure. I went rafting to amazing preserves, hiked in jungles, and enjoyed the waves of the sea. I feel like a jungle man, I finally feel real, I feel like myself.
News Contact
Alexandra Olson Coordinator of the Global Engagement Office
847-735-5231 aolson@lakeforest.edu