Study Abroad and Domestic Study Away
Notes from Abroad: Katy in London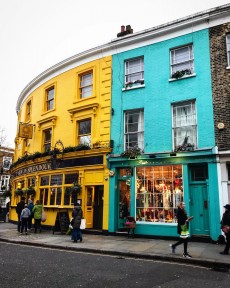 Katy Maksymiu '21, a History major and Politics minor, is studying with the ISEEP program at the University of Roehampton in London, England
I spent the first two months of my second semester of junior year studying abroad in London, England. It's difficult to characterize London as one thing. London is an eclectic city, comprised of various neighborhoods, marketplaces, architectural styles, historical and modern landmarks, and people from all walks of life and cultures. One of our orientation leaders described London as a "city made up of many smaller cities," and every excursion I took in the city further confirmed this description. Wherever I went, there was something new to see, to try, and to learn.
As a history major, and one particularly infatuated with European history, studying abroad in England was quite literally a dream come true. The University of Roehampton, my host institution, offered a course specifically on London's history, art, and society. My favorite aspect of this class were the field trips we took. In only a few classes, I visited the London Mithraeum—a largely intact Roman temple dating back to the 200s CE—and the Tower of London, as well as several of the incredible museums London has to offer. My learning was greatly enhanced not only by the educational context of these trips, but also by my physically being there in a city so rich in history from every era. For me, being in a city steeped in history and acting on opportunities to enter and see places I've only ever read about made my area of study and my passions all the more relevant.
Beyond my education at Roehampton—which has an independent learning approach very different from the American higher education system— London offered me opportunity after opportunity to experience a world very different from that of my small, Midwestern town and college. Chicago certainly is an incredible place in its own right, but the character of London— and the character of the United Kingdom, more largely—have to be experienced to be truly appreciated. Everything was different—I could go on forever about every new little thing that I fell in love with— but I still felt more connected to the rest of the world than I ever have at home. London truly is a global city, and living there, if even for a short while, made the rest of the world seem so much bigger, more exciting, and more important to appreciate as integral to our modern society. I traveled as much as I was able to in this difficult time, but knowing there is still so much to see makes me thrilled for my inevitable return to a city I was able to call home for a few, too quickly passed months.
Though I'm heartbroken my semester has been interrupted by the Covid-19 pandemic (and that I'm writing this from suburban Illinois instead of England), the time I spent experiencing London and the United Kingdom has been some of the best of my life. In this period of drastic change and rapid readjustment, I saw incredible things, met amazing people, and learned more than I ever thought would be possible. If you are considering studying abroad, I recommend with all of my heart that you go for it. Leaving my comfort zone to seize this opportunity has been completely rewarding, and I'm incredibly grateful for the experience.
I'd like to thank Spike Gummere and the Spike Gummere Endowed Prize committee especially, for their contribution to my semester abroad truly helped make this unforgettable experience possible.
News Contact
Alexandra Olson Coordinator of the Global Engagement Office
847-735-5231
aolson@lakeforest.edu