Study Abroad and Domestic Study Away
Notes from Abroad: Cassandre in Australia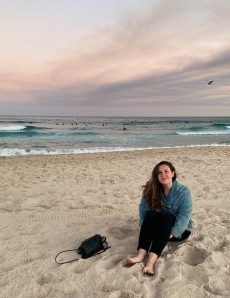 Cassandre Carbonnet '20, a double major in Communication and International Relations, studied in the ISEP program at La Trobe University in Australia
My name is Cassandre Carbonnet and I am a second-semester senior studying International Relations and Communication at Lake Forest College. I spent the Spring Semester of my junior year in Melbourne, Australia, which I chose deliberately as I got to escape a midwestern winter and experience summer in the southern hemisphere. At La Trobe University, I studied the international politics of climate change, environmental anthropology, and international human rights- subjects I'd have difficulty finding at home. Studying abroad enabled me to take highly focused courses in subjects I'm passionate about and fall a little outside of my major.
Arriving in Australia was like landing in a new world. Cars drove on the other side of the road, birds looked out of a prehistoric museum and I was immediately warned of the spiders and snakes. Only in Australia do you walk around seeing signs saying "Here lies the home of the copperhead snake for which we have not discovered an anti-venom. Walk with care." They're very casual for such a warning. I've never seen such beautiful landscapes- from fire red rocks that stretch for miles to rugged cliffs dropping into ocean. We drove through massive eucalyptus forests and found koalas in their natural habitat. I never knew kangaroos were as common and pesky as deer. The natural beauty there is indescribable. I swam with schools of fish under piers and sting rays the size of cars. I saw baby cuttlefish and sea horses hanging onto drifting seaweed. I joined the dive club immediately and met incredible people who spend their lives just looking for their next opportunity to get in the water. My friends taught me how to surf in Bells Beach, Torquay, only a week before surf pros from around the world gathered for the Rip Curl Pro. Between camping every weekend and going on endless road trips, I fully immersed myself in the outdoors as much as a I could.
The best part of my trip was without a doubt the friends I made. My closest friends were from Canada, The Netherlands and Australia. Our new Australian friends took us home with them to the 'bush,' where I got to experience what small towns are like in rural Australia. We all lived in on campus housing at La Trobe, where we had the luxury of our own single rooms and communal kitchens, where we made "family dinners" in. We still talk all the time and I miss them every day.
I had no idea how to prepare myself for this trip. I've traveled out of the country before, but this was my longest trip yet. I came to Lake Forest College for the study abroad opportunities, and I'm so grateful for the resources they gave me to plan this. I traveled through ISEP and they fully supported me throughout my entire stay. I could never have done with this without the college, and I will always be grateful for this experience.
News Contact
Alexandra Olson Coordinator of the Global Engagement Office
847-735-5231
aolson@lakeforest.edu