<div style="background-image:url(/live/image/gid/30/width/1600/height/300/crop/1/29902_environmental_studies_group_header.rev.1450298247.png)"/>
Brian McCammack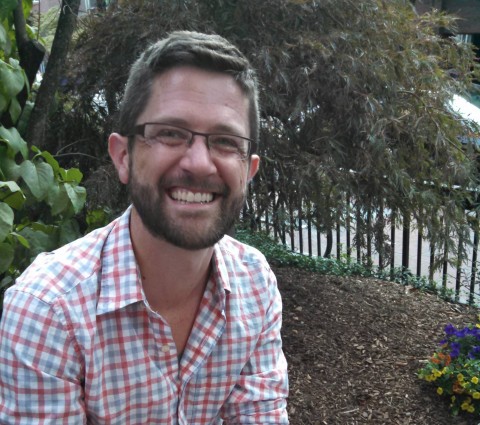 Assistant Professor of Environmental Studies
Teaching Interests and Research Fields
Environmental Studies
Environmental History
American Studies 
African American History, Literature, and Culture
Nineteenth and Twentieth-Century American History
Nineteenth and Twentieth-Century American Literature
Education
PhD Harvard University, History of American Civilization, 2012.
Dissertation: "Recovering Green in Bronzeville: An Environmental and    Cultural History of the African American Great Migration to Chicago, 1915-1940"
Advisors: Evelyn Higginbotham (co-director), Lawrence Buell (co-director), Davarian Baldwin, Andrew Kahrl
MA Purdue University, American Studies, 2006.
Thesis: "Hot Damned America: Evangelicalism, Environmental Stewardship, and Climate Change Policy Debate"
BS Purdue University, with Highest Distinction, Electrical Engineering, 2004.
Teaching Experience
Courses Taught
ES 110: Introduction to Environmental Studies
ES 223 / AFAM 223 / AMER 263: African American Environmental Culture
ES 236 / POLS 237: Environmental Policy and Politics
ES 260 / HIST 232 / AMER 261: American Environmental History
ES 358: American Environment During the Great Depression
ES 363: Apocalypse and Fear in the Post-WWII American Environment
ES 483: Environmental Connections From Chicago to New Orleans
ES 484: Restoring Native Wildlife: Motivations, Methods, and Mixed Outcomes
Theses Advised
Shannen Cashman, forthcoming, Spring 2018.
Jennifer McTague, "An Economic Analysis of the Solar Energy Potential at Lake Forest College," Spring 2017.
Benjamin Labaschin, "Energy Returns on Energy Invested and Glen Canyon Dam: The Usefulness of EROI in the Decommissioning of Hydroelectric Dams," Fall 2016.
Ashley Garver, " 'I don't. I don't! I don't hate it!' The Function of Place in William Faulkner's Absalom, Absalom!," Spring 2016.
Independent Studies Directed
"Climate Change Politics," Fall 2017.
Visiting Assistant Professor of Environmental Studies, Williams College
Environmental Politics and Policy, Spring 2015
African American Environmental Culture from Slavery to Environmental Justice, Fall 2013 & Spring 2015
A Perfect Storm: How Economic and Environmental Disaster Defined America During the Depression, Spring 2014 & Spring 2015
Nature and Society: An Introduction to Environmental Studies, Fall 2013 & Fall 2014
Apocalypse in Post-War America: Environmental Fear from the Atomic Age to Climate Change, Spring 2014 & Fall 2014
Discovering New England's Environmental Culture: From Howling Wildernesses to Managed Forests, Spring 2014
Lecturer on History, Tufts University
Cultural History of the African American Great Migration, Spring 2013
African American History Since 1865, Fall 2012
Lecturer on History and Literature, Harvard University
History and Literature of the American West: Junior Tutorial, Fall 2012–Spring 2013
Senior Thesis Tutorial, Fall 2012–Spring 2013
Publications
Monographs
Landscapes of Hope: Nature and the Great Migration in Chicago (Cambridge: Harvard University Press, 2017).
Peer Reviewed Articles
"Black Migrant Foodways in the 'Hog Butcher for the World'" in Chicago Environmental History, Edited by WIlliam C. Barnett, Kathleen A. Brosnan, and Ann Durkin Keating (forthcoming from University of Pittsburgh Press, 2018).
"The American City and Environmental Pollution" in Oxford Research Encyclopedia of American History, Edited by Timothy Gilfoyle (forthcoming from Oxford University Press, 2018).
" 'My God, they must have riots on those things all the time': African American Geographies and Bodies on Northern Urban Public Transportation, 1915–1940." Journal of Social History 43.4 (Summer 2010): 973-988.
"Hot Damned America: Evangelicalism and the Climate Change Policy Debate." American Quarterly 59.3 (September 2007): 645-668.
Republished in Religion and Politics in the Contemporary United States. Eds. Marie Griffith and Melani McAlister. Baltimore, MD: Johns Hopkins UP, 2008: 119-142.
"A Fading Old Left Vision: Gospel-Inspired Socialism in Vonnegut's Rosewater." The Midwest Quarterly 49.2 (Winter 2008): 161-178.
"Competence, Power, and the Nostalgic Romance of Piloting in Mark Twain's Life on the Mississippi."  The Southern Literary Journal 38.2 (Spring 2006): 1-18.
Review Essays
"The Origins and Consequences of Our Fossil Fuel Addiction" in Journal of Urban History (forthcoming)
"Global Elites' Power Over Urban Space: The Long History and Bleak Future of Segregating and Selling the City" in Journal of Urban History 40.6 (November 2014): 1161-1167.
Reviews
Review of The Routledge History of American Foodways in Environmental History (forthcoming)
Review of Black Chicago's First Century: 1833–1900 in Middle West Review (forthcoming)
Review of Where the River Burned: Carl Stokes and the Struggle for Save Cleveland in Journal of American Studies 51.1 (February 2017): 279-281.
Review of Blood on Steel: Chicago Steelworkers and the Strike of 1937. History: Reviews of New Books 44.2 (March 2016): 41.
Awards, Grants, and Fellowships
Chicago Fellow, Digital Chicago: Unearthing History and Culture (Mellon Foundation grant), Lake Forest College, Spring 2017–Fall 2017
W.E.B. Du Bois Institute Fellow, Harvard University, Fall 2012–Spring 2013
Graduate School of Arts and Sciences Whiting Dissertation Completion Fellowship, Harvard University, Fall 2011–Spring 2012
Charles Warren Center Term Time Fellowship, Harvard University, Fall 2010
History of American Civilization Summer Travel Grant for Dissertation Research, Harvard University, 2009 & 2010
Charles Warren Center Summer Travel Grant for Dissertation Research, Harvard University, 2009
Journal of Social History Graduate Student Essay Competition winner, " 'My God, they must have riots on those things all the time': African American Geography and Bodies on Northern Urban Public Transportation, 1915–1940," 2009
Chester E. Eisinger Prize for Outstanding Essay in American Studies, "Hot Damned America: Evangelical Entry into the Climate Change Policy Debate," Purdue University, 2006
Kneale Award First Prize (Graduate) for Literary Criticism, "Out-Classing Gender and Race: Transnational Perspectives on Class, Gender, and Race in Stowe's Uncle Tom's Cabin and the Narratives of Harriet Jacobs and Frederick Douglass," Purdue University, 2006
Charles C. Chappelle Fellowship (awarded to first-year graduate student), Purdue University, 2004–2005
Professional Memberships, Participation, and Service
American Historical Association
American Society for Environmental History
American Studies Association
Association for Environmental Studies and Sciences
Peer Reviewer, Science as Culture and ISLE: Interdisciplinary Studies in Literature and Environment
Lake Forest Collaborative for Environmental Leadership, 2017
Sustainability Committee, Lake Forest College, 2016–2017
American Studies Workshop Co-Chair, Harvard University, 2007–2009
American Studies Graduate Student Organization Core Committee, Purdue University, 2005–2006
American Studies Symposium Planning Committee, Purdue University, 2005–2006
Recent Talks and Posters
"Black Migrant Foodways in the 'Hog Butcher for the World," American Society for Environmental history Annual Conference, March 2017
" 'All the Earmarks of a Peonage Farm in the Southland'?: The Politics of African American Environmental Labor for the Civilian Conservation Corps in the Rural Midwest," American Historical Association Annual Conference, January 2016
"Black Panther Ecology: Environmental Justice and Survival in Oakland During the Black Power Era," American Society for Environmental History Annual Conference, March 2015 
"African Americans in Unexpected Places: Environmental Labor in the Rural Midwest during the Great Depression," Williams College Center for Environmental Studies talk, February 2015
" 'A Tacit Proclamation of Achievement by the Race': Landscapes Built With African American Civilian Conservation Corps Labor in the Rural Midwest," Massachusetts Historical Society Environmental History Seminar, February 2014
"Reds on the Black Belt's Green Grass: Depression-Era Dissent and Labor in Chicago's Landscapes," American Studies Association Annual Conference, November 2013 
"Building Trees and Building Men: Black Chicagoans and the Civilian Conservation Corps," American Society for Environmental History Annual Conference, April 2013
"Migration to 'That Great Iron City': African American Environmental Consciousness in Chicago," W.E.B. Du Bois Institute Colloquium, Harvard University, November 2012
"Rubber Feet Among Green Blades of Grass: Urban Transportation, Parks, and Interwar Chicago African Americans," American Studies Association Annual Conference, November 2012
 "Re-Greening Bronzeville: Recovering African American Environmental Imagination during the Great Migration," American Studies Association Annual Conference, October 2011
"From Labor to Leisure in Nature: Black Migrants in Richard Wright's Chicago," Association for the Study of Literature and the Environment Biennial Conference, June 2011
"Urban Parks and Rural Resorts during the Great Migration: Spaces for African Americans to 'Keep Healthy' in the Modern Metropolis," Yale Environmental History Graduate Student Conference, March 2011
"Building Community in (Booker T.?) Washington Park: From Racial Conflict to Black Uplift in Chicagoland's Landscapes," Social Science History Association Annual Conference, November 2010
 "The Environmental Justice Movement's Lost Legacy: Recovering Participatory Environmentalism at the 1972 UN Stockholm Conference," Harvard Graduate Student Conference on International History, March 2009
"Climate as a Human Right: Exposing the Limits of Ecocentric Environmentalism?," American Society for Environmental History Annual Conference, March 2008
"From Genesis to the Gospels: the Evolving Evangelical Focus on Climate Change Science and Policy," American Society for Environmental History Annual Conference, March 2007