Modern Languages and Literatures
Yaritza Cambron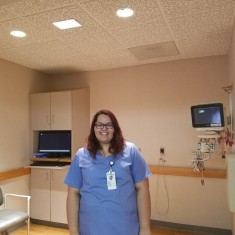 Class Year
2015
Area(s) of Study
Biology major; psychology and Spanish minor
Hometown
Chicago, IL
Internships
La Fundación Index
Current Job
GI Tech at Northshore University HealthSystem
Former position
JHuman Resources Coordinator at JourneyCare
How did you explore your interests and decide on a major/majors?
I was always interested in science and more specifically in medicine. It was a clear goal of mine to eventually work in health care. When I started my undergraduate studies I declared my biology major from the beginning. As I took classes in other subjects my interest grew and I eventually declared minors in psychology and Spanish. My language courses eventually pushed me to participate in study abroad, one of the best decision I have made.
Describe a moment or experience you had in college that helped define your career path.
During my semester abroad in Spain, I had the opportunity to intern at La Fundacion Index. It is an organization that help promote research in medicine and nursing. I read and translated numerous research papers, enhancing my Spanish skills and at the same time reassuring my interests in medicine.
What steps did you take at Lake Forest College to prepare for your career?
I was part of Beta Beta Beta, a national honors society for students in the biological sciences. I was able to attend many lectures that were arranged by the chapter, as well as take part in private discussions between the guest speaker and the organization.
I also conducted research with Dr. Long in the psychology department. I had the opportunity to work on important research related the efficacy of different types of therapy offered to survivors of sexual assault at the Zacharias Center. The work I did has better prepared me for future involvement in research.
What role did your internship or study abroad experience play in shaping your career path?
Study abroad helped me to become more confident and pushed me past my comfort level. I am more willing to try new things and take part in different experiences that I would have previously shied away from. I have taken on jobs in HR and the GI department that I would not have considered before.
What would you recommend Lake Forest College students considering a career in your field do to prepare?
I would definitely recommend either learning or perfecting a second language. When working in the medical field or in any it is very advantageous to know a second language.
How did the Department of Modern Languages, Career Advancement Center and/or the Forester community give you an edge on taking your first steps after graduation?
All of the departments at Lake Forest College offer so much help, from building resumes to letters of recommendation. We sometimes don't realize how valuable the resources around us are but it is important to take advantage of them.
What have you found the most rewarding in your career and life after graduation?
The experiences I have had at my jobs. I have learned to be adaptable to both a desk job and a job where I am constantly on my feet. I think that no matter what job you have, there are always things that you can take away from them.