English and Creative Writing
Nina Cummings '78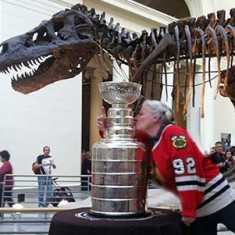 Class Year
1978
Area(s) of Study
English
Current Job
Library Photo Archivist at The Field Museum
Briefly describe your current work (or any significant work you've done since Lake Forest College).
I'm the Photo Archivist at The Field Museum in Chicago and in charge of over 1,000,000 images dating back to 1891. I designed, programmed and maintain the master database for the photographic collection.  Currently I'm in the process of migrating it to the KE EMu database for all of the collections at FM of Anthropology, Botany, Geology, Zoology and the Library's Photo Archives.  I scan original negatives, slides and transparencies and catalogue and keyword the images so that they can be found. This involves a lot of writing – photos don't describe themselves. At some point in the next few years, most of our collection will be publically accessible.
How did you choose your area of study?
I had some idea that I wanted to be a journalist or writer in some capacity.
How has your English major or study of English helped you in your career?  Do you think the skills you developed as an English major helped you obtain a job?  Do you use those skills in your current work?
For my job at the Field Museum it helped a lot.  I applied in the (then called) Photography Department and the head photographer who interviewed me told me outright that he did not want anyone for the job who was hoping to be a photographer.  I'll happily spend hours or weeks at database design or programming, but won't spend more than a 1/2 second taking a picture. 
The "ah hah" moment came when I was writing a grant proposal to National Endowment for the Humanities (NEH).  At first I thought that our grants office would just write it for me.  I'd tell them what I wanted money for, and they'd just put it all together.  It doesn't work that way.  Thankfully, I had all the basic writing skills thanks to my English Major at Lake Forest, and after a plethora of re-writes, I got the grant.  It didn't end there as I learned I had to also write quarterly reports describing the work and its progress over a three year period.
From the computer side, I had one of the very first "personal computers" at the Museum.  Once the first web-browser was introduced I've never looked back. I have to write all the time.  Being able to effectively communicate in writing is a skill I'm glad I have. 
Has the study of English impacted your life beyond the job? If so, how?
Because I'm in front of a computer screen all day, it's nice to read a book.  A lot of the books I've read are in some way related to the Field Museum collections, Devil in the White City and we have a large photographic collection of the Fair. Kingdom Under Glass by Jay Kirk, a great biography of Carl Akeley, the FM's first taxidermist who perfected the art of "stuffing" animals and making dioramas
Do you have any advice for students pursuing English studies? 
Get proficient and comfortable with your writing. You should always apply for jobs with a well-written resume – it will help to set you apart.  Once you get the job, you'll have to be able to effectively communicate in writing – it won't always be a face to face meeting. I have had to write many "How-To" documents for volunteers, interns and other staff.  The better written the document, the less time I have to spend re-explaining what I need.  It's good for them too; they're able to hit the ground running if I've done my job right.
What was your favorite class?
During one term, I took classes in Renaissance English, History and Art History. The three classes complimented each other and it all just came together and made sense.