Modern Languages and Literatures
Leticia Lazcano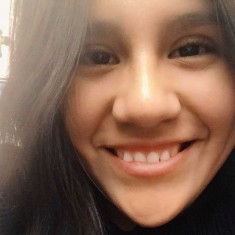 Class Year
2015
Area(s) of Study
Major in Latin American Studies Minors in Legal Studies and Music
Hometown
Waukegan, IL
Internships
ZUMA Law
Current Job
Community Outreach Specialist at Illinois Student Assistance Commission 
How did you explore your interests and decide on a major/majors?
I always loved learning more about my culture and about Latin America. When I found out that Latin American Studies was offered as a concentration, I knew that is what I wanted to study. Within Latin American Studies, I took a lot of Spanish classes which I truly enjoyed and were some of my favorite classes. I am also passionate about human rights and immigration and as a future lawyer, I found it necessary to minor in Legal Studies.
Describe a moment or experience you had in college that helped define your career path
I am Mexican-American and proud of it and participating in the Border Studies Program, twice, is what made me realize what I wanted to study while at LFC. Being able to see what my own people go through, at both sides of the U.S.-Mexico border, was an eye-opening experience. Although I already knew what some of those struggles were, the chance to be at both sides of the border is what made it more impactful and real. It made me value and be more grateful for the opportunities that I have been given and I consider myself truly blessed. With that, majoring in Latin American Studies was the right path for me as I would get to focus not only on Mexico but all of Latin America.
What steps did you take at Lake Forest College to prepare for your career?
Utilizing all of my resources: Professors and their office hours, my classmates, other faculty and staff, the Library, the Career Advancement Center and the Writing Center is what made me a successful student while at LFC. Every time that I did not understand something I could always ask for help.
What role did your internship or research experience (or study abroad) play in shaping your career path?
Having the chance to be a part of the Border Studies Program experience has changed my perspective on a lot of different issues in regard to culture, immigration and human rights, all of which are my passions.
What would you recommend Lake Forest College students considering a career in your field do to prepare?
Make sure that you use all the resources that are available to you and LFC has a lot to offer! Go in and use the Writing Center, your professor's office hours, ask questions while in class and make sure that you understand all the material that is being given to you. That is key to being a successful student, regardless of what your concentration will be, at LFC.
How did the Department of Modern Languages, other department, Career Advancement Center and/or the Forester community give you an edge on taking your first steps after graduation?
I was always in the Career Advancement Center since Freshman year and I still go in when I need help. The CAC has helped me with creating and updating my resume, creating my first cover letter as well as learning the do's and don'ts when interviewing. Now, that I am planning for law school, the CAC has helped me with study materials for the LSAT and the application process. The CAC is a valuable resource, make sure you go in!