Kim Bobier '10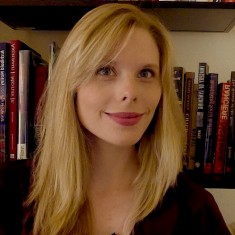 Class Year
2010
Area(s) of Study
Art
Internships
Arts Administration Intern at the Evanston Art Center
Graduate Study
Art History at University of North Carolina, Chapel Hill
Kim Bobier received a Ph.D. in 2018 from the University of North Carolina at Chapel Hill. She specializes in Contemporary and African American Art History, as well as the Politics of Representation. 
Kim Bobier received a Ph.D. in 2018 from the University of North Carolina at Chapel Hill. She specializes in Contemporary and African American Art History, as well as the Politics of Representation.
Why did you decide to major in art and art history?
An art history professor taught my First-Year Studies course and I was captivated by it. Already invested in art making and the humanities, I marveled at the ways that our interdisciplinary assignments activated the art we explored. Modern paintings with simple forms and colors suddenly became entry points into the challenges twentieth-century society faced.
As I faced the challenge of awkwardly adjusting to college life, analyzing the world through art with my FIYS group gave me a sense of community and intellectual purpose. I sought out more of these experiences, taking on as many art history and studio art credits as I could until those amounted to my art history major.
What was your most memorable course and why?
The Museum and Gallery Practicum made a big impression on me. During the first part of the course, we focused on texts about the historical and theoretical developments of the museum. These studies demonstrated art's practical and expressive relationship to civic life, while also revealing that art museums bear the power and shortcomings of all institutions. After exploring the potentials and liabilities of art museums and exhibition practices, we put our ideas to the test.
With the unwavering support of our professor, the class created our own exhibition! As a team, we generated a theme, commissioned relevant Chicago artists, devised gallery layouts, curatorial statements, and much more. Our class worked through every step of exhibition process. Yes, we even nailed artworks to the walls.
There were plenty of adventures involved too; I remember when some of us met an influential graphic designer in his eccentric studio to plan the invitations for our opening. The final production was hugely rewarding. The tasks exposed me to the business of being a curator, a contemporary artist, and a professional collaborator more generally.
Was there a particular project or assignment that was especially rewarding or important for you?
I remember my senior thesis was all consuming and I would not have wanted it any other way. As an assignment, the thesis enabled us to become experts on our topics. Realizing I could achieve that level of proficiency was terrific, of course, but I was even more grateful for how this project helped me understand what scholarship is.
Whatever my ambitions for the thesis's content, in hindsight, the undertaking was about actively shaping a scholarly argument and developing it over the course of almost one hundred pages. This meant tightening my grip on art historical literature and debates, not just for background knowledge, but also for crucial evidence that would support my case. Mounting this case required putting my Lake Forest art education and critical thinking skills into action. I got a sense that my undergraduate training could take me places if I worked hard enough.
How did your art and art history major prepare you for (graduate studies or) your career?
When I started my graduate studies, the value of my Lake Forest College art history major quickly manifested itself. By design, graduate school is difficult, so an eagerness and ability to forge connections with the material and the people in your program seems key to survival.
With dozens of small, discussion-based Lake Forest classes under my belt, I readily jumped into my first graduate seminar conversations. Do not get me wrong; at first, some of the professors and advanced art history PhD students intimidated me. A will to participate just overpowered my shyness until eventually I was not shy anymore. In this early stage of my graduate career, I found myself drawing on the foundation that the College's studio art and art history faculty helped me build.
During my college years, the professors were my biggest assets and inspirations. Working with them equipped me to pursue similar working relationships with professors and colleagues as a graduate student. Finding faculty mentors also helped me figure out a place for myself in my current PhD program and in the discipline of art history.
How did your art-related internship prepare your career path?
One summer, I worked as an Arts Administration Intern at the Evanston Art Center. Since the EAC hosts art classes, gallery exhibitions, and other art events, my press and organizational tasks introduced me to a host of Chicago-area platforms for cultural programming. My career path in the arts is academic and curatorial, but this internship familiarized me with the administrative tasks that art historical and curatorial work often demand such as PR, grant writing, and collaborating with organizations.
The EAC position bolstered my eligibility for work at other art institutions. Soon after college, I interned at the Terra Foundation of American Art, the Museum of Contemporary Art Chicago, and Columbia's Museum of Contemporary Photography.
How would you describe your transition from Lake Forest College to post-graduate life?
I went straight from Lake Forest College to an art history graduate program at the University of North Carolina at Chapel Hill. Studying abroad my junior year and quickly adapting to foreign environments prepared me to make this life transition. I did not know anyone in Chapel Hill when I arrived, so the change of location, people, and culture was disorienting at first, but a feeling of academic momentum kept me anchored.
I loved my graduate seminars and (with much effort) managed to stay on top of things. My training at Lake Forest College enabled me to handle the rigorous load of writing, reading, and assistant teaching. The tight knit community at the College's Department of Art and Art History also provided me a model for involvement in UNC's Art Department, where participation in group efforts has fueled my individual PhD studies.
What advice do you have for current or prospective students considering study in art and art history?
I think students interested in art history have much to gain from interacting with both artwork and art history in diverse ways. To an art history major, I would say: take a wide range of art history, studio art, and humanities classes that introduce you to different periods, cultural perspectives, media, and approaches. Pair your studies at the College with visits to galleries, museums, and lectures. For instance, regular trips into Chicago for this purpose stimulated my writing and research—these firsthand encounters with art objects and figures in the Chicago art scene clarified my questions about various art issues and their stakes.
Expanding your awareness about art in society and its international networks through opportunities to study abroad can also be very effective. Honing different skills will be important for different professional tracks associated with art, but for most, intellectual curiosity, strong writing along with passion for travel and close looking are qualities that come into play.
Whether or not you have clear professional goals, take advantage of different projects and professional opportunities. Work that entails museums, galleries, curating, teaching, and researching can be especially useful. These will enhance your CV and understanding of art history's transferability.
In internships, jobs, and high level art history courses, try to turn your assignments into a worthwhile finished product that you can claim as your own. These projects serve as concrete examples of your potential. Since potential in the field of art history requires constant reading and looking, making them a habit is a savvy professional strategy that should also be enriching on a personal level.