Jessica Dudley '14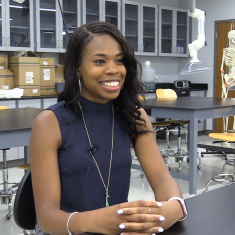 Class Year
2014
Area(s) of Study
Major in Neuroscience Minor in Philosophy
Hometown
Chicago
Graduate Study
MSN in nursing, DNP Advanced Population Health
Current Job
Labor and Delivery Nurse at UI Health in Chicago
Jessica Dudley '14 found her passion as a nurse practitioner after learning to think critically and holistically by exploring the liberal arts.
"I think the llberal arts aspect is what really makes it worthwhile to be here. Whatever you want to do, Lake Forest College is able to bring it: you interact with different departments, and you're able to use your creativity to find out what you like and make a career out of it—a career that you will wake up to every day and enjoy doing."
How did Lake Forest College prepare you for graduate school?
Lake Forest College helped me get into graduate school by preparing me to think critically. There were a bunch of little things, too: the small class sizes, being familiar with my advisors, being close with my classmates. With small class sizes, you're able to interact with your peers and with your professors to get help. Your professors see if you're struggling, whereas if you're in a class with 400 students you're just a number—you're not a person. If you're in a class with 15 people, your professors can see if you're falling asleep in class and then they'll ask, "Hey, is something going on? How can I help you?" There's also a collaboration effect that helped me get ready for graduate school. A lot of times, graduate school folks get caught up with being alone because they go to a big school. They don't know how to seek out help. I was able to find my advisors or seek out colleagues even though in graduate school I was taking online classes. In that way, Lake Forest College prepares you for the real world.
What was your first job like out of college and what are your plans for the future?
At Lake Forest College, I figured out I wanted to be a nurse practitioner. I went to the College of Nursing at the University of Illinois at Chicago to complete a graduate brain injury program in nursing. I wanted to take my neuroscience with me and use that in a slower-paced arena, so I worked at the Shirley Ryan AbilityLab on the stroke unit, managing patients' rehab post-stroke. There, I started to observe how underserved populations were treated. I decided to slow down and learn about policy and systems-level change. Right now, I'm working toward my advanced population health doctorate degree. Eventually, I will become a women's health nurse practitioner and work with African American women in urban, under-served communities. Lake Forest College really was the beginning of all of that for me.
What research did you do at Lake Forest College that piqued your interest in medicine?
I've always wondered how the physiologic aspects of our bodies affect the mental, emotional, and behavioral aspects. I had a professor at Lake Forest who brought that to life for me. I worked in a lab with mice, looking at how different types of music affected their memory. We were playing classical, hip hop, and rock and seeing how quickly mice navigated a maze under each type of music. That was an introduction to research for me. Later, I told another professor I was interested in the scientific aspects of therapies and she brought up meditation. So I began investigating how meditation changes the chemistry in our brains, how it can change the shape of the hippocampus to help you remember more things, and how being more aware of yourself and your feelings can help you control your feelings, which is really important if you're planning to continue into professional studies. Being aware of my feelings and my body and being able to redirect them to propel me forward helped me control myself more and served my graduate school career.
How did a liberal arts education make a difference for you?
The liberal arts aspect is what really makes being here worthwhile. Because it is so small, there are so many opportunities to bring the different departments together. I went into neuroscience because I love the brain. Then, I took a Philosophy of the Mind course, and it wasn't about the neurons or the glutamate or any of the scientific stuff; it was about the mind, the thoughts, the emotions, and the spirit. I went into philosophy because I was really interested in learning about those questions that we are afraid to ask. Also, the extra-curricular life at the College is amazing: research, athletics, arts, volunteering, connections with outside universities, like Rosalind Franklin University.
How did you juggle athletics with a science major?
I was a track star in high school. The first semester of my first year at Lake Forest College, I didn't do athletics. I was getting used to campus life, school life, and more structured learning. That's when I met the track coach. I talked to them and figured out how to make academics and athletics work. It takes a lot of organization. At Lake Forest College, the coaches, the faculty, and everyone works together to make sure the students are successful. Academic success is important to coaches. They honor students who get 3.5 and above at the end of the semester. Your faculty, your peers, and everyone wants you to do well. No one is going to tell you not to join a team because you want to be a chemist. Everyone is going to honor that, and they're going to make sure it happens.