Jerry Sproviero '16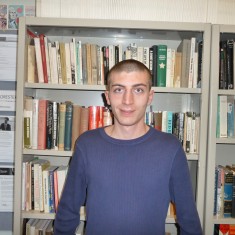 Class Year
2016
Area(s) of Study
History
Hometown
Buffalo Grove, IL
Co-curricular
Men's Club Lacrosse
Describe what you were looking for in an internship and how you found the position you held.
I wanted to find an internship where I would be actively conducting historical research or applying what I learned in my History major. I was particularly interested in work at a history museum. I knew about the Pritzker Museum and looked on their website for internship opportunities.
What were your responsibilities at your internship? What did your average day at work look like?
My position was titled "Oral History Intern". I was part of a team at the museum that worked with recorded interviews of United States veterans. First, I learned how to use Express Scribe, a software system that imported audio recordings of the interviews with a space to type out the conversations. I spent much of my time transcribing interviews by listening to the recordings and typing them out. It was a time-consuming job, but I got to listen to the fascinating stories of World War II, Vietnam War, and Korea War veterans, including a Navy Seal, a Reconnaissance Force Marine from the Vietnam War, a World War II veteran who fought in Guadalcanal against the Japanese, a Navy sailor who experienced the Tet Offensive in Vietnam, and a Navy sailor aboard a ship in support of the 1983 Beirut bombings. These men shared their experience in the military as well as stories from the rest of their lives. I was honored to listen to the magnificent stories and the life lessons of our American veterans. After several weeks of transcribing interviews and mastering the Express Scribe software, I was taught how to edit and format previously transcribed interviews.
I went back and forth between transcribing and editing interviews for a while. Then I was ready to conduct my own interview. My supervisor said I could bring someone in if I knew a veteran or they could contact one for me. I have a family friend whom served in World War II and he was excited to come in.
Before the interview took place, I was taught how to conduct an interview appropriately. Then I was given the task of doing research on my family friend and his unit. After getting a copy of his discharge papers, I was able to look up his unit, his specific job, and where he served. I then conducted research in order to develop interview questions.
Once I felt that I was prepared, we scheduled the interview and he came in. We were wired up and sat in a quiet room and began the interview. Often times, our conversation would drift off the script and didn't follow the order of questions I had, but that made the interview even more intriguing. We talked for two and a half hours about everything from his childhood and first job to his military service to his present situation. It was an amazing experience that I will never forget.
Describe a project or responsibility that you found particularly rewarding—and why.
I found it especially rewarding to conduct my own interview with a World War II veteran. Before the interview, I spent a few weeks researching his role and his unit's role in the Pacific during the war. I got to put my research skills to the test using the resources available at the Pritzker Library.
The man I interviewed was so excited to tell his story; he was also touched that I had such an interest and put in the work to follow his story. He shared both heartwarming and tearful stories. You could feel his soul while we sat there in the room together, and it moved me. I was so grateful to hear his story and be able to share that moment with him. It was the best form of research that I had conducted so far—hearing the stories first-hand and learning all about who he was.
What did you gain from your internship?
I gained a lot from the internship. The intern coordinator assisted me in creating a LinkedIn profile and answered questions I had about careers in museums, libraries, and non-profit organizations. I gained several references and contacts. Both of my supervisors were eager to assist me by writing future reference letters and helping me find a position. I am still in contact with both of them and have used one as a reference. Every one of the employees at the Pritzker was extremely nice and interested in my career path. It was obvious that some of them were looking to be a mentor to me as well, which of course I appreciated, and I formed several meaningful connections.
I learned about the museum, library, and non-profit sectors. This gave me an idea of several positions that appeal to me in these sectors. My experience confirmed my desire to work in the museum industry after my great experience at the Pritzker.
I also learned several new skills, including editing and formatting. I learned how to use a new software program, Express Scribe. I enhanced my research skills and performed historical research via interview for the first time. I learned how to form questions and how to appropriately conduct the interview.