Modern Languages and Literatures
Jane-Elise Ryer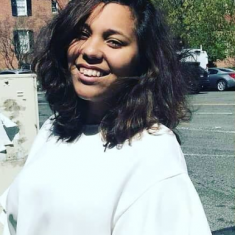 Class Year
2017
Area(s) of Study
Major- International Relations; Minor- French and Islamic World Students
Hometown
Baton Rouge, Lousiana
Internships
Cancer Center of Greater Baton Rouge, The Carter Center, US House of Representatives
Achievements
Congressional Black Caucus Foundation Fellowship
Current Job
Digital Strategist at Mothership Strategies
● What steps did you take at Lake Forest College to prepare for your career?
I took a class on French for International Affairs and Business. When I took the class I didn't realize that it would be so helpful for my post-collegiate life. Even though the class focused on the French workplace, I still gained experience in writing resumes (CV), interviewing and marketing myself.
Another step I started in college was to asked as many people as possible to look over my resume. There are so many little things that can make or break a resume, so it is important to have as many opinions as possible.
● What would you recommend Lake Forest College students considering a career in your field do to prepare? 
For someone who has an interest in Digital Marketing, I would recommend subscribing to email chains; just to spot the tactics used in different campaigns. Also for current students, I would recommend honing their writing skills. Being able to write in an effective manner is crucial. For any field a student is interested in pursuing, it is imperative to network. The Speed Networking event by the Career Center is good place to start practicing.
● How did the Department of Modern Languages, other department, Career Advancement Center and/or the Forester community give you an edge on taking your first steps after graduation?
Lake Forest College Alumni are very open to helping recent grads. When I finished college, I reached out to a lot people in the LFC community who looked over my resume, discussed career possibilities, and just supported me as I started career. It was a lot of small things, but it really added up.
How did you choose your area of study?
I came to college with an interest in International Relations and French. My sophomore year I took a class in International Politics, and that confirmed my decision to major in International Relations. I decided to minor in French after I took a French Cinema class. Not only did it improve my French, but I was able to learn about a subject that rounded me out as a person.