English and Creative Writing
Jamie Born '06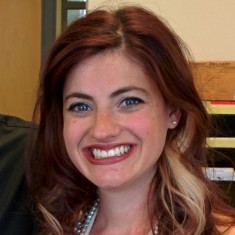 Class Year
2006
Area(s) of Study
English and education
Current Job
High School English Teacher
How did you choose your area of study?
I am a lover of language. I always knew I wanted to study English and share my passion with high school students. Being able to compose effective arguments, whether they be realistic persuasions or getting one to believe in your fictional characters, is a beautiful art. I have such an appreciation for the works of incredible artists such as Fitzgerald, Nabokov, Foucault, Morrison, and I wanted to consume as much of that as possible.
What was most enjoyable/memorable about studying English at Lake Forest?
My most memorable experience studying English at Lake Forest was my senior seminar with Professor Archambeau. There were only five of us in the class, so we were able to truly engage in these fascinating discussions about the distinction between art and vulgarity, the author's craft and the philosophical world, and the theories behind the immaculate crafting of some of the most beautiful fiction. A close second to this was my Post-Modernism class with Professor Schneiderman. I left class every day feeling challenged and confident and slightly confused all at the same time! 
How has your English major or study of English helped you in your career?  
Majoring in English at Lake Forest College certainly helped me get my job. There are many teaching candidates who major in English education. Having an English literature degree in addition to my secondary education degree set me apart from the competition. It has also helped me establish myself as a content-area expert. The discussions in my classroom are much richer because of my background; my students benefit from my passion, and that passion was certainly fostered through the English courses as Lake Forest. 
Has the study of English impacted your life beyond the job? If so, how?
English is the most beneficial subject you can study in college. The ability to write well and to read critically are so necessary to every aspect of life. Most importantly, studying English at Lake Forest College taught me to think skeptically. Because of this invaluable skill, I am a more responsible citizen. I find that I am always curious to know more. Whether about political candidates or my Comcast bill, I am always questioning where information is coming from and exactly what people are really saying.
More information to share?
My advice to students pursuing English studies is to take advantage of the incredible English faculty at Lake Forest College. The abounding knowledge and palpable passion these professors have is inspiring. Let them incite you to devour as much reading as possible and challenge the limits of your understanding. I am a better person for it, and I am lucky to have had the opportunity to be part of their classrooms.