Modern Languages and Literatures
Gaëlle Hollandbeck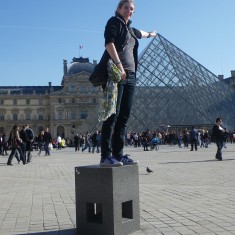 Class Year
2012
Area(s) of Study
French and biology
Hometown
Indianapolis, Indiana
Graduate Study
Master's degree in plant pathology at Purdue University
About her off-campus study in France:
"My semester in Paris was absolutely my best semester of all of undergrad. My internship with Burson Marsteller was an amazing and educational experience that I felt privileged to have the opportunity to have."
"The whole experience was eye-opening, unforgettable, something I wouldn't trade for anything else. Merci pour cette expérience unique et inoubliable!"
How did you choose your area of study?
I had been learning French from a very young age, so it was only natural for me to continue on through college. It is an incredibly beautiful language that is very near and dear to my heart. It has also always been a priority for me to incorporate some international aspect into my career once I enter the job market, so after I finish grad school (in plant pathology) at Purdue University I plan to search for jobs in international agriculture.
Studying French has allowed me several opportunities to visit foreign countries, has made my life very multicultural and has given me a global perspective on life. I feel quite at home visiting other countries and would not trade the experiences abroad I've had for anything. The Paris program was an especially eye-opening experience for me-although I'd visited France as well as other countries, it had previously only been as a tourist, so living there for nearly four months was a completely different experience. My internship at Burson Marsteller gave me a new view on international business, something I had previously known nothing about. All in all, I could never imagine my life without French being a crucial part of it.
My love of languages also extended to a second semester abroad, in Costa Rica, where I was able to blend Spanish and biological research. I greatly improved my Spanish during this time, and got experience creating and carrying out a research project in the natural sciences. I studied the behavior of pigeons in the heart of San Jose, the capital city of Costa Rica, and by the end of this experience I felt even more prepared to take on graduate school in biological research, something I had always planned to do once I received my undergraduate degree. 
Studying abroad in Paris and Costa Rica made my junior year of college my most educational and my favorite year, and gave me experiences I would not trade for anything. Not only did I grow professionally but also personally, having gotten to learn about other cultures first-hand by living among native French and Costa Rican people. I finished that year feeling much better prepared to face the world after I graduated college.