English and Creative Writing
Emily Capettini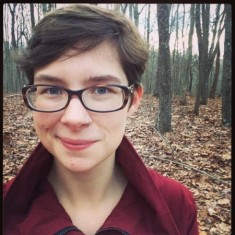 Area(s) of Study
English (Creative Writing)
French
Co-curricular
Phi Sigma Iota
Writing Center Tutor
Current Job
Professor at Indiana State University
Emily Capettini '09 is an award-winning fiction writer, editor, and professor. She teaches creative writing fiction at Indiana State University after graduating with from Lake Forest College with a degree in English - Writing and French. While at Lake Forest, Capettini was a tutor in the Writing Center and helped out in the archives. She has her PhD in creative writing from the University of Louisiana at Lafaytette. 
Published in November 2015, Capettini's novella, Thistle, won the Omnidawn Fabulist Fiction Prize.
Here's what she has to say about the writing track for English majors:
"The Writing Track at Lake Forest College invites you to smash the barriers of genre and find your own voice among contemporary writers. We sketched new worlds and then destroyed them with water balloons in February, collaborated with art students and writers at other colleges to make hybrid stories, questioned if words truly meant what we had been so sure they did.
My writing crackled with new energy at Lake Forest. These acts of writing rebellion set me on the path of science fiction and to a PhD program in creative writing, where I discovered new fabulism.
This encouragement to see the canon as a place to question and play, rather than a model of What Writing Should Be, was comforting. It meant I did not have to be Vonnegut or Fitzgerald or Frost, that I could wander from the evening snowy woods, find Maso, Mullen, and Le Guin waiting for me.
The push to try new things and find community in art led me to spend a year on an artist residency on a farm in Appalachia. I wrote the first pages of my novella in workshops at Lake Forest, went back to write and rewrite the story again in my senior thesis before it won Omnidawn's Fabulist Fiction Chapbook Contest.
Would I have found fabulism without Lake Forest? Who knows. But I still think about standing outside Carnegie, bundled up against the winter lake wind, throwing water balloons at poster board cities."