Elizabeth Lakeman '16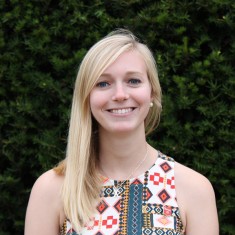 Class Year
2016
Area(s) of Study
History
Hometown
Philadelphia, PA
Co-curricular
Women's Soccer
Achievements
Senior 25
Describe what you were looking for in an internship and how you found the position you held.
I was looking specifically for an internship in a museum/library. I had interned at the Illinois Holocaust Museum the summer before in its Department of Collections and thoroughly enjoyed it, but I wanted to gain experience in a different department. I wanted to work in visitor services or events planning, which is why I applied for the Events Internship at the Newberry Library. I found the internship through research online. David Spadafora taught my History 300 course and I knew he was president of the Newberry so I figured it would be a good place to look for an internship.
What were your responsibilities at your internship? What did your average day at work look like?
My responsibilities included checking the calendar book(s) that the Events Department had to make sure that internal and external events did not happen to overlap with each other in specific rooms. I then had to print out daily/weekly/monthly calendars so that the staff knew of all events taking place in the Library. Beyond administrative work, I led tours of the Newberry for both the public as well as private clients looking to rent out the Newberry's event spaces. Some of these tours were scheduled (usually the public tours) while the private client tours often had no notice. I helped to set up and clean up events, mostly weddings or banquets. The Newberry Library was starting a trial period of a new event planning software when I started my internship so I helped the two other staff members transfer information from the old system to the new system. This was tedious, but ultimately I think it will help with the organization of events more than the old system. Finally, I picked up any odd jobs with which the staff needed help. This ranged from organizing wedding materials to checking the social media accounts.
Describe a project or responsibility that you found particularly rewarding—and why.
Showing people around to see the different rental spaces available for their wedding was particularly rewarding. Up until that point I had just been shadowing my supervisor as I was still new and learning the facts/figures of the spaces. One morning she decided to give me the reigns of the tour, and even though it was nerve-wracking, it was exciting to see the visitors get so excited about the space. I felt as though I had done good work and really sold them on the Newberry. This gave me the confidence I needed to conduct more tours as well as the personal insight that this is work I could enjoy doing in the future. Part of this experience is why I am looking into work in admissions offices at schools or into visitor services jobs at museums/libraries.
What did you gain from your internship?
This internship gave me more clarity about my future career path. I enjoyed interacting with the public and with clients and so I really tried to get more experience in that throughout my internship. I now am a more confident public speaker, and more specifically, I am more comfortable working with people who may be interested in what the Newberry (or any organization I work for) has to offer. I took on more work at the Admissions Office at Lake Forest after I finished my internship with the Newberry because I wanted to continue doing work similar to that I had done at the Newberry. Through the Admissions Office I have gotten the opportunity to work more closely with prospective students and families and feel more comfortable in this type of visitor services/events work.

Though work in events planning may not seem like a "typical" career path for a History Major, I enjoyed doing this type of work at an academic institution like the Newberry, I think that is what made this internship so special. I was able to enjoy working with people while also learning a lot about history and other areas of the humanities I am interested in.