Modern Languages and Literatures
Diedre Suri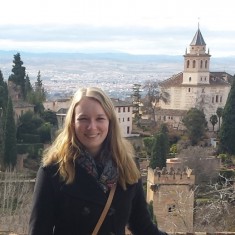 Class Year
2016
Area(s) of Study
French and International Relations (Double Major)
Hometown
Deerfield, IL 
Internships
French Heritage Society (Paris, France) English Teaching Assistant for TAPIF (Teaching Assistant Program in France) in Toulouse, France. 
Current Job
Support Center Coordinator (French), for Rotary International, IL
"I couldn't believe that my first job after graduating fit both of my majors so well. I learned so much during that year, and succeeded in living overseas just months after graduating! I was very lucky to have had that experience teaching English in France through the TAPIF program."
 "I completed an internship through the Paris Program, so my study abroad and internship experience were wrapped into one. That semester sparked a deep interest in France that went beyond the classroom. I knew I wanted to come back to live and work in France again. That semester was especially unique because I wasn't just studying abroad; I was really living and working in Paris. I stayed with a host family and lived within walking distance to my workplace. My supervisors at the internship spoke English fluently, but only spoke French to me, which improved my French greatly. This program gave me the confidence to return to France two years later to teach English in a French classroom."
How did you choose your area of study?
I pursued French starting in middle school and high school. It felt natural to continue taking French courses at Lake Forest College, and I always enjoyed my French classes and professors. During my sophomore year, I wanted to add a second major to complement my French major. After some exploration, I found that the International Relations major had a lot of overlap with Modern Languages, so it was a perfect addition.
What did you think of the faculty?
I wouldn't have had the opportunity to teach English in France without the recommendations of two wonderful Lake Forest Professors. The CAC has helped me with my résumé both during school and after graduation. Everyone at LFC wants you to succeed!
More information to share?
Through the Lake Forest College Paris Program, I held an internship in Paris at a non-profit organization. That semester, I explored the City and learned about French history and culture both in my classes and at my internship. When the program ended, I knew I wanted to live overseas and work internationally again.
So I was happy that I was selected to spend a year teaching English in Toulouse, France, through the French Government Teaching Assistant Program (TAPIF) after graduation.
When I returned to the U.S., I was also fortunate to secure my current position using French with Rotary International in Evanston, IL.  I answer calls and emails from Franophones and Anglophones alike in need of assistance. These requests range from updating the database to making a contribution to funding a grant.