Modern Languages and Literatures
Benedetta Borri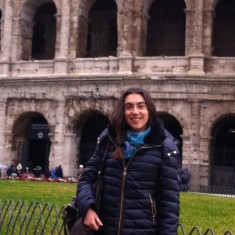 Class Year
2015
Area(s) of Study
Minor in Asian Studies with a concentration in Chinese
Co-curricular
Collage Magazine
Internships
Paris Internship Program, Beijing Abroad Program, Lake Forest College In The Loop
Current Job
Italian Ministry of Foreign Affairs (Rome): Western and Central Africa and Great Lakes Region Division of the Global Affairs Department
As an undergraduate student at Lake Forest College, I was drawn to the Modern Languages Department because of the diversity of its learning environment and the resources it offered across academic disciplines. I chose to integrate my International Relations major with a second major in French and a minor in Asian Studies with a concentration in Chinese.
The Modern Languages and Literatures Department gave me not only a place to cultivate my interests, but the unique opportunity to travel abroad, to build networks of friendship overseas, and to develop a strong cultural sensitivity. I thus spent one semester in France through the Paris Program, where I interned at the French National Assembly my junior year of college.
Eager to discover China, I then embarked on the Beijing Abroad Program in 2013. There I came into contact with an enthralling culture and became fascinated by the Chinese language; I continued the study of Mandarin upon returning to Lake Forest College and won a bronze medal at the 13th U.S. Midwest Chinese Speech Contest for the advanced intermediate Chinese group.
More information to share?
Professionally, the combination of international experiences and language skills has helped me secure a traineeship at the Italian Ministry of Foreign Affairs in Rome. I currently serve in the Western and Central Africa and the Great Lakes Region Division of the Global Affairs Department.
My knowledge of French and Chinese ultimately constitutes an asset in dealing with countries such as Ivory Coast, Mali, Niger, DRC, and Tanzania among others.

Overall, my off-campus study experiences have shaped my perspectives and enriched my persona to a significant extent. Yet they would not have materialised without the guidance and unconditional support which I received from my Professors. At Lake Forest College, I could exchange ideas, approach faculty members with ease, and rely on their genuine advice. These opportunities—and so much more—enabled me to mature into a conscientious global citizen and an enterprising young professional.