Ash Williams '18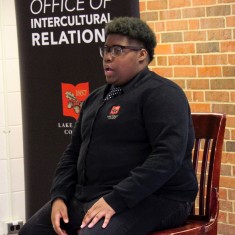 Class Year
2018
Area(s) of Study
Music Major
Hometown
Memphis, TN
Co-curricular
PRIDE United Black Association Latinos Unidos and Latinos Unidos Dance Team WMXM Radio Theater Department West African Drumming Cultural Coalition  Poetry Club  
What drew you to Lake Forest College?
I chose to attend Lake Forest College because I felt this was the college I was destined to be at. When I was applying, I knew I wanted to be a part of an institution that sees me as more than just a number. My high school Spanish teacher went here, and she recommended I check it out. I wanted the one-on-one connections, and I wanted to go to a college that would help me discover who I am. With every experience I have been through, I feel it has made me the person I am today.
What is your favorite campus memory and why is it your favorite?
My favorite campus memory has to be participating in First Connection both as a mentee and a mentor. I have been involved with First Connection for the last three years, and I have learned so much from the program. I have learned more about myself, and, for the first time in my life, I felt proud to be who I felt I was meant to be. This program gave me the ability to connect with other people who are the complete opposite of me, and I made lifetime bonds with people from all over the world.
How has Lake Forest College shaped you as a person?
I have learned to love myself more aside from all of my flaws and to become a better person who loves other people more. I have learned that giving back is meaningful and impactful. Being at Lake Forest College has been my best decision, and I do not mean this lightly. I have met lifetime friends here and made lifetime memories.
Do you have any advice for new students?
Life is forever changing. It's okay not to know who you are or what you want to do. It's okay to be unsure about things that you once felt comfortable about or didn't question. You have your whole life to figure things out. Be open to change and be open to engaging in different experiences that you may have in the near future. Not everyone is going to agree with you, so make sure your heart speaks first.
What are your plans after graduation?
I plan on traveling to certain countries and studying the history of their music. I want to learn not only how their music has developed, but how it makes people feel when they hear it. I would love to travel to certain countries in Asia, like Japan, Korea, and China, or to some Spanish-speaking countries so I can learn about how they use their music in traditional and modern ways. I love culture and observing different cultures to see how this impacts their traditions.
Parting words:
With all the memories I have made throughout my life, attending Lake Forest College will be the one I never forget.
— By Tracy Koenn '18