Economics Business and Finance
Ariana Rincon '14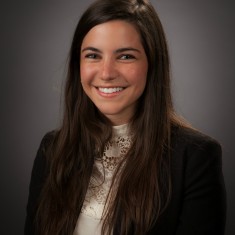 Class Year
2014
Area(s) of Study
Finance and Mathematics
Hometown
Caracas, Venezuela
Why did you decide to pursue a master's degree in accounting at William and Mary?
I talked to Professor Robert Lemke about my interest in accounting and about the possibility of completing a master's in accounting at William and Mary. We agreed that a master's degree would be the best way to start my career given my finance and mathematics background. Professor Lemke explained that a master's degree in accounting could open the door to many career choices as well as give me the academic preparation and credentials to become a successful professional. Therefore, I was instantly convinced that this was the right choice.
The strong reputation of William and Mary and its program was a very important factor in my decision. Because I wasn't sure which accounting practice I was interested in, I liked that the curriculum allowed students to explore various areas of accounting, including tax, audit, valuation, and financial planning. Also, even though it is a one year program, completing the master's degree assured that I would have the credits and the foundation necessary to become a CPA, which was my goal for the end of the year.
What classes and professors did you find most helpful during your time at Lake Forest College to help prepare you for the master's in accounting program and your current career?
I was first exposed to accounting in my financial accounting course. It allowed me to understand fundamental concepts of accounting. This class was indispensable for all the accounting classes at William and Mary. Moreover, as a tax staff member, I apply the concepts learned in this class almost every day.
Many of the required courses at William and Mary, such as valuation, derivatives and risk management, and fixed income securitization required an in-depth knowledge of finance. My introductory course in finance and investment analysis course with Professor Grote prepared me exceptionally for these. I felt that Professor Grote's classes were much more challenging, giving me a strong base in the subjects and helping me excel in these Master's in Accounting courses.
Thanks to my macroeconomics and microeconomics courses with Professor Tuttle and Professor Lemke at Lake Forest, I was able to pass the business environment and concepts section of the CPA. They both did a phenomenal job at explaining rather difficult subjects in a way that made sense, so I was able to remember what I had learned years before. The lectures were so relevant that I even used the notes that I took in these classes to study for the exam.
Besides academics, what other experiences at Lake Forest College helped prepare you for life after graduation?
There were many experiences at Lake Forest College that prepared me for graduate school and for my current job:
As a tutor at the Math Resource Center and a teacher's assistant for business statistics, I had to strive to be positive to reassure anxious students and I had to learn to explain difficult concepts in a simple manner. Tutoring also helped me improve my communication skills by explaining the same concept in multiple ways. This has been most helpful in my current job as I have had the opportunity to help interns and new hires with tax concepts and explain the use of tax software. I find myself implementing the same skills I used as a tutor.
I was the treasurer of the International Student Organization which not only taught me the responsibility of managing large sums of money, but also gave me the opportunity to further develop and apply my leadership skills in a diverse environment.
During the summers of my freshmen and junior years I had the opportunity to work one-on-one with a faculty member, conducting independent research in the area of micro-finance. I presented my research findings in the student symposium. This experience was probably the most helpful for graduate school because at William and Mary we are required to present in every class.
These experiences have been invaluable in my career because they have enhanced significantly my public speaking, communication, and leadership skills as well as my ability to solve numerous problems in an efficient manner. 
What would you have done differently at Lake Forest had you known that you were going to pursue a master's in accounting after graduation and have the job that you have now?
If I had known I would pursue a master's in accounting I would have taken more advanced accounting courses. I had to take some of these classes, which are usually a semester or two semesters long, during the summer before starting the program. In such a short period of time it was hard to grasp all the concepts. I would have also liked to have done an internship in accounting because there were times that I felt at a disadvantage compared to my peers who had interned or worked for accounting firms prior to starting the masters.
What is your current job? How did the master's in accounting program at William and Mary help you get the job and help prepare you for it?
I am currently working as a tax associate at Ernst & Young. As a tax assistant I am mainly responsible for preparing corporate and partnership tax returns and assisting with provisions, which involves working with the audit team to determine whether the clients' tax accounts are appropriately stated.
The program at William and Mary gives students the opportunity to learn case interviewing skills, participate in individual and group case mock interviews, and network with other William and Mary alumni who currently work in the consulting field. Through numerous networking events, the program allowed me to meet and interview with top CPA firms.