Alina Elperin '07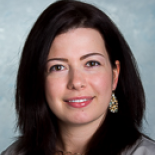 Class Year
2007
Area(s) of Study
Biology, Chemistry
Hometown
Northbrook, IL
Graduate Study
Rosalind Franklin University-Chicago Medical School, MD degree
Current Job
Clinician, Internal Medicine Residency Site Director
Alina Elperin, MD '07 became an Internal Medicine Residency Site Director after studying chemistry and biology.
Describe a moment or experience you had in college that helped define your career path.
My Biochemistry class with Dr. Martin helped confirm my interest in medicine. I learned that I love how biochemistry is the crux of how the body functions and how medications benefit in illness. I also learned that I have the stamina and the commitment it takes to excel in a difficult subject.
What steps did you take in college to prepare for your career?
The most important step I took to prepare for my career is study hard and achieve the best GPA that I could. I also did research in Dr. Light's lab, volunteered in a hospital emergency room and shadowed a physician. I was also a part of several organizations on campus such as Eukaryon Journal when it was just starting its first publication! I was also a vice president of Future Health Professionals.I also traveled in my free time which made me a more worldly and well rounded individual. These experiences helped confirm to me that medicine is my true passion.
What role did your research experience play in shaping your career path?
Research in Dr. Light's lab introduced me to the academic side of medicine. I learned the various methods and procedures in research as well as how to write and defend a thesis - very important skills. I also learned how to read and interpret scientific research - a crucial skill to have as a physician.
What would you recommend Lake Forest College students considering a career in your field do to prepare?
I recommend you work hard to achieve the best grades. It also helps to have a mentor who can help you explore the field of medicine and confirm that you are making the right decision. Some kind of work be it volunteering or an internship in a medical office/hospital is very important so you further confirm your commitment to the field. Lastly, research is an extremely important skill to have in preparing for a career in medicine.
What have you found the most rewarding in your career and life after graduation?
The most rewarding in my career is hearing a patient say "thank you". Be it for simply listening to them or diagnosing and treating a problem they are suffering with.
Anything else you'd like to add?
Lake Forest College is an outstanding place to begin to explore your interest in medicine. The personal attention you get from your professors and colleagues is invaluable. The resources you have including the Career Advancement Center are second to none. Use these resources to make sure you are making the right career decision for you!