Summer researchers compete in annual plate race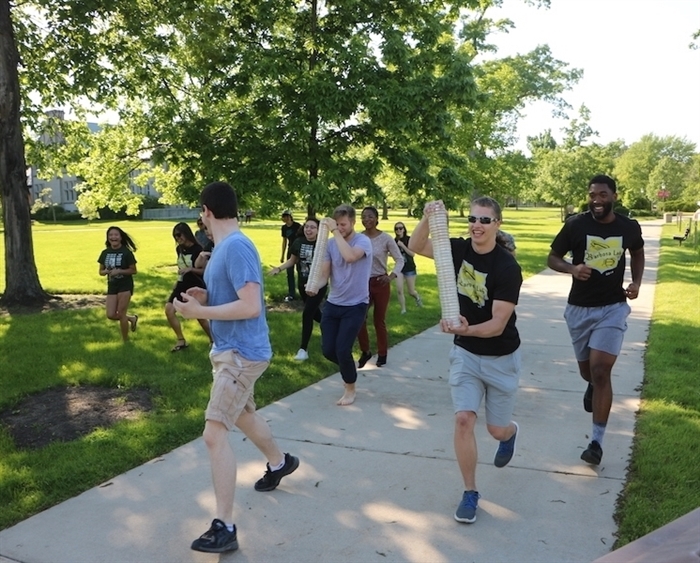 Lake Forest College hosted its 6th annual Summer Plate Race on Monday, June 4—this time on Middle Campus Quad.
The plate race is a fierce—but fun—competition of student researchers who attempt to balance stacks of 40 yeast petri plates as they race across the Quad. The key is to complete the race without dropping any plates or restacking as quickly as possible.
Students involved in summer research on campus and at Rosalind Franklin University of Medicine and Science created 11 teams that ran in six elimination-round races.
So, who was first to cross the finish line without dropping any of the plates?
Lab students for Associate Professor of Biology Alex Shingleton and Assistant Professor of Biology Flavia Barbosa teamed up and managed to hold on to their one-and-a-half-foot plate stack and cross the finish line first in the final round. The combined team won the coveted McPherson Cup for the second year in a row.
The losing team earned honors for a spectacular display of sportsmanship and hilarity, ironically receiving a larger trophy than the winners.
Rosemary Thomas '18 advises future plate racers to adhere to the cliché "slow and steady wins the race. Otherwise, you'll drop the plates," she said. Her team, from Professor of Biological Sciences Shubhik DebBurman's lab, didn't follow that mantra, unfortunately, and were eliminated in the first round.