Summer partnership celebrates 10 years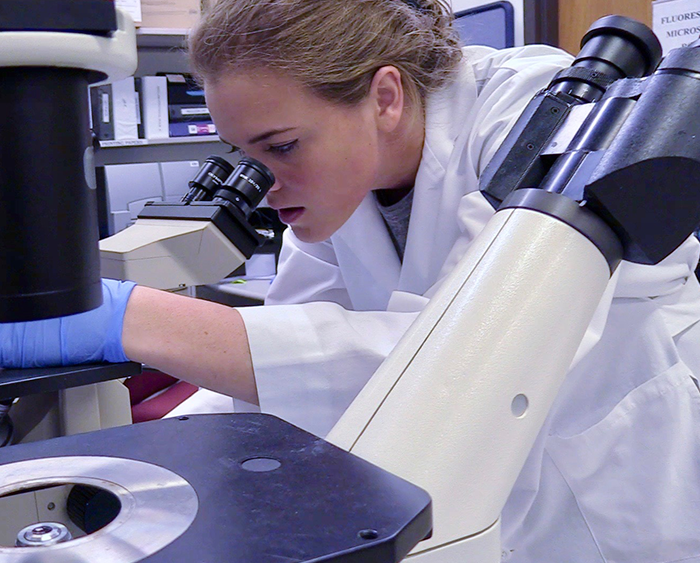 Working in a lab on research turned into a career-making experience for more than 100 Foresters who have participated in the Lake Forest College-Rosalind Franklin University research program since 2009.
Since the program's inception, between 15 and 20 Lake Forest College students from a variety of majors have conducted 10 to 12 weeks of paid research annually as RFUMS Summer Scholars. In this role, they have worked alongside graduate students, postdoctoral scientists, and health professionals to carry out original medical research in the areas of cell and molecular pharmacology, neuroscience, cell biology and anatomy, biochemistry and molecular biology, pathology, microbiology and immunology, and physiology and biophysics.
This unique research partnership between a liberal arts college and a nationally renowned health sciences university was co-created by Lake Forest College's Disque D. and Carol Gram Deane Professor of Biological Sciences Shubhik DebBurman and RFUMS professors. Their intent was to give undergraduate students an edge in postgraduate programs in basic sciences and allied health professions.
"For our undergraduates, the benefits are multifold," DebBurman said. "They become exposed to research training early in their academic careers in disciplines and research topics that extend beyond what we offer at Lake Forest. This opens new possibilities for intellectual engagement and exposes them to a broader set of biomedical problems. Our scholars interact with a variety of academic scientists on different career paths and with health professionals. The opportunity to be directly mentored by a medical school professor is especially valuable. Most of these students have headed for PhD and MD studies after graduating from Lake Forest College."
RFU's Dr. Robert Marr has worked with Lake Forest students as part of the summer research program for many years and commends the good synergy it creates. "We get highly motivated and bright students from Lake Forest College, while the students get the opportunity to participate in a wide array of research areas that are going on at RFUMS," he said. "I have directly benefited many times over from mentoring Lake Forest students that have moved key project areas forward."
This thriving program will once again place 20 talented life-science majors in as many different labs this coming summer, thanks to the long-term efforts in fostering strong relationships between the institutions by faculty mentors Assistant Professor of Biology Lynn Westley, who co-coordinates the program with DebBurman.
First class of Summer Scholars
Pascal Accoh '12, a biology and neuroscience double major, was among the first group of Foresters chosen to work at the medical school located a few miles north of Lake Forest College. In that first summer, Accoh discovered he liked research so much he spent all four undergraduate years in the program building on his work.
"I looked at different topics such as paralysis in and development of the brain, and I used that research to write a senior thesis," Accoh said. "My professors instilled in me the concept of researching by approaching different scientific concepts from different perspectives."
His track record of research helped Accoh achieve his ultimate goal: To get into medical school. His time spent in the lab at RFU "was a big, important piece of my application packet," Accoh said. Able to show that he had experience in a basic sciences lab "helped me demonstrate to other medical schools that I was multi-faceted and an applicant who was not only interested in practicing medicine, but who could also do the research component," he said.
Since graduating from Lake Forest College, Accoh earned his MD at Southern Illinois University School of Medicine and is currently completing a residency in internal medicine at St. Louis University.
Peter Sullivan '12, biology and chemistry double major, tells a similar story. A member of the 2011 Summer Scholars cohort, he found the experience life-changing. "Working at RFUMS for my thesis project gave me access to mentors, equipment, and experiences critical to strengthen my scientific thought-process and build my confidence as a researcher," he said. "This experience helped me to enter a competitive PhD program at Cornell University and become more confident as a scientist."
Sullivan received his PhD in biochemistry and molecular biology at Cornell University after graduating from Lake Forest College. Today, he is a postdoctoral research fellow at Seattle Children's Hospital. In this familiar lab setting, Sullivan is studying immune response and immunotherapeutic approaches to treating cancer. As a product of his research, Sullivan has authored several published papers over the past two years.
Benefits of researching and publishing
Getting published is important for researchers at all levels of experience. For an undergraduate to be named a coauthor on a research paper is unusual. Thanks to the LFC-RFUMS partnership, many Lake Forest College students have been listed as coauthors on published research papers over the past decade.
Natalie Simak '11, biology and psychology double major, received her first credit as a coauthor on a published paper in November 2009 while she was a junior at Lake Forest College. Since then, Simak has been listed as a coauthor on multiple research papers. Today, she is an anesthesiologist with University of Chicago Medicine.
Daryn Cass '10, biology and international relations double major, also worked several years in the labs at RFUMS and is listed as a coauthor on more than seven published papers based on her RFU research. Like Simak, Cass attended Chicago Medical School at RFUMS after graduating from Lake Forest College. Today she is a neurological surgery resident at the University of Cincinnati Medical Center. Cass credits her success, in large part, to the "extensive amount of time and effort" her primary researcher put into teaching "the methodology and thought process that goes into scientific research," she said.
In 2018, Michael Janecek '18, neuroscience and history double major, furthered that legacy of Lake Forest students earning professional publishing accolades for their research at RFU. Janecek is listed as first author on an extensive paper he coauthored with RFU neuropharmacologist Joanna Dabrowska on the role of neuropeptide oxytocin in fear and anxiety.
"Academic publishing is an intellectually privileged arena, and being able to enter it and get my name out there brings me much joy," said Janecek, who is currently pursuing a doctoral degree in neuroscience at the University of Pittsburgh. "My work with Dr. Dabrowska definitely helped me transition from undergraduate to graduate research."
His experience at RFUMS "opened my eyes to the world of academic research and the excitement of creating my own questions and helped me decide that neuroscience research is what I want to do," Janecek said.
Shaping future career paths
Since its inception, the LFC-RFUMS has made a major impact on dozens of Lake Forest students. "This scholars' program is one of our most successful and sustained inter-institutional partnerships at the College," DebBurman said.