Entrepreneurship and Innovation
Students participate in Princeton Environmental Ideathon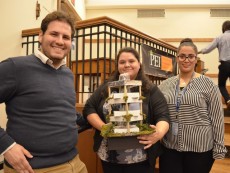 Melissa Ward '19, Katie Donaldson '21, and Kaylene Williamson '19 were accepted into the first-ever Environmental Ideathon at Princeton University where they addressed the larger challenges of developing a sustainable modern city.
"We had a great time competing against students from Ivy league schools while also meeting new people," said Ward of the experience.
At the two-day competition in April, Ward, Williamson, and Donaldson participated with academics and industry leaders in discussions that focused on developing a green and sustainable modern city.
During the competition portion of the event, the Lake Forest College team was tasked with creating a component of a self-sustaining block for a city with a specific need. In response, they designed a superblock that could fit into the city of Chicago.
"This self-sustaining block would, hypothetically, cater to a number of needs for creating renewable energy and food sources," Williamson said.
The goal of the program was to allow students to explore issues creatively, learn more about environmental problems, and network with leaders in the field.
"I hope to work in restoration or conservation once I graduate, and this experience has greatly increased my awareness about the issues facing our society in the age of climate change," Donaldson said. "I can't wait to apply the knowledge that we gained from our experience at Princeton to everything that I do going forward."
The Ideathon presentation categories included water, food, waste, energy, infrastructure, health, education, and politics—all part of the overall theme, "citie s of tomorrow."
"This was a wonderful collaboration between students from different academic areas," Director of Entrepreneurship and Innovation Trish Thomas said.
Donaldson is an environmental studies major; Ward, a biology major; and Williamson, a business major.