Students, alums present research at international conference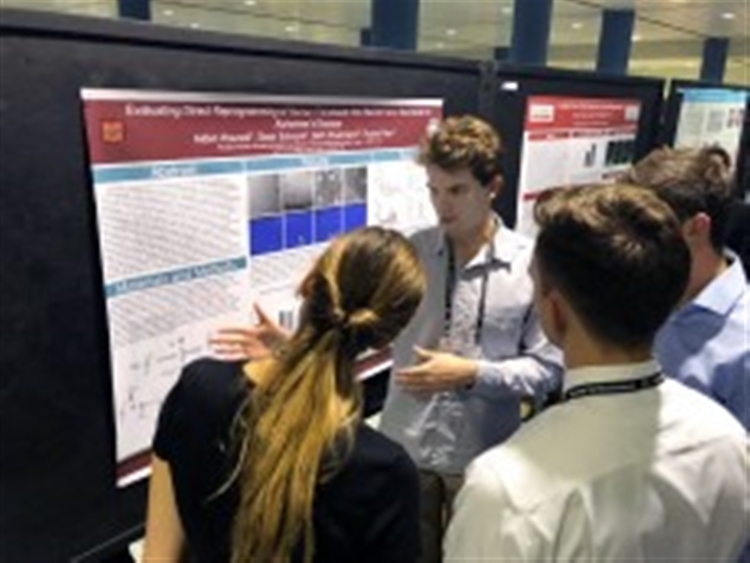 Three current students and two recent alums had the privilege to present their independent research at an international neuroscience conference in Chicago.
In all, 25 Lake Forest students and four faculty members attended the 49th annual meeting of the National Society for Neuroscience, which was held over fall break. The event drew more than 30,000 researchers from over 70 countries who came together to discuss their findings and share their knowledge among their colleagues.
"After presenting at the Society for Neuroscience, I feel I now have the tools to be confident when speaking to others, not just to my professors at the College, but also to colleagues in the professional world," Bilal Khan '22 said. Khan is a neuroscience and psychology double major.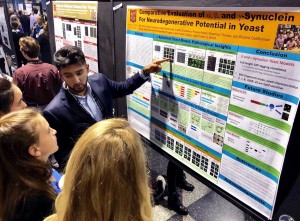 Also sharing their research at the conference were: Leslie Gonzales '21, a neuroscience and psychology double major who is minoring in Spanish; Aiden Houcek '20, a neuroscience major who is double minoring in chemistry and religion; and recent alums Yoan Ganev '19, a neuroscience and biochemistry and molecular biology double major; and Eliska Mrackova '19, a neuroscience and art double major.
"Presenting at a national neuroscience conference really shows your level of dedication to your passion," Houcek said. "It also shows that you're comfortable, knowledgeable, and happy to engage with others. I think all these characteristics are crucial for a successful and productive career."
Faculty members and student leaders of the College shared two educational-based posters on the neuroscience program as a curricular model and the College's Brain Awareness Week program as an all-year-round model.
Students and faculty also took part in a major workshop panel on how to organize and expand new science competitions across the world and discuss how a Nu Rho Psi college chapter can be a leading role in pursuing that cause.
"This was an exceptional presence of undergraduates from any one institution at any major international conference and a great example of a best practices outcome of our close access to Chicago and the high level of research edge that we provide our undergraduates," said Shubhik DebBurman, Disque D. and Carol Gram Deane Professor of Biological Sciences, chair of the college's biology department, and member of the neuroscience and biochemistry and molecular biology programs.