Niam Abeysiriwardena '20 earns national Parkinson's research grant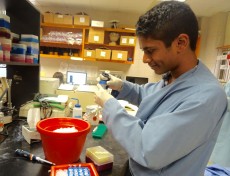 Niam Abeysiriwardena '20 will advance his research on Parkinson's disease this summer, thanks to a prestigious grant he received through the 2019 Parkinson's Foundation-American Parkinson Disease Association Summer Student Fellowship Program.
The grant not only helps fund the planned research, but also travel to a national conference where Abeysiriwardena will present his findings during his senior year.
In its award letter, the Parkinson's Foundation Grants Review Committee called "Characterization of Three Newer Parkinson's Disease-linked α-Synuclein Mutations in Yeast" a "highly regarded proposal."
"This fellowship will give me valuable experience in the lab, as I am planning to pursue an advanced degree in the future. It will help me stand out in the applicant pool for graduate school and help with graduate research that I will do in the future," the neuroscience and computer science double major and legal studies minor said. "Being able to see the process of making a proposal and getting feedback is helpful for future research and grant applications."
The Foundation's Summer Fellowship Program is used to support students—from advanced undergraduates to medical students—in their pursuit of Parkinson's-related summer research projects. The goal of the Fellowship is to cultivate an early interest into the cause and possible treatments for Parkinson's disease.
"This grant is typically given to medical students and to undergraduates at nationally regarded research universities," said Disque D. and Carol Gram Deane Professor of Biological Sciences Shubhik DebBurman. "Niam's proposal stood out because it demonstrated high potential to provide new insight into Parkinson's pathology."
Abeysiriwardena began researching the neurodegenerative disorder in DebBurman's lab as a 2017 summer Richter Scholar when he was 14-years-old, the youngest Richter ever. A year later, in summer 2018, a paper he co-authored with Sam Gascoigne '20 in another area of research, "Algal Bloom Expansion Increases Cyanotoxin Risk in Food," was published in the Yale Journal of Biology and Medicine.
"I am inspired by how prolific Niam already is in scientific research at such a young age, but also the strong drive he possesses to contribute to neurological research and improve medicine for the long-term," DebBurman said. "Since his goal is to one day treat neurologies and making advances to better medicine, completing this funded project will prepare and motivate him further toward that goal."
Niam is the sixth DebBurman lab student since 2004 to receive a Parkinson's Summer Student Fellowship. All past recipients have pursued MD or PhD degrees and biomedical career paths.
"Across all sciences at the College, a true highlight are the exceptional opportunities my colleagues and I enjoy to train and collaborate with a large and diverse cohort of highly motivated undergraduates like Niam and help them make meaningful contributions to scientific research," DebBurman said. "This high quality of science students constantly fuels and enriches the College's scientific training environment and yields many well-prepared future PhDs, MDs, and physician-scientists."
Related Links: