Fine Nine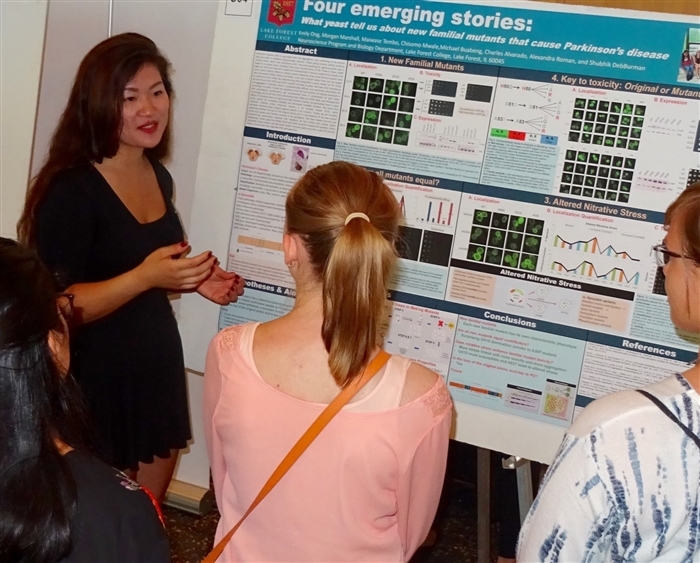 2016 marks a remarkable ninth straight year that Lake Forest College science majors stood on the podium at the premier pharmacology meeting in the Midwest. For the second straight year, this celebration was double.
Emily Ong '17 and Rosemary Thomas '18 both earned individual second prizes among undergraduates for their neuroscience research at the Great Lakes Chapter of the American Society of Pharmaceutical and Experimental Therapeutics (GLC-ASPET) meeting held at the Feinberg School of Medicine, Northwestern University, on Thursday, July 7.
Emily Ong '17, from Lincolnwood (Illinois) and Rosemary Thomas '18, from Des Plaines (Illinois), are neuroscience majors. Both got their initial taste for undergraduate research at the end of their first year of college as Richter Scholars, when they conducted their award-winning research in Professor of Biology Dr. Shubhik DebBurman's Parkinson's Disease lab at Lake Forest College. Both are planning for physician careers after graduating from college.
GLC-ASPET is the Midwest's professional pharmacology and toxicology society. Its members conduct basic and clinical pharmacological research and work for academia, government, large pharmaceutical companies, small biotech companies, and even not-for-profit organizations throughout the Midwest.

Ong's conference presentation was based on her senior thesis project on Parkinson's Disease and represents the collaborative effort of a talented undergraduate team that includes recent graduates Morgan Marshall '16, Charles Alvarado '16, and Maiwase Tembo '15 and two First-Year students Michael Buabeng '19 and current Richter Scholar Chisomo Mwale '19. This team is studying the pathological properties of three recently identified genetic mutants that cause early-onset Parkinson's Disease, by using a simple, yet powerful model organism, yeast.

Earlier this spring, Ong was just one of just 12 undergraduate and medical students nationwide to receive a 2016 national research grant from Parkinson Disease Foundation to conduct this work. Ong and her collaborators expect to complete this work next year and prepare it for future publication.
When Ong was asked what motivates her to engage in research? Her reply: "Being able to do research as an undergraduate student is a nothing less than a privilege and an honor. Knowing that I have been entrusted to do work that is not only broadly relevant to the scientific community, but is also meaningful on a personal level to my mentors and professors makes me feel like a part of something larger than myself. Perhaps paradoxically, taking part in undergraduate research also is humbling because I continue to learn everyday how much time, energy, and dedication are behind all of the scientific breakthroughs my friends and I can read about in a few minutes through our Facebook feed. Through this hard work comes joy - because I know my work is helping me develop further as a person, because I get to work with people just as passionate and dedicated as me, and most of all because I know my work will help someone somehow in the future. Doing research will allow me to be a more critical thinking, inquisitive, diligent, and overall well rounded person because by its nature, research demands those qualities. This will prepare me to be a better physician and to better serve my future patients, many of which who will not be well versed in science even though they can benefit from it, and who will rely on me to best apply it to improve their quality of life."

Thomas's presentation is based on the research that she first began as a Richter Scholar. She now mentors a current Richter Scholar Yoan Ganev '19, and together they have extended a novel lined of research first begun by Lake Forest graduates Galina Lipkin '15, Alexandra Roman '16, and Morgan Marshall '16. This talented team is evaluating the impact of key chemical modifications on the Parkinson Disease causing protein alpha-synuclein in yeast models to determine if these modifications aid or deter disease. Thomas expects to expand this work into her senior thesis project next year.
When Thomas was asked what the key was to her early success in research? Her reply: "At the conference, you have the genuine urge of wanting your audience to understand your research. In addition, you need to have a balance of fun and work. I had a lot of fun presenting, but I also had to work to get the confidence in my presenting skills. In the future, I would like to be a physician. I want to take care of people using my knowledge in science. I know that this goal will need a lot of hard work. Research has given me more knowledge in science and the opportunity to show how much hard work I can put into a goal. Research has also allowed me to work with other people who take science just as seriously as me."

A total of fifteen Lake Forest College students engaged in summer research at the College or at Rosalind Franklin University of Medicine and Science (RFUMS) attended the meeting.

2016 neuroscience graduate Sarah Chiren '16, also presented a poster on her senior thesis on traumatic brain injury that she conducted with RFUMS Professor of Neuroscience Dr. Daniel Peterson. Sarah is already a co-author on a manuscript being prepared for publication.

For First-Year Richter Scholars Yoan Ganev '19 and Danielle Sychowski '19 who are developing their edge with an early taste for scientific research, they have benefited as well from Chicago's easy access by attending this high-quality scientific conference even before starting sophomore year.

Yoan shares, "Engaging in undergraduate research allowed me to appreciate that science is a double-sided pursuit. The experimental and theoretical facets of science cannot be separated, and both are essential to building complete models. I learned that finding a balance between patience and enthusiasm is the key to a successful experiment".

Reflecting on the conference, Danielle adds, "Attending the GLC-ASPET as an undergraduate allowed me to gain insight to the professional world of the sciences and talk to a wide variety of people about their experiences. Meetings like GLC-ASPET are helpful in seeing what others are doing in both very similar and very different fields, and I'm very thankful to have had that opportunity."
As remarkable as the unbroken record of student honors is at the GLC-ASPET, Lake Forest students own an even longer record of recognition of 14-0 at Chicago's annual neuroscience meeting.

DebBurman believes that the remarkably consistency with which Lake Forest science students continue to shine for their research communication at professional venues is the product of the college's science curriculum. He emphasizes that faculty instill scholarly inquiry and a high level of professionalism through course work and research mentoring. "We are all deeply motivated to train our students to think and work like scientists and be best prepared to become members and leaders of the biomedical community," he said. "To witness our students receiving accolades, year after year, for their scientific discoveries at professional conferences like GLC-ASPET is simply the icing on the cake."

Past Lake Forest College Winners at GLC-ASPET:

2015
Saul Bello Rojas '16, neuroscience major, won the Second Prize. He is currently a full time research scientist at Northwestern Feinberg School of Medicine studying Lou Gehrig's disease and plans to pursue a PhD in the future.
Rachel Granberg '16, biology major, won the Third Prize and is pursuing MD studies at Saint Louis University.

2014

Charles Alvarado '16, neuroscience and education major, won the First Prize and and is pursuing a Masters of Art in Teaching (M.A.T.) degree from Lake Forest College after graduation.

2013
Maiwase Tembo '15, biology and neuroscience major, won the First Prize and is pursuing her PhD in life sciences at the University of Pittsburgh.

2012
Katrina Campbell '14, biology major, won the second prize. She completed an NIH IRTA Fellow at the NIH-NIAID Rocky Mountain labs from 2014-16 and is now pursuing her PhD studies in Neuroscience at Northwestern University.

2011
Keith Solvang '11, biology major, won the first prize and is pursuing his MD at Rosalind Franklin University of Medicine and Science.

Pascal Accoh '12, biology and neuroscience major, won the third prize and has received his Masters degree in Public Health from Southern Illinois University.

2010
Alina Konnikova '11, biology major, won the first prize and received her M.D. degree from the University of Illinois Chicago Medical School. 


Ashleigh Porter '11, biology major, won the second prize and received her M.D. degree from Wayne State University Medical School. 

Natalie Simak '11, biology and psychology major, won the third prize and received her MD from Rosalind Franklin University of Medicine and Science.


2009
Daryn Cass '10, biology and international relations major, won the third prize. She is now attending medical school at Rosalind Franklin University of Medicine and Science.

2008
Alexandra Ayala '09, biology major, won the first prize. She is now a math and science teacher with Teach for America in Houston, Texas.