Summer Richter Scholar research projects announced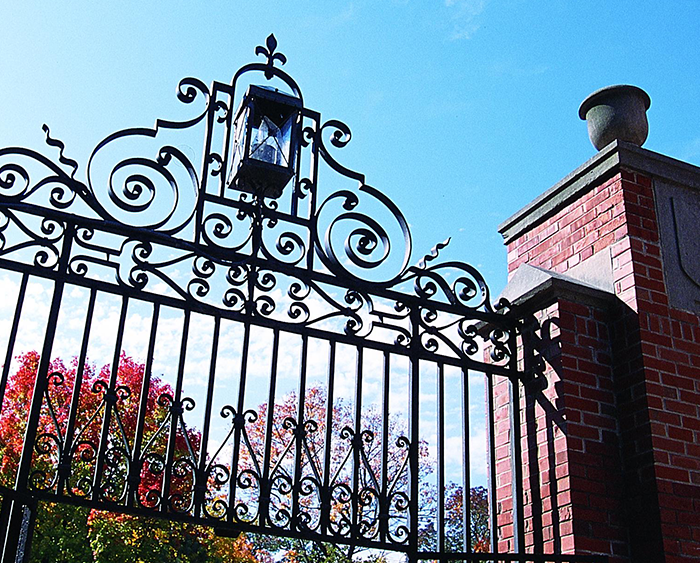 Forty-five students will get firsthand research experience this summer as participants in the 2021 Richter Scholar Summer Research Program—the College's signature research initiative that provides students with the opportunity to conduct independent, individual research with faculty early in their academic careers.
This year's Richter Program includes 32 rising sophomores and 13 rising juniors who deferred their research from 2020 due to the COVID pandemic. In all, the student-researchers will work with 22 faculty members on 25 projects in either a four-week or an eight-week session. The program begins May 24.
Biology:
"Discovering molecules and mechanisms to combat Parkinson's Disease" – Amanda Grassel '23 with Professor of Biological Sciences Shubhik DebBurman **
"Evolutionary trade-offs between flight and sexually-selected traits in beetles" – Beth Defoe '23 and Iman Shepard '23 with Assistant Professor of Biology Flavia Barbosa **
"Fish biomechanics and sensory systems" – Violet Anderson '23 and Djurdjina Jovanovic '23 with Assistant Professor of Biology Margot Schwalbe **
"Molecular mechanisms of injury-induced neurodegeneration" – Majo Orozco Fuentes '24 and Otoha Tatami '24 with Assistant Professor of Biology Rebecca Delventhal **
"Patterns in salt limitation of ant communities" – Marina Strong '23 and Candi Albarran '24 with Associate Professor of Biology Sean Menke **
"Telomere genetics" – Meklit Yimenu '23 and Natalie Kamau '24 with Professor of Biology Karen Kirk **
Business:
"Do words matter? The impact of gendered language in STEM job postings on women's applications" – Farhan Ahmed '24 and Megan Yim '24 with Assistant Professor of Business Cassondra Batz-Barbarich **
Chemistry:
"Cure tuberculosis with molecular biology" – Laurel Robbins '23, Gabrielle Vineyard '23, Beau Grimes '24 and Ceylin Sahin '24 with Assistant Professor of Chemistry William Conrad **
"Removing environmentally persistent pharmaceuticals from wastewater" – Emma Clay-Barbour '23 and Giselle Schiet '23 with Assistant Professor of Chemistry Erica Schultz **
"Upgrading chemistry laboratory experiments" ¬– Ayesha Fatima '24, Ashley Ocampo '24, and Alexis Rosenfeld '24 with Professor of Chemistry Jason Cody *
Education:
"Linguistic practices, education, and development in multilingual Africa" – Minori Aoki '24, Ian Cox '24, and Adam White '24 with Associate Professor of Education Desmond Odugu *
"Restricted Chicago: Housing discrimination and educational disparities in Chicagoland area" – Hayley Headley '24 and Aarti Singh '24 with Associate Professor of Education Desmond Odugu **
"Using video technology to explore math teacher inquiries of their own classrooms" – A.C. Macartney '24 with Assistant Professor of Education Patricia Buenrostro *
English:
"From Arthurian romance to mystical theology: Decoding Charles Williams' literature" – Jack Farrell '24 with Professor of English Carla Arnell **
"Researching young adult fiction for teaching" – Demetra Tsakos '24 with Professor of English Carla Arnell **
Entrepreneurship and Innovation:
"Latina entrepreneurship study: Identifying local Latina entrepreneurs and uncovering pain points" – Nikki Garcia '24 with Interim Director of the Entrepreneurship and Innovation Program Kate Jackson **
Finance:
"Investigating borrowing behavior in online peer-to-peer lending" – Morgan Blank '24 and Vraj Patel '24 with Visiting Assistant Professor of Finance Nancy Tao *
Mathematics:
"Exploring the broader impacts of the COVID-19 pandemic" Veronika Chernik '24 with Assistant Professor of Mathematics Andrew Gard *
"Le data" – Malek Elaghel '24 with Assistant Professor of Mathematics Arthur Bousquet **
Philosophy:
"The effects of abstractness and concreteness on causal judgments" – Wiktoria Pedryc '24 with Assistant Professor of Philosophy Paul Henne *
Physics:
"A computational study of O on Rh" – Ryan Kropp '23 with Visiting Assistant Professor of Physics Veronica Walkosz *
Politics:
"The international politics of the global environment and global health" – Mauricio Calderon '24 and Noella Ufitinema '24: with Associate Professor of Politics James Marquardt *
Psychology:
"Cholinergic mechanisms of Pavlovian conditioned approach behavior in rats" – Kotryna Andriuskeviciute '24 and Wambui Kahende '24 with Assistant Professor of Psychology Jean-Marie Maddux **
"A parametric study of the attentional set-shifting task in rats" – Lael Medema '23 with Assistant Professor of Psychology Jean-Marie Maddux **
Religion:
"Religion, biology, and public health" – Elya Gasparyan '24, Sophia Timm '24, and Stanzin Zasal '24 with Assistant Professor of Religion Anya Golovkova *
* Four-week session
** Eight-week session