Students present research at international neuroscience conference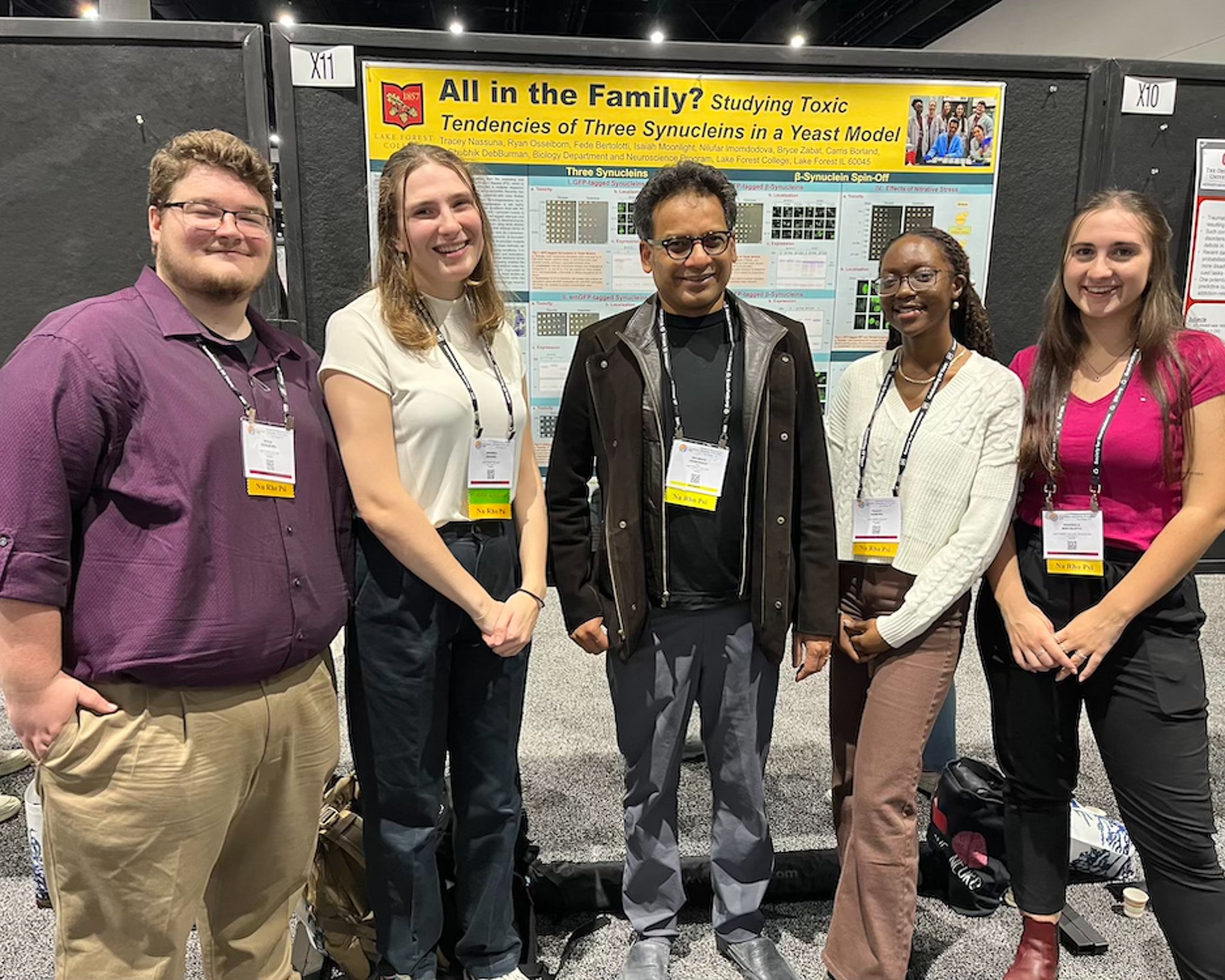 Tracey Nassuna '23, Ryan Osselborn '23, Fede Bertolotti '24, and Amanda Grassel '23 had the opportunity to present their research at the Society for Neuroscience 2022 conference, held in San Diego November 12–16.
The annual conference brings together experts in neuroscience from around the world and is widely considered the premier global neuroscience event of the year. Disque D. and Carol Gram Deane Professor of Biological Sciences Shubhik DebBurman mentored the students for this distinguished presentation opportunity and accompanied them on the trip. All four students are Bartram Research Scholars in neuroscience.
Foresters gave three presentations at the conference based on three co-authored research papers:
"All in the Family: Studying toxic tendencies of three synucleins in a yeast model" by co-first authors Nassuna and Osselborn, Bertolotti, Isaiah Moonlight '25,

Nilufar

Imomdodova '25, Bryce Zabat '24, Carris Borland '21, and DebBurman based on research conducted in DebBurman's research lab.
"Insight into Parkinson's Disease from a yeast model: How three alpha-synuclein mutants may couase disease" by Grassel, Nassuna, Borland, Bertolotti, Osselborn, and DebBurman based on research conducted in DebBurman's research lab.
"Raising brain awareness all-year-round: Students integrate undergraduate curriculum with public education, K-6 outreach, and peer learning at Lake Forest College" by Osselborn, Megi Diasamidze '23, Serenah Quiroga '23, Maria Jose Orozco Fuentes '24, Assistant Professor Jean-Marie Maddux, Asssistant Professor Margot Schwalbe, and DebBurman based on research conducted in the College's neuroscience program.
Formally sharing their research builds students' confidence as well as important presentation and networking skills that will help them in interviews and academia beyond graduation. For students looking to apply to graduate programs after Lake Forest College, conference attendance can help bolster applications. All four students are planning for applying for doctoral degree programs after graduation.
"Presenting at these conferences has been a really great learning experience as I've not only gotten better at communicating and presenting, but also been able to get insights from other scientists on other potential experiments I could do to further this work," Grassel said.
A neuroscience major, Grassel received a Faculty for Undergraduate Neuroscience (FUN) Travel Grant funded by the Grass Foundation to present her senior thesis at this meeting. Grassel previously presented at the College's annual Robert B. Glassman Symposium, the annual Great Lakes Chapter of the American Society for Pharmacology and Experimental Therapeutics Scientific meeting, and the Annual American Society for Biochemistry and Molecular Biology and Experimental Biology meeting in Philadelphia as well as the 2022 Chicago Brain Bee.
In spring 2022, Grassel and Nassuna together earned a Projects for Peace grant to fight Parkinson's stigma in Uganda. At the Society for Neuroscience (SfN) conference, Nassuna was honored with a prestigious travel grant from Nu Rho Psi (the national neuroscience honor society) to present her senior thesis.
Osselborn, who was recognized in spring 2022 as a 2022 Goldwater Scholar in addition to his selection as a recipient of a Parkinson's Foundation Summer Student Fellowship, also received a travel grant from Parkinson's Foundation to present his senior project research. He also presented an individual poster at the SfN conference on the College's innovative brain awareness and outreach efforts.
DebBurman and the four students also had a reunion with several Forester alumni who also attended Neuroscience 2022, including Dr. Stephanie Valtierra '08, who earned her PhD in neuroscience at Northwestern University; Michael Janecek '18, who is working toward his PhD in neuroscience at University of Pittsburgh; Saul Bello Rojas '16, who is working on his PhD in neuroscience at Washington University at St Louis; and Trevor Buhr '18, a PhD candidate in neuroscience at Iowa State University.
Related Links: