Several new accelerated dual degree programs announced in the health professions
Lake Forest College and Rosalind Franklin University of Medicine and Science announce the launch of four new accelerated dual-degree programs—a master's in Physician Assistant Practice, a master's in Biomedical Sciences, a master's in Clinical Counseling, and a Doctor of Podiatric Medicine—and fewer prerequisites in the current Doctor of Physical Therapy and Doctor of Pharmacy dual-degree programs.
As an added bonus, Lake Forest College students can apply for admission into any of these dual-degree programs—and get an important head start in a future clinical career—as early as the end of their first year of undergraduate study.
These developments follow the May 2020 launch of the Health Professions Program (HPP), a partnership between Lake Forest and North Chicago-based Rosalind Franklin University that prepares students for a future career anywhere in the health professions. By fall 2020, more than 130 Lake Forest students were enrolled in the new HPP program. Those students are now on track to receive early exposure to a breadth of healthcare pathway options, complete multiple health-related experiential projects, and develop an important humanistic perspective to science and health issues.
"HPP helps students find the best fit within the health professions as they explore early the full gam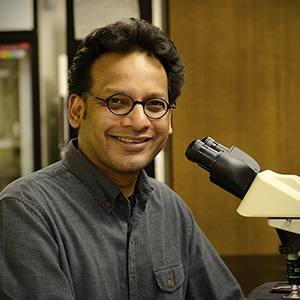 ut of possible career pathways," said the Senior Director for Science Partnerships and Professor of Biology Dr. Shubhik DebBurman. "We are incredibly fortunate to have Rosalind Franklin University faculty not only educate our students on this wider professional arena when they are still in the first year, but also to help them understand the social determinants of health, the value of interprofessional team work, and the ethical and empathetical mindsets with which health professionals should provide patient care to the diverse community they will serve."
With HPP as an anchor, the new dual-degree pathways are designed to provide "exceptional flexibility for our students to become physicians, pharmacists, physician assistants, podiatrists and physical therapists at whatever speeds that work best for each applicant," DebBurman said.
In addition, the new accelerated master's program in biomedical sciences (MS-BMS) allows Lake Forest College students to not only add a master's degree to their educational repertoire within four years, but also to gain a guaranteed interview with any of the clinical pathways at Rosalind Franklin University, including the Doctor of Medicine (MD) program. "For the most highly motivated students, this is a particularly direct and rigorous investment toward the graduate program of their choice at Rosalind Franklin University," DebBurman said.
Keith Solvang '11, a biology major and chemistry minor at Lake Forest, earned a Doctor of Medicine at Rosalind Franklin University, after completing his MS-BMS degree. He credits his liberal arts foundation with making him a better emergency room doctor.
Dr. Sandra Larson, vice president for partnerships at Rosalind Franklin University, agrees. "More and more health systems tell us they need healthcare graduates who can communicate empathetically, reason analytically, and have the adaptability and creativity to lead the healthcare system's transition to wellness promotion," Dr. Larson said. "These skills are learned as part of a strong liberal arts foundation. This partnership also supports our desire to enhance the diversity of our applicant pool."
Lake Forest College has the distinction of being ranked #2 nationally among liberal arts colleges by U.S. News & World Report for advancing mobility among economically disadvantaged students.
"Emergency medicine physicians must be well rounded in order to be proficient and efficient in the emergency room," Solvang said. "At Lake Forest College, I had many projects that required public speaking. That helped me improve my ability to speak to my attending physicians and consultants in the emergency room to convey an accurate story about the patient I am presenting."
Alyssa Tunison '16 graduated with a master's degree from Rosalind Franklin's Physician Assistant Practice program in May 2020. In June, she was certified by the National Commission on Certification of Physician Assistants and the State of Illinois as a Licensed Physician Assistant (PA). This double-major in biology and Spanish believes the dual-degree partnership between her alma maters will help future Foresters successfully pursue their dream of a career in the medical field.
"I have experienced firsthand the quality education and supportive faculty that both Lake Forest and Rosalind Franklin University have to offer," Tunison said. "Rosalind Franklin's rigorous curriculum and various opportunities to work with patients via simulations, standardized patients, and volunteering at the University's community clinic have helped to thoroughly prepare me for a fulfilling career as a PA."
Current student Carolynn Boatfield '22 was one of over 170 lake Forest College students accepted into the new HPP program this year.
"These dual degree programs are a great opportunity for students who are devoted to their field and are confident that they want to plan ahead and start early," Boatfield said. "It gives students a path to achieving their goals."
Later this year, Lake Forest College students can expect more dual degree pathways to be established, including an accelerated pathway to the MD program. Still further ahead is the plan for an accelerated 3-2 BA-MENP (Masters Entry into Nursing Practice) program between the two institutions.