Serving victims of abuse, homelessness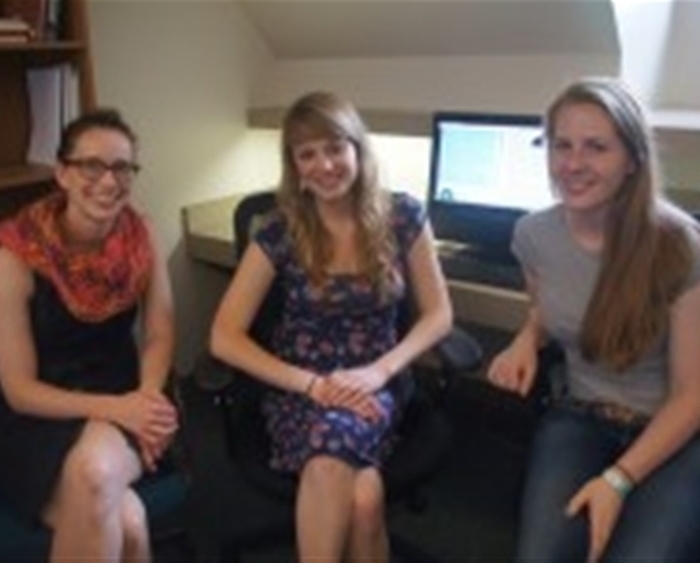 With guidance from Assistant Professor of Psychology Susan Long, Maria Naumann '16, and Erin Sully '16 generated three reports for up2us and Families Building Community. The reports are designed to help the groups strengthen their programming.
Research in psychology can change the world. That is one of the lessons Maria Naumann '16 and Erin Sully '16 learned through their Richter Scholar Program experience with Assistant Professor of Psychology Susan Long.
During the three and a half-week-long project titled, "Community Partners Ending Violence Against Women," the team analyzed survey data for two local organizations, up2us and Families Building Community. up2us provides anit-violence programming, and Families Building Community provides transitional living for homeless and abused women.
Under Long's guidance, the scholars generated two reports from their analyses that they hope the organizations can use to improve their programs. The duo will have completed a third report nearly independent of Long before their research experience concludes on Tuesday, June 4.
"I thought research would be exciting. Some of my friends did it last year," Minnesota-native Sully said of her decision to apply to the Richter Scholar Program. "I had my fingers crossed I'd get in."
The scholars learned to use the statistics program SPSS to enter quantitative data and build graphs for their reports. They also analyzed qualitative data, looking for patterns, categorizing the comments, and reorganizing the information in a clear way for the report, said Naumann, who is from Vermont.
Sully and Naumann were "hands-on and instrumental in creating the reports," said Long, a community psychologist who, like her colleagues in field, looks at larger social justice issues and how to ameliorate them. Their work earned "glowing reviews" from up2us.
For the third report, the scholars read through interviews Long previously conducted of 14 women who participated in a Families Building Community transitional living program for one year. These women had experienced domestic abuse, were single with children, and were homeless.
The interviews revealed the different types of relationships each woman had with her case manager and what factors played into that relationship, Naumann said.
That report, in particular, showed Naumann how the stereotypical definition of homelessness differs from reality, she said.
Both scholars recognized and appreciated the difference they were making by participating in this research.
"You can do important, useful work in small amounts of time," Long said.