Putting their research skills to work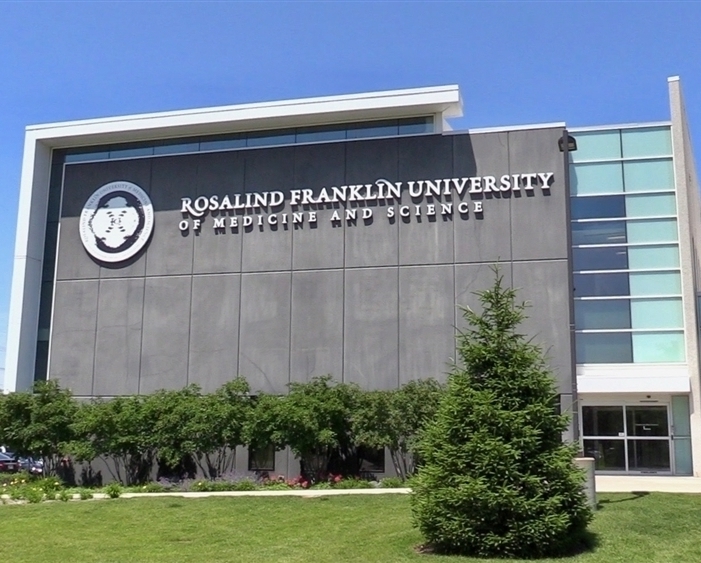 Twenty students had career-building summers conducting medical research in the Lake Forest College-Rosalind Franklin University of Medicine and Science Summer Fellows program.
The 2019 group of Summer Fellows are the latest Foresters to participate in this unique partnership between an undergraduate school and medical school, a partnership that began in 2009.
Transfer student Ellen Szostak '21 achieved her goal to conduct research after just one semester at Lake Forest College. Szostak left a 40,000-student state school to attend Lake Forest College in spring semester 2019. Just two months into her first semester at Lake Forest, the neuroscience major landed a research fellowship in the psychology department at RFUMS.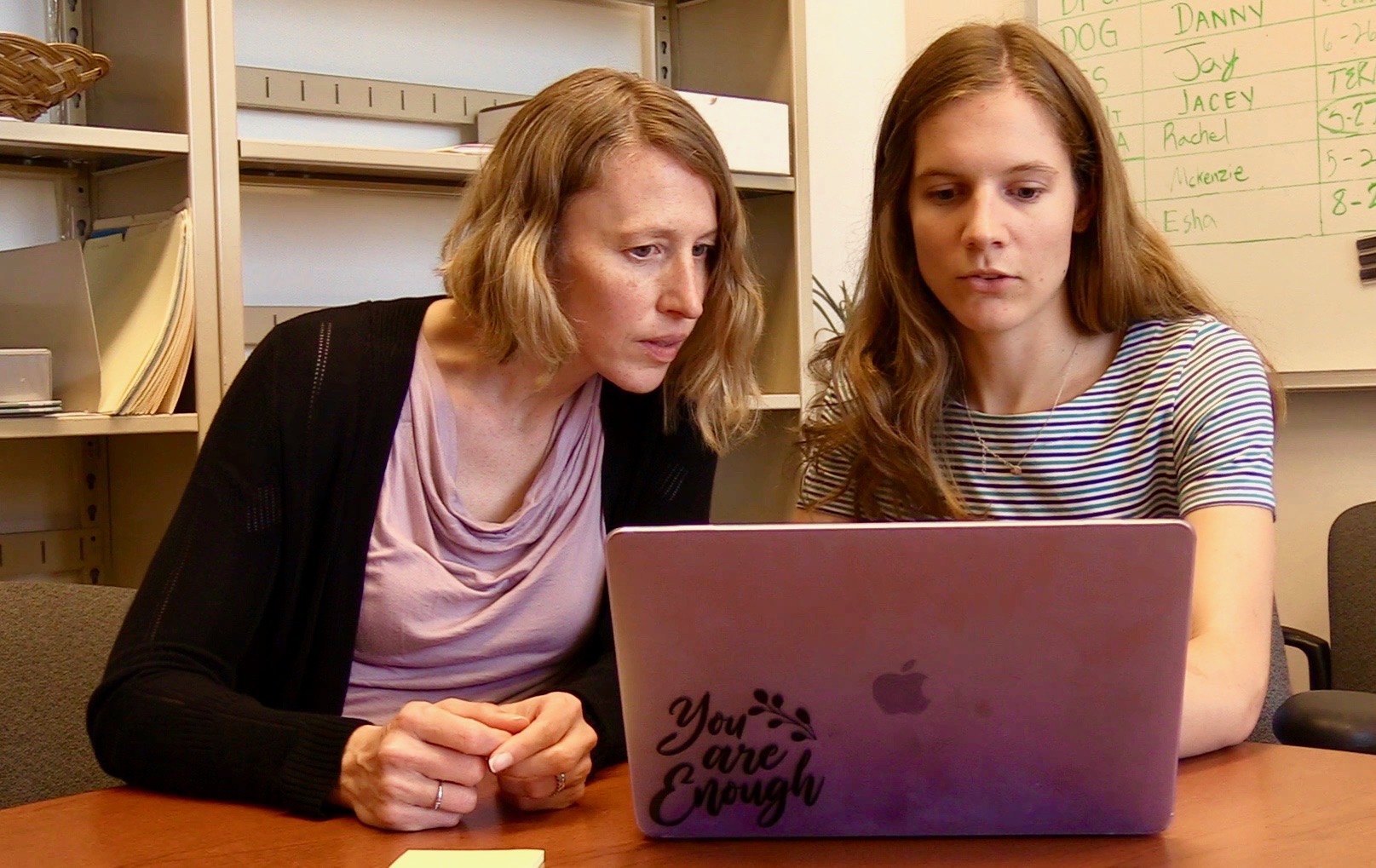 "At big universities, they're always talking about 'undergraduate research, undergraduate research,' yet it's very difficult to find the right person to talk to or the correct organization on campus to make that happen," she said. "At Lake Forest College—right off the bat—I was invited to apply for all these different opportunities."
Such exposure to research is important to the second-year student whose future career goal is to become a physician's assistant. "That's a tough route and it's very competitive," Szostak said. "I want to have another option and research is a good option for a neuroscience major."
This summer Szostak worked for 10 weeks with two RFUMS faculty mentors researching how irritable bowel syndrome affects exercise in youths and how asthma rates and obesity coexist in some children.
"Doing medical research is going to help me decide what path I actually want to go down once I graduate," Szostak said.
Professor Kristin Schneider, one of Szostak's mentors at RFUMS, speaks highly of the Lake Forest students she has worked with over the years. "They've all been very competent, energetic, and enthusiastic," Schneider said. "This partnership gives them a really nice foundation in the basics of research design and analysis. I can't speak highly enough of Lake Forest College students."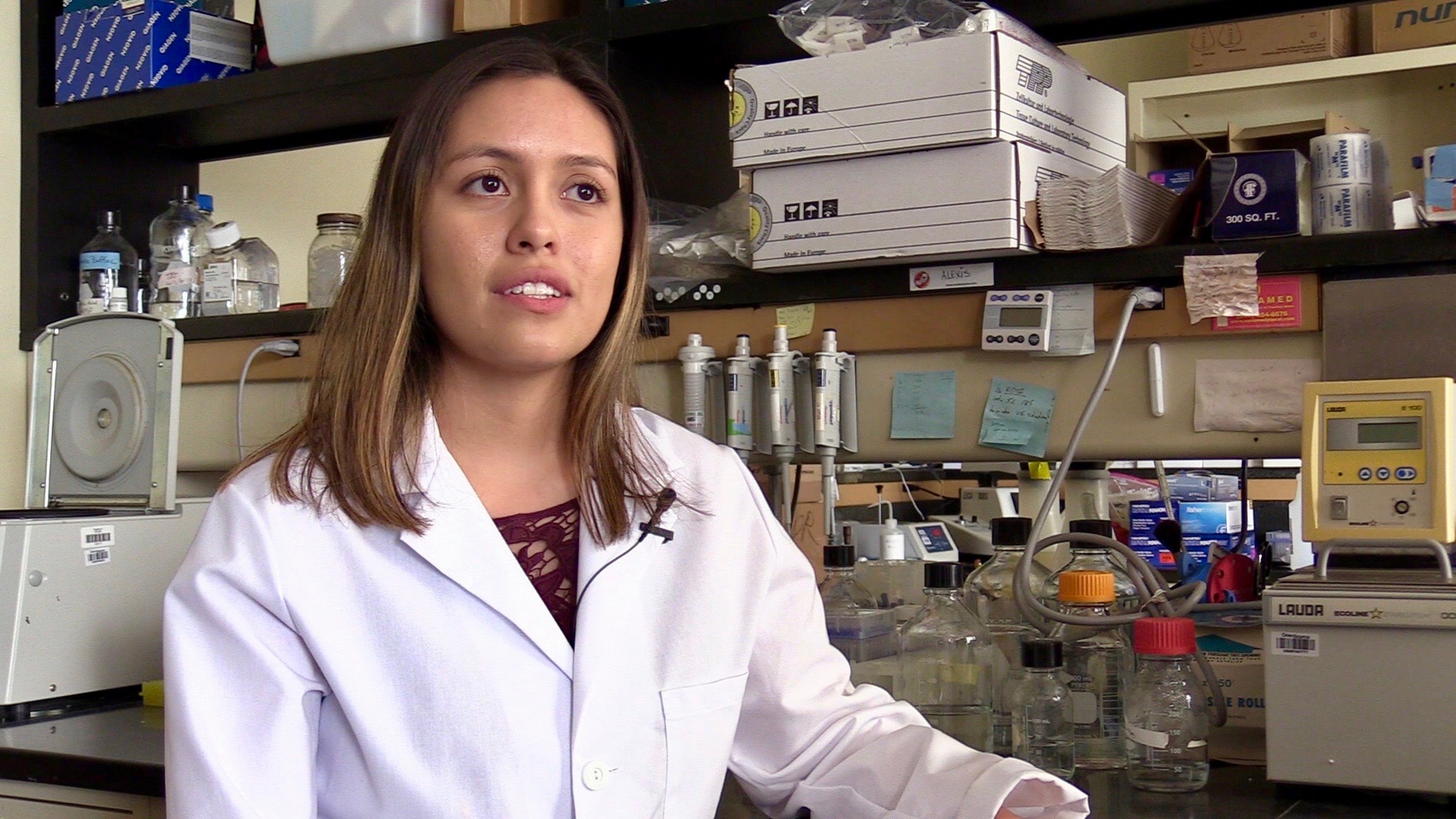 Yesenia Uribe '21 admits to feeling anxious heading into her summer assignment working in the cellular and molecular pharmacology lab on psychiatric disorders, but said she assimilated easily with the graduate students and post-doctoral students in the lab.
"I wasn't sure if I'd feel prepared to work with people who had gone through grad school and medical school," she said. "But when I got there, I realized that Lake Forest College prepared me to work in a medical school research lab."
Because Uribe aspires for a career as a psychiatrist, she values having mentors at RFUMS who have gone through graduate and medical school. "It's wonderful to get their perspective," she said. "I'm making a lot of connections."
Two-time Summer Fellow Samantha Russell '20 hopes to go to medical school to pursue an MD/PhD—a goal she set after her first summer working in a cancer research lab in the RFUMS microbiology and immunology department. Today, Russell hopes to pursue a career in lab research.
"I've progressed in my lab work from last summer to this summer," Russell said. "Now I'm even doing confocal, which is a microscope that shoots a laser into samples so that you can see the tissues. It's super-complicated.
A lot of my friends at big universities don't get that experience as undergrads, because there's a limited availability of research spots."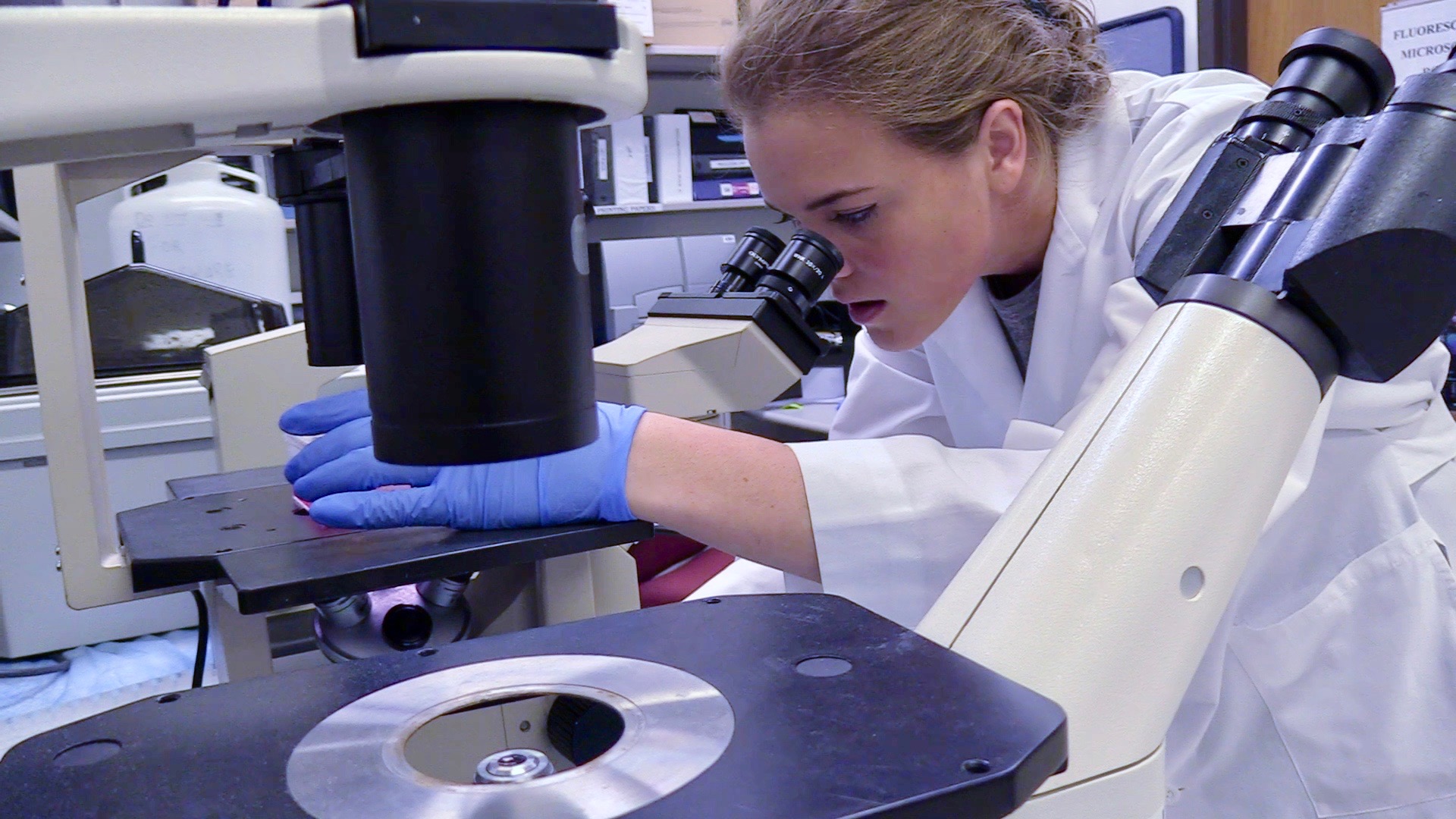 Working alongside medical students for two summers, Russell had plenty of opportunity to talk about career opportunities. "I've asked them about the different tests you have to take to get into medical school, the application process, and what you need to do to make it happen," she said. "It's tricky to find a current medical school student willing to share their experience with you. But because I work with them, they're more willing to help me out."
Aiden Houcek '20 also spent two summers as a research fellow at RFUMS and elected to continue in the same neuroscience lab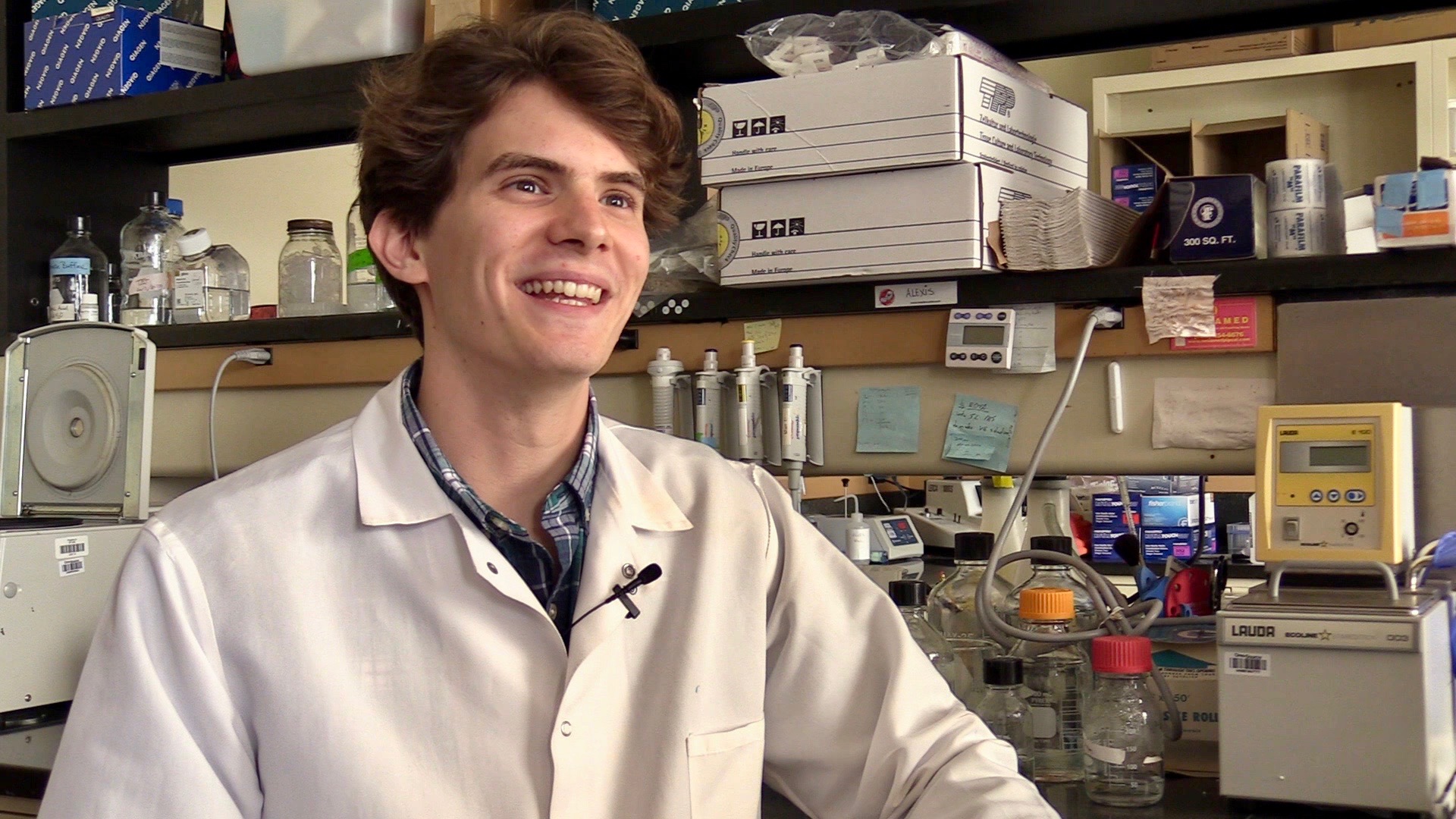 where he started. That decision gave Houcek the opportunity to build on his research in the direct reprogramming of human fibroblasts into neurons—research he will continue during the academic year as he works on his thesis. Houcek believes this medical school research experience will help shape his career.
"Almost every graduate school is looking for a certain number of hours of laboratory research experience," he said. "For me to get that experience so early in my undergraduate work will definitely give me an advantage in the application process."
Summer Fellows and Their Mentors