New experiential learning opportunity offered for students in English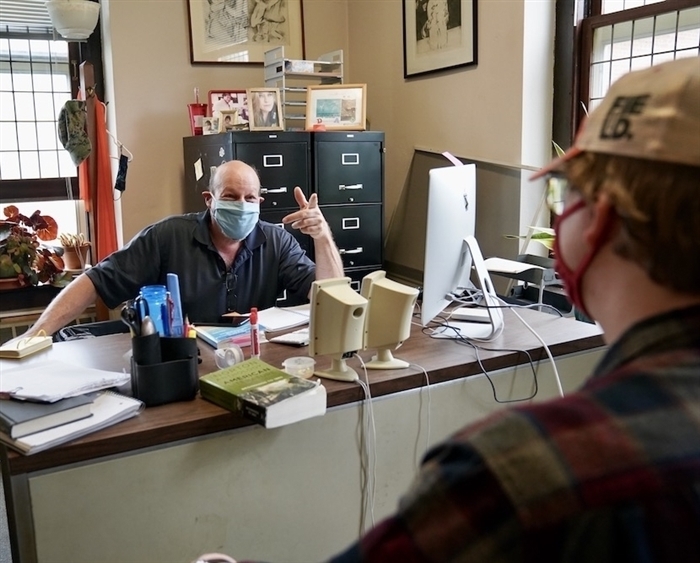 Lake Forest College's Department of English is offering a new experiential learning opportunity for English students through The Fielding Fellows Program.
The Fielding Fellows Program, named for 18th century British novelist Henry Fielding, gives students the opportunity to work directly with an English faculty member, gaining valuable hands-on experience and close mentorship from a professor. The fellowship is designed with students' future success in mind, bolstering their resumes with field experience before graduation. Field and research experience can help a student stand out throughout the job application process after college as well as enrich a student's academic experience throughout enrollment.
Assistant Professor of English RL Watson explained how The Fielding Fellows Program benefits students directly: "This program gives students an opportunity to work closely with a faculty member on advanced projects, which can enrich organizational, research, and interpersonal skills. These will be useful in any field, and students interested in research, writing, and publishing will also gain specific insight into the process of each."
Professor of English Joshua Corey underscored the importance of experiential research: "As with the Richter Program, the Fielding Fellows get to work with professors on their projects so as to develop their research skills, while getting direct insight into intellectual life and what it means to work as a teacher and scholar."
There are various faculty projects available that reflect a broad range of interests.
"This coming year, I am working on two projects with a Fielding Fellow as I complete research on an edited volume and critical article for The American Folk Art Museum and begin research for my second novel manuscript," Watson said. "The first project is titled Unnamed Figures, which is concerned with the presence and absence of Black figures in early New England (17th-19th century) amateur portraiture. My editorial contribution to this volume will include a chapter that reflects on the possibilities of selected figures depicted in the show. The second project I have planned more long term is for an historical novel, set in pre-Revolutionary Haiti. I would like especially to consider mawon communities and their relationships to those enslaved by the French. The Fellow will continue in building an existing annotated bibliography to support this research."
Students have the opportunity to assist with both academic and creative projects.
Corey said he has "the good fortune to be working with two Fielding Fellows at the moment. One is researching the lives and historical significance of two linked figures from Chicago history, the boxer Barney Ross and his friend Jack Ruby—the man who shot Lee Harvey Oswald—for a novel that I'm planning. The other is doing editorial and publicity work for another novel of mine that will be published in the spring. Both students are providing valuable feedback on the projects as they evolve while developing professional skills."
David Howle '23, Watson's fellow, credited the fellowship with advancing his academic interests.
"My work with Dr. Watson has been so impactful on my academic plans," Howle said. "The research that I do for her on the absence and presence of African Americans in the New England states is so fascinating because it has opened my eyes to a whole history that is missed in primary and secondary schools. I want to have the impact that Dr. Watson has had on me to transcend into my relationships with my students one day."
Fielding Fellows will receive hourly compensation at the College's standard pay rate for up to $1,000 for a year-long fellowship or $500 for a semester-long fellowship.
This year's fellows are:
Belinda Beaver '22
John Beranek '23
Jack Farrell '24
David Howle '23
Anna Indelli '22
Emily Mitchell '24
Reese Reynolds '23
Joseph Ridarelli '24
Caroline Warrick-Schkolnik '22
Students who are passionate about English are encouraged to apply for The Fielding Fellows Program. Students interested in applying must meet the following eligibility requirements: Must be a declared English major or minor and must have a major GPA of 3.5 or higher. Fellows are selected based on academic qualifications and best fit for individual faculty projects.
Related Links: