Neuroscience students earn Projects for Peace grant to fight Parkinson's stigma in Uganda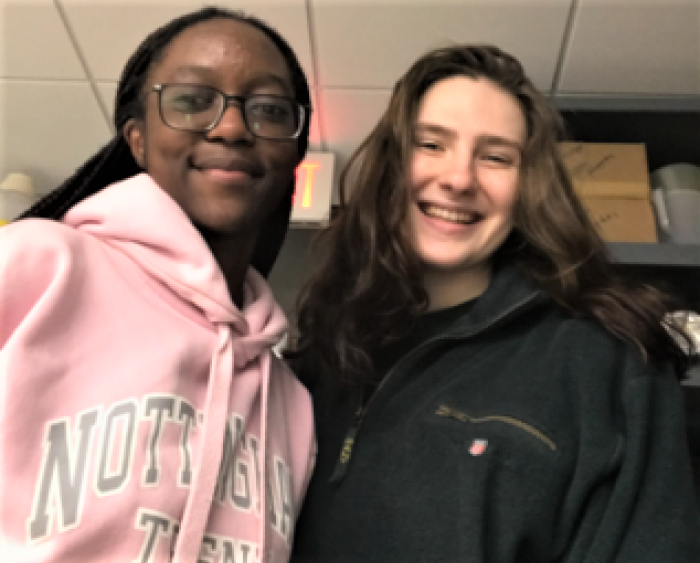 Amanda Grassel '23 and Tracey Nassuna '23 were first intrigued by Parkinson's Disease while completing lab research, but they felt disconnected from the humans directly impacted by the disease. They will travel to Uganda this summer to help support efforts to destigmatize Parkinson's Disease.
"Unfortunately, there are some places around the world where a lack of proper education and funding have left those with Parkinson's Disease alone and without the care they need," Grassel and Nassuna wrote in their proposal. "A lack of proper medical infrastructure, cultural misinterpretations, and a lack of awareness have led to the needless suffering of millions of individuals around the world."
Their project, "Fighting the Stigma: Parkinson's Disease," will enable them to aid Ugandan organization Parkinson's Si Buko, which translates to "Parkinson's is not witchcraft," in providing education to dispel myths that Parkinson's is the result of witchcraft rather than a debilitating neurodegenerative disease. Davis Projects for Peace has granted Nassuna and Grassel $10,000 to support their mission to fight the stigma of Parkinsons Disease.
Parkinson's Si Buko, founded in 2017, is run by Kabugo Hannington, who watched his own mother succumb to the disease. The stigma around Parkinson's leads to patients being abandoned by their families, being neglected, and becoming isolated. The organization also strives to provide access to proper medical care and resources to Parkinson's patients. Grassel and Nassuna's support will come in the form of aiding in the organization of medical camps, providing care for patients and their loved ones, organizing and facilitating awareness campaigns, and seeking out connections with similar organizations on a global scale.
"Our primary goal is to educate people to combat that stigma," Grassel said. "Kabugo Hannington told us about his mother's experience with Parkinson's. His mother died alone even though she needed special care and treatment. She had to scrape dust off the wall to have something to eat. This isn't a rare thing, either. It happens a lot. It's hard to hear that and not want to do something to help."
Grassel and Nassuna are both neuroscience majors at Lake Forest College. They have worked closely on Parkinson's research in Disque D. and Carol Gram Deane Professor of Biological Sciences Shubhik DebBurman's lab.
"Generally, when we do lab research, it can be difficult to see the bigger picture of how the research will impact Parkinson's patients," Nassuna said. "We wanted to get out there and offer help in a different way from what we do in the lab. This project allows us a more personal approach where we can see the direct effects of the work we're doing."
Traveling to Uganda will enable them to make a direct impact and have a more humanistic perspective as they work with patients and Parkinson's Si Buko directly. Their first week in Uganda will be spent getting familiarized with the organization. In the following five weeks, they will travel to various regions in the country to support the efforts of Parkinson's Si Buko before returning to Lake Forest.
Nassuna, a Davis Scholar who attended UWC Eswatini, was born and raised in Kampala, Uganda and is fluent in Luganda, one of the region's dominant languages. She has seen how the stigmatization of mental illness and neurodegenterative diseases lead to the negelect and isolation of patients in Uganda firsthand. "I worked in the mental hospital in Uganda," Nassuna said. "Seeing how people's families have abandoned them because of this stigma made me want to be more involved in educating and spreading awareness since Parkinson's patients are treated much the same. Being part of this project means being able to help reduce those stigmas in a tangible way."
Since the organization's founding, Parkinson's Si Buko has launched awareness campaigns that include social media, community messaging, Fun Runs, and the establishment of a library of resources for patient reference. They have garnered national media attention and secured hospital space for Parkinson's patients. Their primary initiatives include dispelling myths about the disease, training healthcare professionals, and securing patient access to resources. The funding Grassel and Nassuna are bringing from Projects for Peace will help Parkinson's Si Buko amplify their impact.
Nassuna, who is also majoring in psychology, was a Richter Scholar in Professor of Psychology and Associate Dean of Faculty Matthew Kelley's memory research lab. Grassel, who is currently co-president of the Lake Forest College chapter of Nu Rho Psi, the neuroscience honors society, volunteers at the local hospital. This project is important to both students not only in furthering their academic development, but also on a personal level as they will be able to connect directly with people impacted by the stigma of Parkinson's Disease.
Related Links