Many internships continue remotely, despite COVID-19 travel restrictions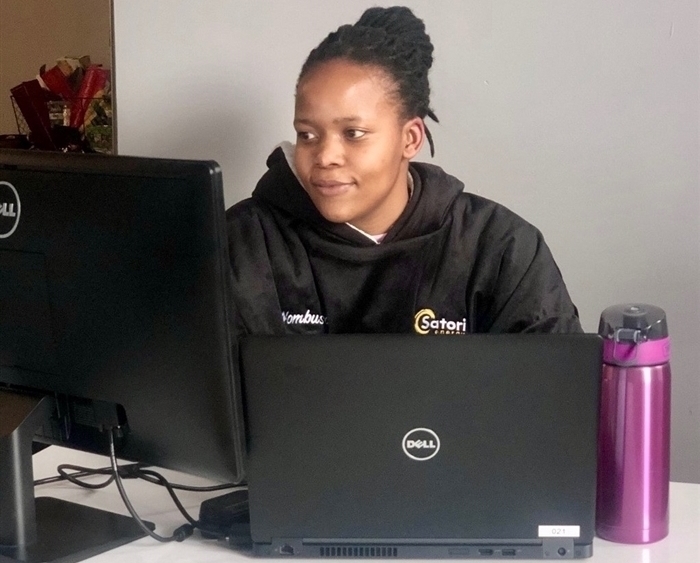 The Career Advancement Center staff has transitioned close to 100 academic onsite internships this semester to remote experiences, allowing students to continue their valuable experiential learning despite shelter-in-place orders.
Nombuso Dlamini '20, an economics major and entrepreneurship and innovation minor, is working as an energy analyst intern at Satori Energy using Slack—an app that functions as a companywide chat room, gotomeeting.com to replace weekly staff meetings in the office conference room, and the company's database system via a VPN. Dlamini is in familiar territory, having worked remotely during a summer internship with Mosendo, a global payments solution company.
"In this time of COVID-19, we're looking at how the market is reacting," she said of her work at Satori. "The major takeaway for me, particularly with regards to the impact of the pandemic, has been analyzing what's happening to the prices of gas, oil, and electricity. The economic theories I learned in class have helped me make sense of the impact on supply and demand of these commodities, and how it's being translated to the commodity prices."
Kennelly Forgue '20 is working as a marketing intern at BundlAR, an augmented reality solutions company in downtown Chicago. Forgue is helping with the company's marketing and social media efforts, weekly drip-marketing campaigns, and its customer relations management software data organization. Instead of working remotely from campus, the sociology and anthropology major is working from her new home in Texas.
"During this pandemic, I am so grateful that I am working for a positive, passionate, and understanding company. Thank goodness I have my laptop on hand, where I have easy access to all of BundlAR's social media accounts and any information needed for my internship," she said. "As a company, we work with Google daily, including Google Doc, Drive, and Hangouts, where we communicate effectively on conference calls and ask as many questions as needed. I really do enjoy working for BundlAR. Thank you, Lake Forest, for this career opportunity!"
Before spring break, biology major Makenzie Kamm '21 was working as a patient access intern at Lake Forest Acute Care near campus. In that role, the aspiring medical doctor did patient intake and triage. "I figured out why patients came in—something more specific than 'my side hurts'—and then relayed that information to the doctor," she said. Since the shelter-in-place order took affect, Kamm has been working from home in Michigan researching how hospitals are adjusting their policies and structure in response to COVID-19.
"I'm looking at the effect of no visitors being allowed in hospitals, the increase in PPEs—personal protective equipment, and how first-responders have dramatically changed their policies with getting patients from their home residence to a hospital," she said. "I'm trying to find what people are finding works best in dealing with this crisis. It's very eye-opening to see how much what we consider normal in the medical field can change on a dime."
Ava Gleason '20 is working as a graphic design intern at Susan G. Komen Chicago. She's creating graphics for pamphlets and education materials, websites, email, and social media marketing. The art major from Michigan has transitioned smoothly to her remote internship.
"All of my assignments are completed on the computer using Adobe programs," she said. "As a graphic designer, working remotely is not an inconvenience and very much a part of the job. Being able to finish the internship remotely will allow me to graduate on time, so I am grateful things are still moving forward as planned."
Associate Director of Internships Jennifer Lazarus said the College is fortunate to be working with many supportive employers during this unprecedented transition to remote internships. "We are grateful to have strong employer partners who have adapted and adjusted along with us to provide enriching internship opportunities, even from a distance," she said.
Career Advancement Director Colleen Monks has been truly impressed by the adaptability and resilience of the student-interns through the transition. "While unanticipated, they have now had the opportunity to expand their marketability by developing new professional skills that will serve them in the digital world in the future," Monks said.