Lou Catalan '23 debuts 'becoming an American' documentary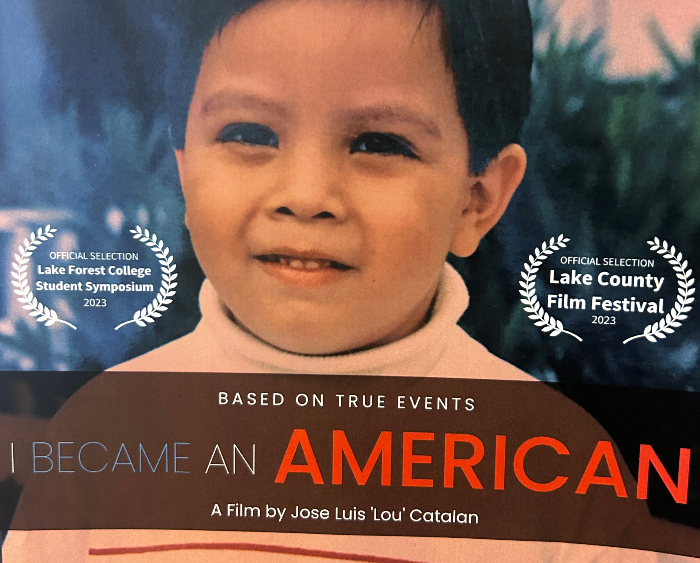 What does it mean to be an American, and how do we respond to the fundamental flaws of immigration policy in the United States? In an autobiographical documentary detailing his own experience growing up in the US undocumented, Lou Catalan '23 asks these questions.
I Became an American started out as a final for Catalan's senior seminar as a history major in Spring 2023. Catalan, a current Master of Arts in Teaching student at the College, double majored in history and education with the goal of teaching at middle or high school in Lake County.
"The documentary details my family's complicated decision to come to the US and raise a family here without documentation. As someone who has now been here for 27 years and is not a US citizen but sees the development of his life as a very American story, I wanted to share my experience with people who may not understand what it means to grow up undocumented," Catalan said. "I am only one example of many people who are in this situation. I have been here for most of my life, K-12 educated here, and I have been married and paid taxes here. What is this distinction keeping my legal status from being an American?"
Catalan transferred to Lake Forest College after finishing his associate degree in Chicago. Lake Forest was a natural fit due to the minimized commute from his home in Lake County.
Catalan, who is also a musician, spent a month and a half compiling old photos and documents stored in his family home. His family's undocumented status meant that they had to have proof of continuous residency in the US. "I had so many files to look through at my mom's house," he said. "It gave me a lot to work with."
I Became an American was first screened at the Lake Forest College Student Symposium in April 2023. Catalan has seen the impact of his work firsthand. After showing the documentary at Symposium, he was contacted by a Chicago Public School kindergarten teacher who teaches in Little Village. Catalan ended up visiting and meeting her class.
"The students had so many questions for me," he said. "They wanted to know about me and how I was feeling about my situation. It was very rewarding at the end of it to be able to talk about it with people who were moved. I am glad people are connecting with it, and I am grateful for all the support I've received."
Opportunities continued to manifest; on November 2, Catalan partnered with the Center for Immigrant Progress for a showing with a Q&A in Waukegan. Catalan has also found that the documentary has allowed him to dive deeper into activism.
"This documentary has brought me so many opportunities to build on my advocacy," Catalan said. "I see a new opportunity on the horizon, and I am so excited to learn about what this path as a teacher, activist, and film maker is stretching towards."
Looking to the future, Catalan not only wants to teach, but also build on his advocacy and documentary work. "To see the support that I have gotten and that people would like to know more is a drive for continuing," he said.