Lily Coyl '20 helps rethink Native American exhibit at Field Museum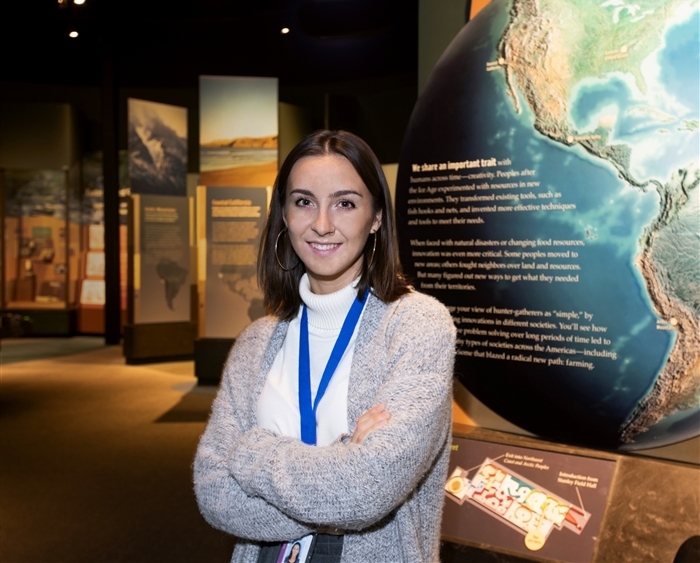 Lily Coyl '20 turned her interest of Native American culture into an internship at Chicago's Field Museum while she was participating in the College's In The Loop Program.
Coyl utilized her double majors in art and politics to help The Field Museum modernize their Native American hall and give the indigenous people a voice in their representation in history.
The Lake Forest senior worked as a research and curatorial assistant in the integrative research center at The Field Museum in Chicago, which is among the largest natural history museums in the world, attracting up to two million visitors a year.
Q: How did you discover this internship opportunity?
A: I discovered that The Field Museum was completely renovating their Native North American Hall, and that's an aspect of history that I'm very passionate about. I reached out to the curator of the project and I told her how interested I was in what they were doing and that I'd love to get involved. The curator got back to me and offered me an internship on their team.
Q: What sparked your interest in Native American culture?
A: It really started with art and music. One of my favorite musicians is Nahko Bear. He's a Native American musician who is an activist for indigenous rights and sovereignty as well as environmentalism. That message really spoke to me, because I feel that we do not talk about these issues enough in our country. It is an aspect that is very important to our history and to me. I feel it doesn't get enough of a conversation.
Q: How were you involved in the exhibit's renovations?
A: I did a lot of research on contemporary Native American artists, trying to find pieces that The Field Museum could buy—pieces that would accurately represent the historical narrative of Native Americans in the US, but also show culturally where Native Americans are today.
Q: How did you go about this research?
A: A lot of times I searched independent news sources that would report on Native artists. There weren't a lot of mainstream art sites. After I found some artists, I would search their websites, research what sorts of related galleries and exhibits they had been a part of. I would find those artists and determine if any of them were at a price range that The Field Museum could afford to purchase some of their work to include in the collection.
Q: What was your biggest take away from this experience?
A: My biggest takeaway was being exposed to this whole different life philosophy, which changed the way I value nature and the environment. It brought me back to this sense of wonder and excitement about life and about learning about different cultures that I hadn't felt since I was a little kid.