Internship gives Erik Truitt '22 hands-on career experience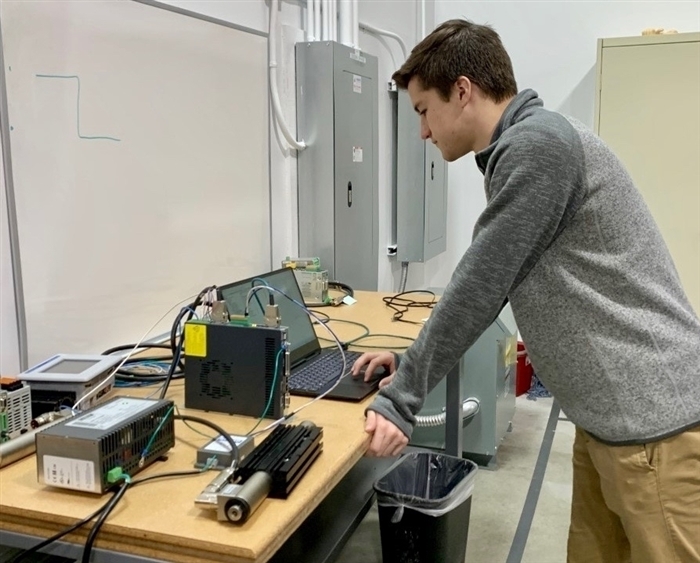 Physics major Erik Truitt '22 had a great internship with an international linear motor company, where he gained important hands-on experience in automation and firsthand knowledge of a potential career path.
Truitt worked as an engineering intern at Linmot, a European company that has a location in Lake Geneva, Wisconsin that makes equipment for manufacturing machinery, especially for the food and pharmaceutical industries.
During his internship, Truitt gained important, real-life applications of the physics principles he's learning in class and in the lab.
"At first, I was kind of nervous because I've never had experience working with what I'm studying, but I was really surprised: I understood everything they gave me and could see how it related to my studies," Truitt said.
One of the biggest takeaways of the full-time internship that was cut short by tightening COVID restrictions was the opportunity for Truitt to build a fully-functioning demo model of a linear motor.
"I got all the pieces together—the motor, the flange, and the computer system to program it," he said. "I had to test everything."
Truitt said he "felt very comfortable right from the start when building the demo, which is thanks to the work I've done in the lab at Lake Forest," Truitt said. "It was a pretty cool experience to take something from scratch and build it myself."
Linmot donated Truitt's demo model to the physics department at Lake Forest College for use in its labs. "Students can use the motor in different physics labs by adjusting a number of factors, such as velocity and acceleration, which will allow them to apply the system to a number of different scenarios," he said.
In addition to the motor, PMMI, an organization that supports college programs developing skills in manufacturing and automation, donated more than $2,000 to the Department of Physics—an amount equal to the value of the demonstration model.
"The monetary contribution from PMMI is earmarked to purchase equipment that exhibits physics principles in industrial machines," said Professor and Chair of Physics Michael Kash.
"The actual behavior of a heavy bar in a machine that makes boxes is somewhat different from the theoretical behavior of an idealized particle described in elementary courses," Kash said. "The motor from Linmot will show students those differences."
Truitt is grateful for the career advice he received from Science and Health Care Pathway Leader Pauline Binder-Finnema in the Career Advancement Center while finding his first internship and the connection she helped him make with physics alumnus Steve Roth '76, who helps students understand career paths in manufacturing.
"Erik will be very well positioned if he chooses to pursue a career in manufacturing and automation," Roth said.