I LIKE SPIKE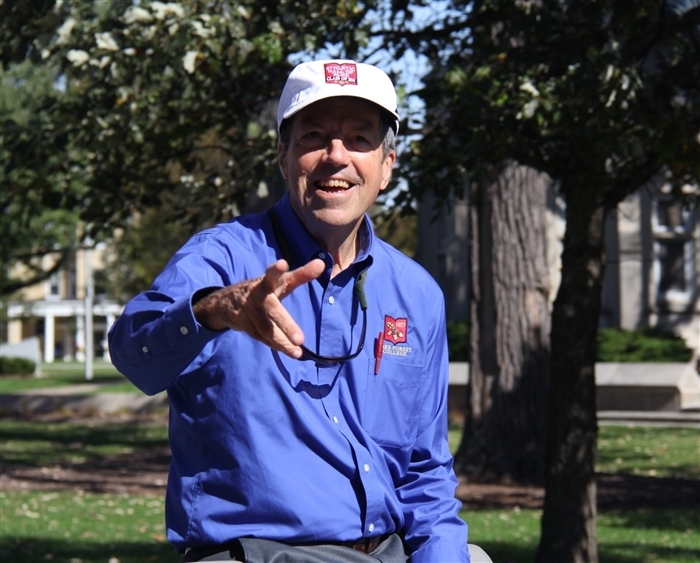 Alumni pay tribute to the man who has played a pivotal role in Foresters' lives for nearly five decades.
He's read at least 35,000 applications to the College and signed more than 17,000 letters of acceptance in nearly five decades. Needless to say, Spike Gummere has played a pivotal role in the lives of many Foresters.
And yet, one of his greatest joys always has been watching students grow—from high school through college and from college to the next phase of their lives. "It's one of the reasons I've stayed here so long. It's very rewarding," said Gummere, who joined the College in 1968 as Director of Admissions.
Though today he focuses primarily on alumni, Gummere still helps out with new student recruitment and tries not to miss on-campus activities. He can't even begin to count the number of Lake Forest events he has attended and Forester athletes he has cheered from the sidelines. This year, the tables will be turned when the always-smiling 77-year-old takes center stage at Homecoming 2016 (October 7–8), where alumni will pay tribute to the man who had such an important impact on their lives.
"No one at the College deserves this recognition more than Spike," said President Steve Schutt. "No one has done more to promote our growth and success, and no one better exhibits true Forester spirit. Spike understands the whole College—from admissions to alumni relations to academics and athletics—and he has contributed to all of it. He is a source of Forester experience and wisdom that I regularly tap."
'Spike means so much to the school'
Jamie Williams '16 isn't at all surprised that Gummere will be honored this year. The ninth member of her family to attend Lake Forest College, she has grown up hearing the name "Spike" her whole life.
But it wasn't until her first year at Lake Forest that she met the man who her dad, Nat Williams '74, and uncle, George "Jaike" Williams '77, aunt, Lindsay Williams Murphy '71, and cousin, Alexis Ingram '04, believe epitomizes the Lake Forest College spirit.
It was move-in day in August 2011 when Gummere popped in at Jamie's residence hall while she and her mom were setting up her dorm room. Jamie was floored that he went out of his way to welcome her to the school. Since then, the two have kept the conversation going for nearly four years. "I see him at sporting events all the time and always talk to him there and I try to go visit him in his office every couple of months—at least once a semester—to talk about my classes and what's going on with me," she said. "Spike means so much to the school. I'm really glad he is being recognized."
Put College on national map
Eugene Hotchkiss, former president of the College, worked side-by-side with Gummere, his admissions director, for 23 years. "He knows more alumni at this school than anyone else, and he's helped to shape this college enormously," Hotchkiss said. A native New Englander, Gummere was primarily responsible for recruiting students from private schools on the East Coast. "That made Lake Forest a different Midwestern school," Hotchkiss said. "We are a national liberal arts college. Spike is responsible for that."
Gordon White, former director of financial aid and special assistant to the president, worked with Spike for nearly three decades. White believes Gummere's recognition is "well-deserved" because of the role he has played in recruiting new students and athletes and the extra effort he's made over the years to stay connected.
"Spike was instrumental in developing the geographic diversity the student body represents today and in bringing an increased quality of student into the admissions office," White said. "And he's always been very supportive of recruiting student-athletes to Lake Forest."
Always accessible to students
While Gummere spent a lot of time on the road recruiting and speaking with high school counselors, he always kept the conversation going back on campus, too, greeting students on a first-name basis and hanging out with them in the dining hall, at The Lantern in Lake Forest, and at College athletic events. "Spike's always been accessible to students," White said. "He's an upbeat ambassador for the College."
Randy Lauer '81 considers Gummere a trusted advisor and mentor. "He is a one-of-a-kind individual, and his loyalty and dedication to the school, as well as to Foresters past and present, is beyond reproach," Lauer said. Besides phone calls, personal visits, and emails, Gummere keeps in touch through the time-honored tradition of penning personal missives. "It's just something I've always done," Gummere said. "I prefer writing, but fear volume, on occasion, requires the use of email."
Alums like Hilary Newlin O'Hollaren '92 treasure each Spike communication. "His handwritten notes of gratitude—or just to catch up—are legendary," she said. "His ability to find the time to communicate with hundreds of alumni this way is both intimidating and inspiring."
The future of Lake Forest College
For alumni, parents, and friends who have not been to campus for more than a decade, Spike believes they would be shocked by the transformation, with more than $100 million invested in campus improvements in recent years. While these changes are impressive, Spike believes the most important qualities of the Lake Forest College experience have gone unchanged.
"Our values are still what they have always been," he said. "We haven't lost our way. The things students cared most about when they were here—the relationships, the mentoring support from professors and coaches—remains. To me, that's very reassuring. I foresee it continuing for a long time."
As the College honors his years of service during Homecoming 2016, the occasion will intersect with the public launch of the College's next major fundraising campaign, an effort in which Spike has already been heavily involved.
"Our plans for the future are incredibly exciting," he said. "Our progress should make our alumni, parents, and friends proud. There will be a role for everyone to play in supporting the next campaign—even if it's becoming a consistent donor on an annual basis—and I believe the College is worthy of such an investment."
Related Links: