Foresters sweep undergraduate poster competition
Six Lake Forest College students placed in the top five at the Great Lakes Chapter of the American Society of Pharmacology and Experimental Therapeutics (GLC-ASPET) on June 17, 2022.
Lake Forest College students secured the top five placements, making for a sweep of the competition portion of the poster presentations.
Beau Grimes '24 and Ceylin Sahin '24 in first place, "The role of lymphocyte cytosolic protein 1 in a mycobacterium marinum infection," mentored by Assistant Professor of Chemistry Will Conrad
Laurel Robbins '23 in second, "Engineering prophylactic biosynthesis of an antituberculosis antibiotic," mentored by Conrad
Kamden Kuklinski '23 in third, "Effect of severity and repetition of traumatic brain injury on Drosophila melanogaster," Mentored by Assistant Professor of Biology Rebecca Delventhal
Amanda Grassel '23 in fourth, "Insight into Parkinson's Disease from a yeast model: How three new alpha-synuclein mutants may cause disease," mentored by Disque D. and Carol Gram Deane Professor of Biological Sciences Shubhik DebBurman
Maria Jose Orozco Fuentes '24 in fifth, "Effect of sex differences on outcomes of traumatic brain injury," mentored by Delventhal
Each poster approached a different area of research within the field of pharmacology. Pharmacology is the study of how drugs act on the body and how the body acts on drugs. The goal is often to find new therapies and drug targets.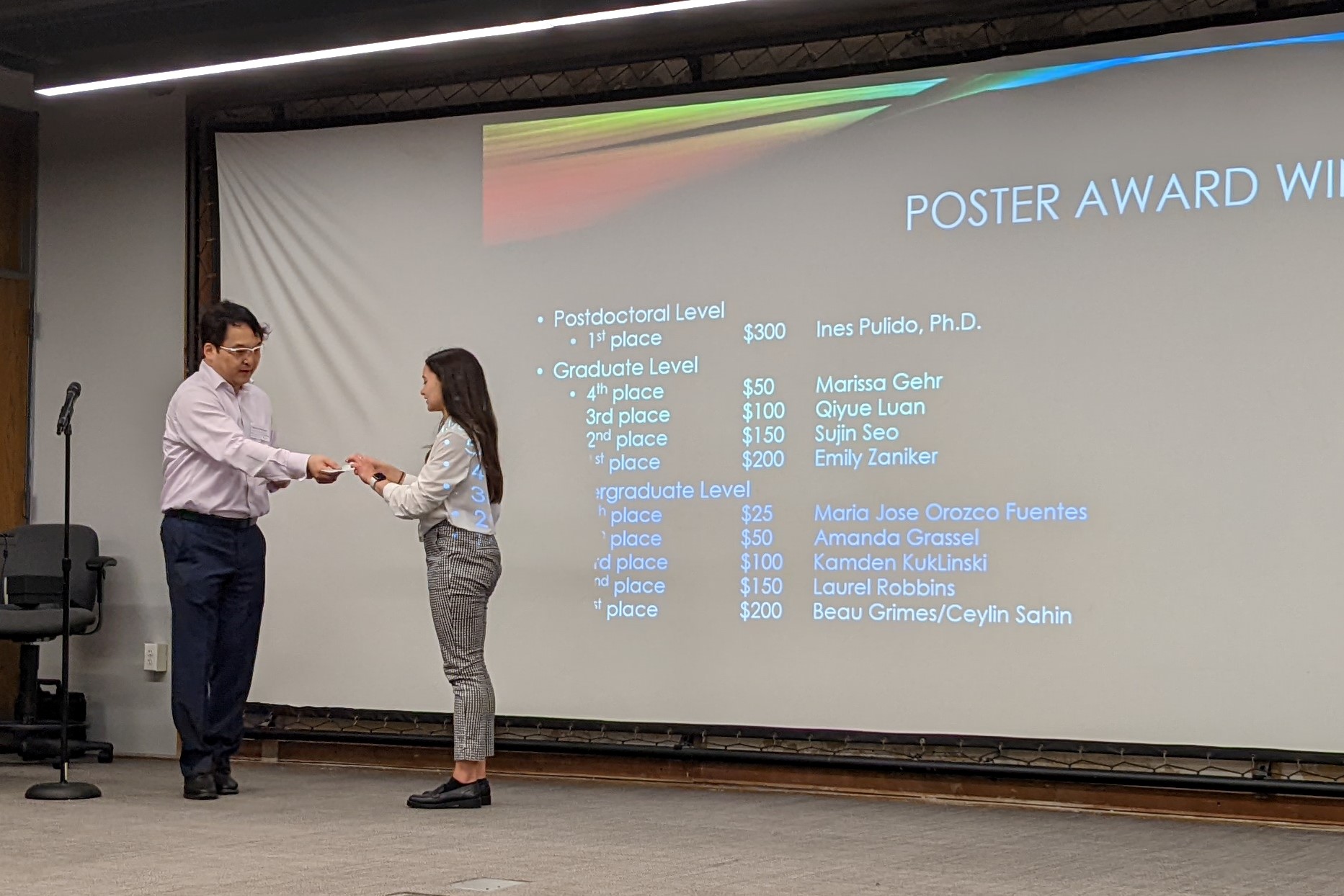 "It was very rewarding to see the excitement of our students as they accepted their awards. It was the culmination of years of practice," Conrad said. "These students have presented posters beginning in their first year at Lake Forest College, at the Glassman Research Symposium and Student Symposium on campus, and at local and national meetings. It was very rewarding to see them honored and acknowledged for their ability to both do high-quality research and to effectively present that research to a professional audience."
The annual Midwest GLC-ASPET meeting begins with a poster session and competition featuring faculty, postdoctoral fellows, graduate students, and undergraduate students. This year, the conference was held at Lake Forest College, the first time an undergraduate institution has hosted the event.
Posters were presented from University of Chicago, University of Illinois at Chicago, Northwestern University, Medical College of Wisconsin, Rosalind Franklin University, Saint Xavier University, and others. The undergraduate poster session was judged by faculty from Northwestern, University of Chicago, University of Michigan, and Saint Xavier University.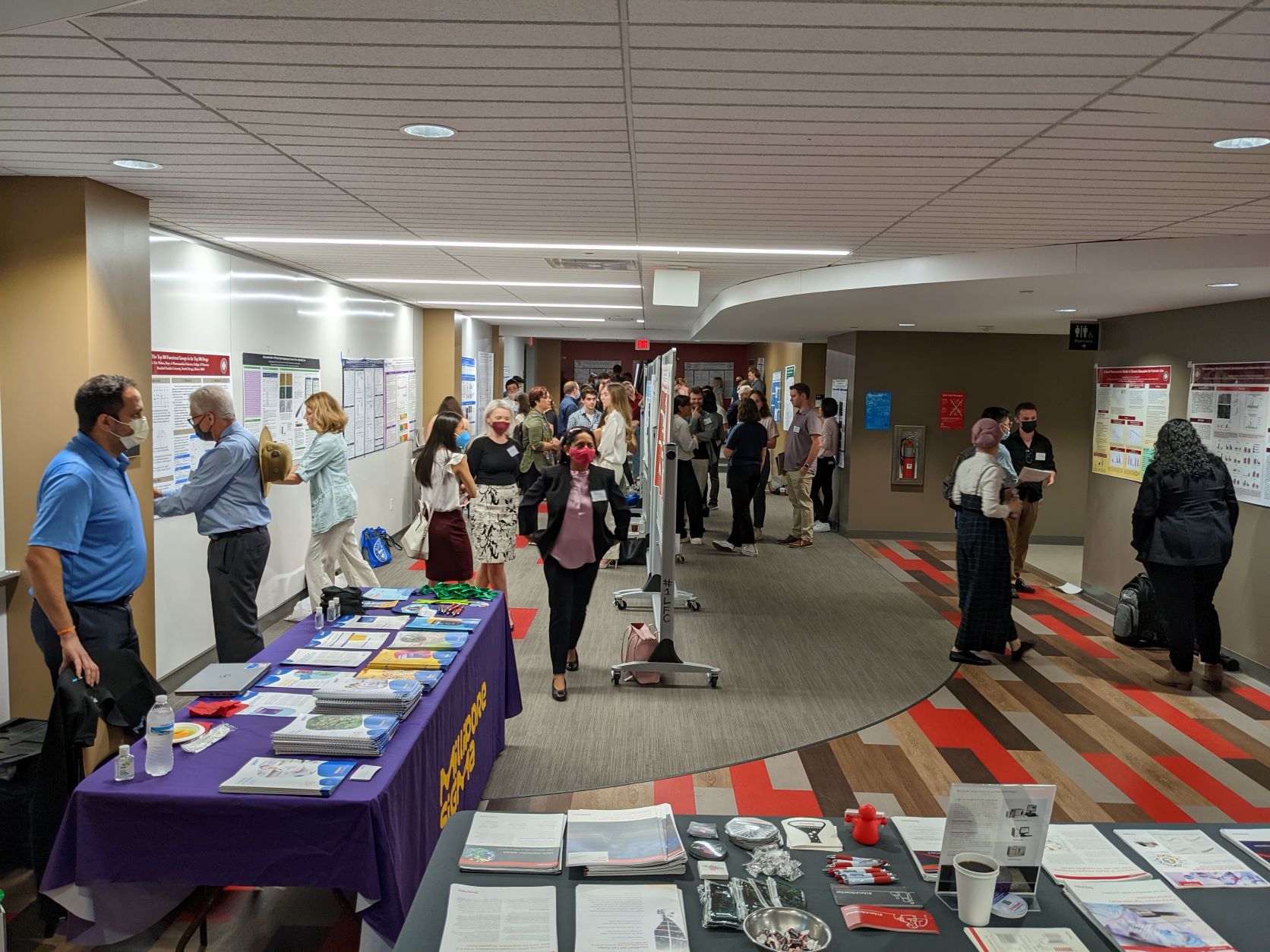 "Participating alongside graduate students and postdoctoral researchers made me recognize the especially high quality of the research that we are doing in the Delventhal lab and provided me with the skills necessary to engage with my peers across a variety of scientific disciplines," Kuklinski said. "This experience helped affirm that the education that I have received at the College has prepared me to engage in active scientific discussion with professionals in the field."
Delventhal explained the impact of the recognition. "I know it was really affirming for my students to have their hard work and enthusiasm for research acknowledged and rewarded by outside experts," Delventhal said. "My students had presented at an internal poster session earlier in the year, and said this one felt really different because the people coming up to their posters to ask about their research were scientists, often faculty at other institutions. They asked higher-level questions, and my students said it was fun and exciting to have discussions with them about their research, and feel like it was of interest to the broader scientific community."
The science programs at Lake Forest College prepare students for a variety of paths, including graduate programs, medical school, and careers after graduation.
"Lake Forest College biology, chemistry, neuroscience, and biochemistry and molecular biology programs prepare students to be both effective researchers and communicators," Conrad explained. "Students deliver poster presentations in courses during their first year, at annual symposia on campus, and at local and national meetings. The success of our program is reflected in the success of the students at this scientific meeting."
Part of what helps students achieve success after graduation is the institution-wide dedication to mentorship. "Biology faculty here are very passionate about research mentorship and really rely on their research students to help them produce important scientific findings," Delventhal said. "I think this is reflected in the success that Lake Forest students had in winning the poster presentation awards. It's clear that they have a sense of ownership and nuanced understanding of the research they are conducting."
Completing research as an undergraduate can help students develop analytic and presentation skills in preparation for careers, graduate school, medical school, and more.
Related links