Entrepreneurship and Innovation Program recognized at global conference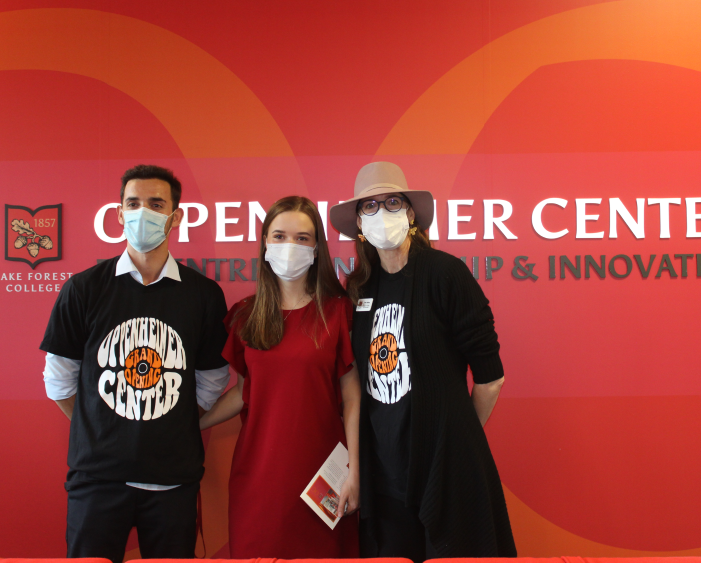 This past weekend, Lake Forest College's Entrepreneurship and Innovation Program was recognized as one of the top four "Outstanding Student Engagement and Leadership" entrepreneurial centers across the globe.
The recognition comes from the Global Consortium of Entrepreneurship Centers (GCEC) Conference, the preeminent conference for entrepreneurship centers, which was held in Baltimore October 15-16. The GCEC conference brings together the world's premier university-based entrepreneurship institutes and leaders in order to encourage collaboration, share best practices, and develop programs and initiatives.
Lake Forest College's Interim Director of Entrepreneurship and Innovation (ENTP) Kate Jackson explains that putting students at the center of entrepreneurship has always been the College's approach: "Since ENTP launched in 2014, we have put our students at the center. To engage and empower our students, we have woven together design thinking; change management best practices; leadership development readiness; diversity, equity, and inclusion fundamentals; and a rigorous entrepreneurial resilience mindset curriculum. We have worked intentionally to ensure our students feel like valued, contributing members of our program."
The GCEC considers entrepreneurship initiatives from universities across the globe. The winners' circle includes institutions such as Yale University, Hebrew University of Jerusalem, University of Wisconsin-Madison, Northwestern, and Babson College.
Lake Forest College's ENTP program and its top-flight faculty take an enriching, pragmatic approach to education. "We provide students with a real-world entrepreneurial education for the 21st century in an intimate, liberal arts college setting," Jackson said. "We help our students identify problems worth solving and how to mobilize the people, resources, and networks to creatively and effectively solve those problems."
Alex Reed '23, an ENTP minor, has found support for his ambition and career plans through the program. "Throughout my career within the Entrepreneurship and Innovation Program, each one of my ENTP classes has helped me in developing skills such as knowing how to create my own landing page, learning about the non-profit sector, and most importantly, getting comfortable with presenting pitches to people. I've also discovered how to approach failure from a positive perspective by restructuring a failure as a learning experience towards growth in becoming a more well-rounded individual."
The nomination recognizes the department's efforts to empower students to effect change in the world. "We encourage our students to lead whenever and wherever possible," Jackson said. "We empower our students to show up and try. That is the secret sauce for changing their world—our world—for the better. And if things don't go their way or they fail, they know how to activate the ENTP mindsets and learn from the experience, applying what they learned to future opportunities."
The College's ENTP program is forward-looking and driven by the need to support student success beyond college. "Core to our program experience is this essential question: How might we help our students succeed in college and beyond? We don't want to simply teach our students how to build a viable, high-growth business, but also how to live a whole and happy life," Jackson said. "Resilient people are able to recover from setbacks and become stronger because of them."
Reed plans to do just that: "I plan to take the skills which I have acquired through the program and use them to assist in driving success into my future endeavors."
Jackson expressed gratitude for the hard work and innovation the College community in support of its students: "We are building something truly special at Lake Forest College together as a team. I feel lucky, humbled, and honored to have the opportunity to work with such an amazing group of students poised to do great things in the world."
Related Links: