Delventhal focuses on training 'independent scientists'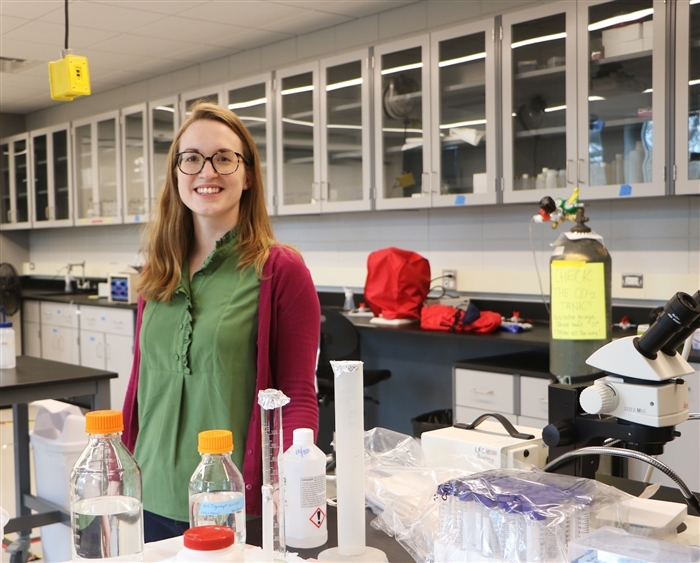 Kamden Kuklinski '23 is having a career-building summer helping a new biology faculty member study a model of traumatic brain injury in fruit flies.
Working full-time over a 10-week period, Kuklinski will run experiments in Assistant Professor of BiologyRebecca Delventhal's research lab to understand the mechanisms that contribute to neurodegeneration following a major head impact.
"We're interested in a better understanding of what leads to neurodegeneration, which is a deterioration of the brain and the nervous system, through a traumatic brain injury," Delventhal said. "Alzheimer's or Parkinsons disease, which are neurodegenerative diseases, typically occur later in life. The fact that fruit flies have a short lifespan make them really ideal to study. You can get answers more quickly about the long-term impact when you study a model of human disease in fruit flies."
Kuklinski, a neuroscience major and chemistry minor, knows conducting meaningful research with a professor will give him the best experience possible to find his career path early in his education.
"I'm looking to go to medical school after my time at Lake Forest and I'm also looking at doing research, whether that's an MD/PhD program or, if I really fall in love with the research aspect, through a PhD program," the transfer student from College of Lake County said. "This opportunity to work with Dr. Delventhal will help me going forward in terms of giving me a solid footing in research and a new perspective on the science involved."
Delventhal understands students' desire to do research and is keen to help. "I was always interested in science and scientific research from an early age," she said. "As a young person, I wanted to get experience in the lab doing research. As an undergrad at Macalester College, I was very focused on pursuing a career in research."
During graduate school at Yale University, Delventhal served as a teaching fellow for undergraduate biology courses and realized how much she enjoyed teaching. "That's when I made the shift to pursue a career as a professor at an undergraduate-focused institution," she said.
She continued that focus on mentoring students while completing her postdoc at Columbia University, where she worked with undergraduates on her neurodegeneration research. Several of her student-researchers will receive co-authorship on a paper Delventhal is writing—an opportunity she hopes she can repeat at Lake Forest College.
"Being able to see that growth in a student from when they first come in and you're teaching them how to do something for the first time, to them becoming independent scientists in their own right with confidence and that skillset, I think, is really inspiring," Delventhal said.
In her lab classes, students "engage in independent, inquiry-driven, projects," she said. "In my Developmental Biology course, I set up a several-week-long experiment that students carried out where they tested fruit flies' fertility and how long it took the next generation of fruit flies to develop on different diets. The students got to choose what dietary condition they tested the effect of."
That approach made a meaningful impact on students enrolled in her classes.
"I learned how to problem solve when experiments went wrong and how to interpret results that might not have been exactly what we expected," said Jessica Day '22, a biochemistry and molecular biology and French double major. "This lab gave me the skills to be a critical thinker in research, which will be incredibly important for future classwork or in a research career."
Allison Akins '21, a biology and English double major, had a similar experience.
"The focus on combining what we were discussing in lab and lecture to real-world applications has provided me with a new way of approaching scientific questions," Akins said. "We were set up so that every step of the way we knew how each individual process connected to the larger picture. I think that this is a great skill to have."
Delventhal's classes include BIOL 221: Molecules, Genes, and Cells, BIOL 342: Developmental Biology, BIOL 477: Senior Seminar: Mechanisms of Neurodegenerative Disease, and the corresponding labs.
Her office and research lab are located on the second floor of the Lillard Science Center.