College launches innovative programming for new graduates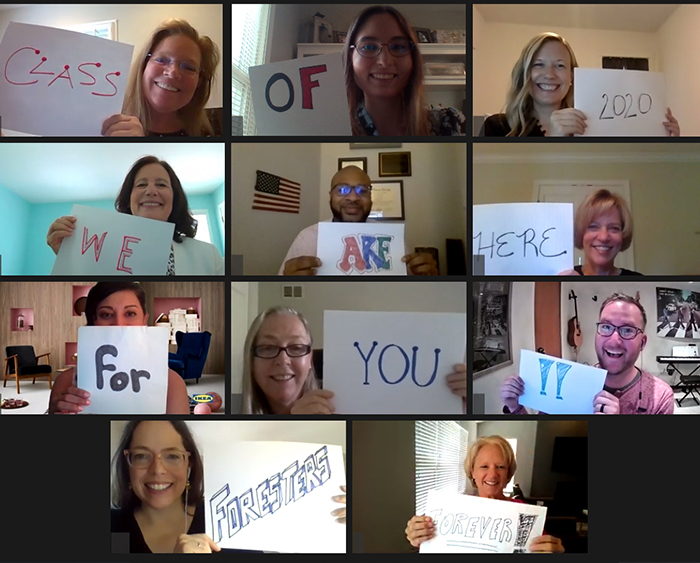 A college that shows its commitment to CAREERS is stronger than ever during COVID-19.
The Class of 2020 went from what was supposed to be the hottest job market in decades to the toughest one since the crash of 2008. Opportunities became more limited, companies rescinded offers due to cuts, and students began to adapt to a new virtual recruiting scene.
At Lake Forest College, career support has looked very different since COVID-19. "We knew this year would be a challenging one for our graduates and that we needed to pivot strategically to help our seniors meet that challenge," said Director for the Career Advancement Center Colleen Monks. "We adapted our spring and summer programming plans to focus on engaging our network of Foresters and using our combined resources to get the Class of 2020 ready for a very different kind of job market."
"Our strategy has been two-pronged: keep Foresters on the path to success by continuing to build their credentials in ways that will stand out to employers, and connecting them with mentors and hiring professionals to grow their networks," said Vice President for Career Advancement and Athletics Jackie Slaats.
From April to June, the College launched five initiatives designed to help the Class of 2020:
Calling on the power of the Forester network, the

Foresters CAREER

2020 Senior Initiative matched 128 seniors with select alumni or trustees for video calls to provide them with support and career advice, and in some cases, contact referrals.
Through a new partnership with the Lake Forest Graduate School of Management (LFGSM) and their Center for Leadership, the College funded two

Professional Skills Badge

courses for 120 graduates in June. Three virtual weekly sessions on Leadership Skills or Business Skills with LFGSM faculty culminated in a celebratory networking event in which participants received a digital badge that can be incorporated into their resume and LinkedIn profile.
In late June, the College created a unique spin on the growing number of collegiate "micro-internship" programs in which students complete short-term projects with the Forester Micro-Mentorship Program. This innovative program emphasizes a mentoring component—mentors provide career advice as well as close guidance on a project that provides on-the-job experience.
In July, the College will offer new on-demand webinar training through

4ProPlus/4MedPlus

Professional Trainings and Certifications

to provide technical training in Adobe Software, Database Technology, Health Care and Contact Tracing, and/or Programming Languages. Graduates can register for up to two courses.
A special networking event on July 21,

Hire a Forester: Class of 2020 Virtual Employer Mixer will cap off the summer programming. Graduates will have a chance to connect with and learn more about employers who are hiring now as well as hiring trends across the Pathways.
Nearly half of the Class of 2020 have already participated in one or more of these programs.
"Lake Forest College is committed to helping our students attain productive and rewarding careers—it is part of our mission statement," said College President Stephen Schutt. "We believe it is essential for us to stay true to that commitment even more so during these unprecedented times for recent graduates entering the job market. Our recent career programming is a demonstration of our intention to do everything we can to help the Class of 2020 land on their feet."
"This is a community that really cares," Slaats said. "In true Forester fashion, the quick and generous response to our call for help with these initiatives from our alumni, faculty, trustees and other professionals in our network was inspiring."
Self-designed major Tucker Strang '20 appreciated the chance to connect with alumni as part of the Foresters CAREER 2020 Initiative in addition to participating in the Lake Forest Graduate School of Management Professional Skills Badge Program. "The mentors provided great insight into how to conduct myself in Zoom interviews, provided a step by step process on how to effectively negotiate, and were always open to questions at any moment," he said.
Beyond student appreciation, Forester parents have also taken note of the extra care and concern for the graduating seniors. Lisa Baer, mother of business major Emily Baer '20 sent an email following her daughter's enrollment in two of the initiatives to express her gratitude. "I am continually impressed with how Lake Forest College is responding to this crisis, fully supporting the students and creating as many opportunities for the seniors to connect as possible," she said.
If you would like to join the community in hiring a Forester, email careers@lakeforest.edu to connect.