Career-A-Palooza 2021 draws 160 students to conference-style event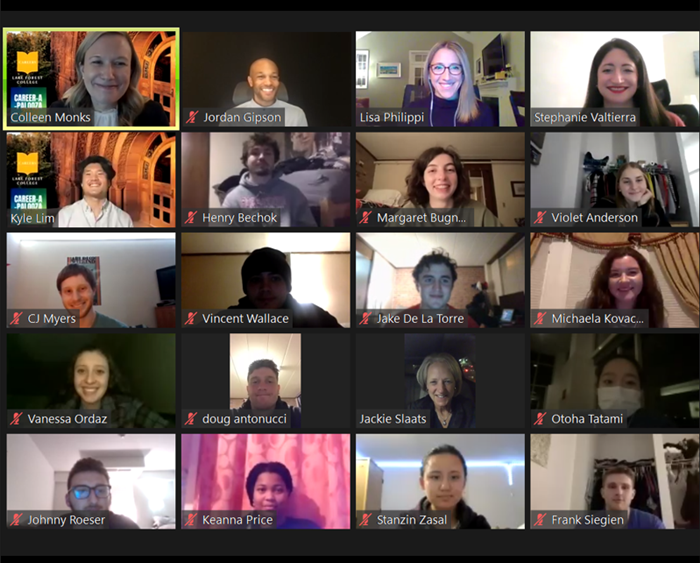 More than 160 students participated in Career-a-Palooza 2021, a conference-style event for developing career-planning skills held virtually March 15–19.
Career-A-Palooza is the Career Advancement Center's signature spring event, bringing together students from all majors to gain important next steps and advice for a job or internship search, graduate school applications, and planning for after graduation. In its third year, the event took place remotely and broadcast seven Zoom sessions led by alumni and other professionals.
Learning how to bring their individual identity and values to the job search was the overarching theme of the weeklong event in which individual panelists shared how they stayed true to who they are in their along their career path.
In the opening session, "Activating Your Authentic Self: How to Win in Your Job Search and Launch Your Career," Angela Birts '08, an English and communication double major at Lake Forest, advised students to "pay attention to your interests, and 'why' you do what you do."
Today, Birts is a professional educator, diversity consultant, social entrepreneur, and college lecturer who holds a master's in education policy, organization and leadership studies from Stanford University and an education doctorate from San Jose State University.
"I know in such a busy society, there are a lot of pressures to perform and do all different types of activities," the founder and CEO of Birts Equity and Inclusion Solutions said, "but it really should be predicated on what brings you joy, where you feel you have the most impact—or even something you didn't think you were capable of ever doing in college but you want to give it a try because, perhaps, a professor, a peer, or someone you trust recommended you try it based on the strengths and the assets they see in you as an individual."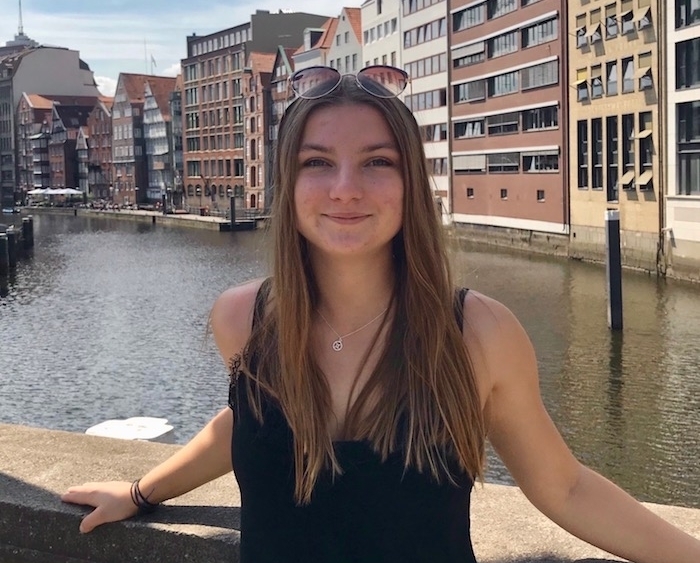 During the "Meet the Professionals: A Law and Public Service" session, Wiktoria Pedryc '24 discovered a number of different pathways that can lead to a career in law or a law-related field.
"I found it fascinating to learn that there are so many ways to approach a law career. One doesn't necessarily have to do pre-law or fancy internships to go to law school. There are other available pathways," Pedryc said.
Because of Career-A-Palooza, Pedryc said she is "more confident that I can pursue my planned academic pathway—double major in psychology and philosophy with a minor in economics—and still get into a law-related career, possibly by working for an NGO [non-governmental organization], social services, or with legal aspects of firms and organizations."
Stanzin Zasal '24 discovered during the "From Undecided to Unstoppable: Defining Your Unique Path to Career Success" panel that she is not limited to a career based on her major.
"The panelists gave me a sense of reassurance that a career path is not set in stone because of your major," Zasal said. "They told us to breathe, relax, and figure out life slowly."
Students can access recordings from Career-A-Palooza to use in their career planning on Handshake.
"This event has thrived in a remote format, and some students even find sessions like these more accessible and engaging over Zoom," said Colleen Monks, Director for the Career Advancement Center. "Career-A-Palooza showcases career planning tips and current hiring practices from across many industries, and for all students across the Career Pathways it is really the connection with professionals who were once in the students' shoes, just starting out in their career, that truly makes this event special. It is fantastic to be able to offer these close-knit conversations with alumni who are excited to come back, tell their story, and pass advice on to current students."